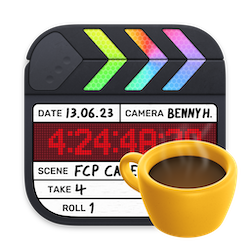 #
Latest News
FCP Cafe is an online community for professional Final Cut Pro editors.
Make FCP Cafe your Home Page & Subscribe to our RSS Feed RSS Feed

Get the Latest News via our RSS Feed

Learn more about RSS Feeds here.

Safari
In the top left corner of your screen, select Safari and then Preferences and then General.
Next to New windows open with and New tabs open with, select Homepage.
Next to Homepage enter: https://fcp.cafe.
Chrome
In the top right corner of your computer's browser, click More icon and then Settings.
Under Appearance, turn on Show home button.
Select your current homepage, then, enter: https://fcp.cafe.
Firefox
Drag this tab to the Home button, then release.
Click Yes.
Microsoft Edge
In the upper right corner of your browser, select the More icon and then Settings.
Under Set your homepage, click the Down arrow and then A specific page or pages.
If you have a current homepage: Next to the URL, click X.
Click Enter a URL. Then, type: https://fcp.cafe.
Internet Explorer
In the menu bar on the top of your browser, click Tools.
Select Internet Options.
Click the General tab.
Under "Home page," enter: https://fcp.cafe, click OK and restart your browser.
---
#
2023
#
December
Chris Hocking at LateNite has started developing his next product, Metaburner Pro.
Metaburner Pro is a Motion Generator that accepts a FCPXML, and "writes" the FCPXML metadata over the top of your Final Cut Pro timeline.
Think of it as basically the same as the Data Burn-In tool in DaVinci Resolve.
It's incredibly early days - however we hope to have a early alpha on TestFlight in the coming weeks.
We are working closely with the professional Final Cut Pro Community, to make sure it's useful for high-end productions - especially long-form projects with big VFX deliverables.
It will be released on the Mac App Store for USD$100.
If you have any ideas or suggestions, feel free to post them in the GitHub Issues for Metaburner Pro.
Here's a sneak peak of the early development (with a placeholder icon):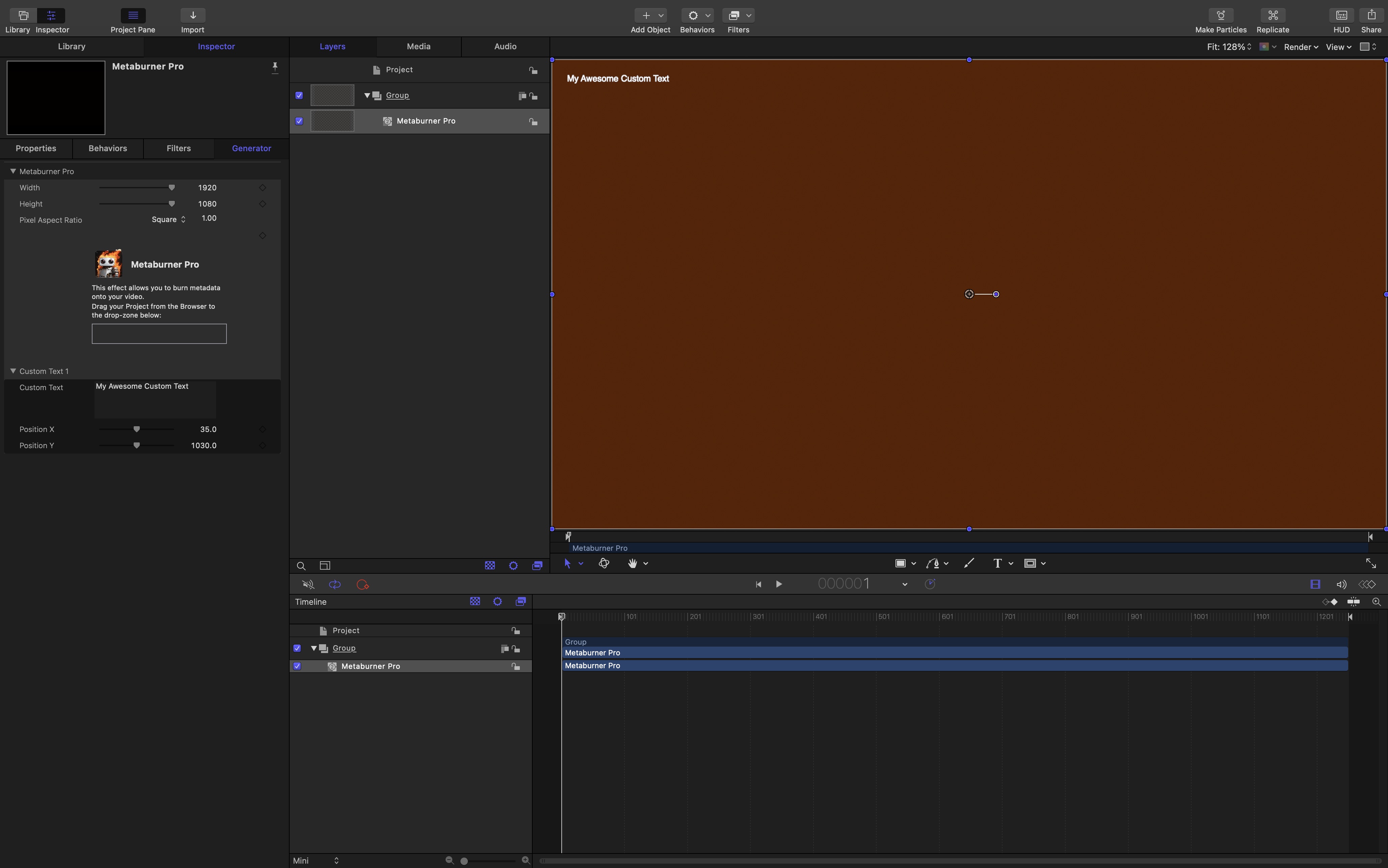 Thanks to everyone who's already offered ideas and suggestions!
Onwards & Upwards!
---
LateNite's The Future of Everything has been nominated for an Australian Academy of Cinema and Television Arts (AACTA) Award for Best Online Drama or Comedy!
The series was animated in Adobe Animate, and edited in Final Cut Pro by Kevin Luk.
If you haven't already, you can read a Case Study about the series on FCP Cafe here.
You can watch the series for free on YouTube here:
---
Joshua Meyers writes:
Hi all! We've finally been able to release our latest documentary "To My Father" on YouTube this week now that it's completed its primary festival run.

It's a short biographical documentary about Academy Award winning actor Troy Kotsur which illustrates how he drew inspiration from his relationship with his father.

We were inspired to make it based on his touching speech he gave as he won the Oscar in 2022 (the first for a deaf male actor) for his performance in the movie CODA (AppleTV).

Our hope in making this film was to honor Troy and his father, but also to present the piece in a way that was accessible to a hearing and deaf audience at the same time.

Troy's story is told in American Sign Language (ASL) with open captions on for the duration of the movie.

This was a truly challenging piece to edit and we had to consult with a lot of deaf experts to make sure we were accomplishing our accessibility goals. I think we did what we set out to do and I'm very proud of the finished work.

I hope to do a longer case study in the future now that I can reflect on the project in its completion. I appreciate all the help and support I received from the FCP community in the editing process and will pass along what I've learned. Please watch if you get a chance. Thank you!
You can watch on YouTube here:
---
Dylan Bates - The Final Cut Bro, has released an awesome update to his Picture in Picture plugin.
It includes the following improvements:
Increased amount you can scale video Inside of PIP from 200% to 800%
Added 4 Animations for introducing your PIP. More to come!
Added Long Shadow Effect
Added Gradient colors to outline
Added Glow Effect with Animation Capabilities
Added Sharpening Option to PIP video
Added Flip Option for PIP Video
Added Gradient option for background
Minor tweaks and fixes
Improved thumbnails
Overhauled the installation process, making updating even easier!
You can watch a video explaining the new feature on YouTube here:
---
---
Deyson Ortiz has released a new service:
Final Cut Pro Mastery: Learn How To Create Templates, Titles, Transitions, Effects & More
It's personalised 1-On-1 Training.
Afraid of Apple Motion like I am? This is the training for you!
You can learn more here.
---
Just a friendly reminder that third party FxPlug4 plugins can't crash Final Cut Pro - only Final Cut Pro can crash Final Cut Pro.
This is explained in more detail on the Bug Tracker page.
For example, Threefold Films recently tweeted:
Simon Says Transcription is crashing #fcpx and making my day harder today….
However, as explained on the Bug Tracker, this is a Final Cut Pro bug - nothing to do with Simon Says.
There is also a workaround, as documented here.
---
BRAW Toolbox v1.3.6 (64) is out now!
This release contains the following bug fix:
Fixed a potential crash that we've been trying to solve for ages. On SOME systems (specifically systems with

Mac2 family GPUs

), Apple's Metal Framework would generate a Metal Texture that the Metal Performance Shader in the Mac couldn't actually work with, causing a crash deep within Apple's code. It was very hard to reproduce, as it only happened on certain systems - and none of ours. HUGE thank you to Apple Developer Technical Support, the Final Cut Pro Team, AdrianEddy and Warren Moore for all their constant and on-going help, assistance, guidance, patience and support!
Gyroflow Toolbox also contains this same code/problem, which we've fixed - however, we're currently waiting for one more fix in Gyroflow Core before pushing publicly - hopefully soon.
---
Introducing IF Motion!
I'd like to introduce you to a new plugin creator for Final Cut Pro.
Itallo is a former employee of LenoFX, he's now behind IF Motion.
He is launching his paid plugins and is offering a 20% discount when you use the code: LENOFX20
Leno says:
You can also download the freebies to try them out, they are great. Especially the Basic Transitions.
You can learn more here.
---
---
The amazing Thomas Grove Carter has just released a new YouTube video:
You can also find this video on Twitter.
If you haven't read Thomas' case study on FCP Cafe - do it now!
---
Tangent Hub Beta v1.8.6 is out now!
For those Tangent Panel users out there...
They've added a great new feature to their Warp Engine which now allows you to simply record actions performed on the application's GUI, and associate those recorded actions to a control on the panel.
The control can be a button, knob, dial, trackerball or ring.
Moving or pressing the control will trigger the playback of the recorded actions.
This means that there's no longer any need to code Warp Scripts by hand (although you can still do this if you prefer).
Actions that can be recorded are:
Mouse moves.
Mouse drags. Note only a single drag can be performed in a recording.
Mouse button clicks.
Mouse scrolls. This is useful if sliders accept a scroll input.
Keyboard keypresses.
You can learn more and join their beta program via their website.
---
---
We've brought back Philip Hodgetts & Dr Gregory Clarke's amazing blog post, Demystifying Final Cut Pro XMLs originally written back in 2017 for fcp.co (which has sadly since been retired).
You can read it here.
Philip & Gregory are the geniuses behind Intelligent Assistance - please check out all their amazing tools!
We will also be bringing back some of Ronny Courtens's amazing case studies over the coming weeks! Stay tuned.
---
BRAW Toolbox v1.3.5 (63) is out now!
It includes the following changes:
🔨 Improvements:
Added support for Blackmagic Micro Studio Camera 4K G2.
Added support for Panasonic Lumix G9II Blackmagic RAW clips.
Updated from Blackmagic RAW SDK v3.4 to v3.6.
Updated from FxPlug v4.2.8 to v4.2.9.
🐞 Bug Fix:
Fixed a potential crash when pressing the Remove Selected button in the Workflow Extension.
You can learn more here.
---
evrExpanse 4 is out now with Offload functionality.
It's now equipped with xxh64 hash, ensuring rock-solid data integrity during your media transfers.
Streamlined and secure – because your files deserve the best!
You can get 25% off using the promo code: MU8SNH9
This offer ends 24th December 2023.
You can learn more here.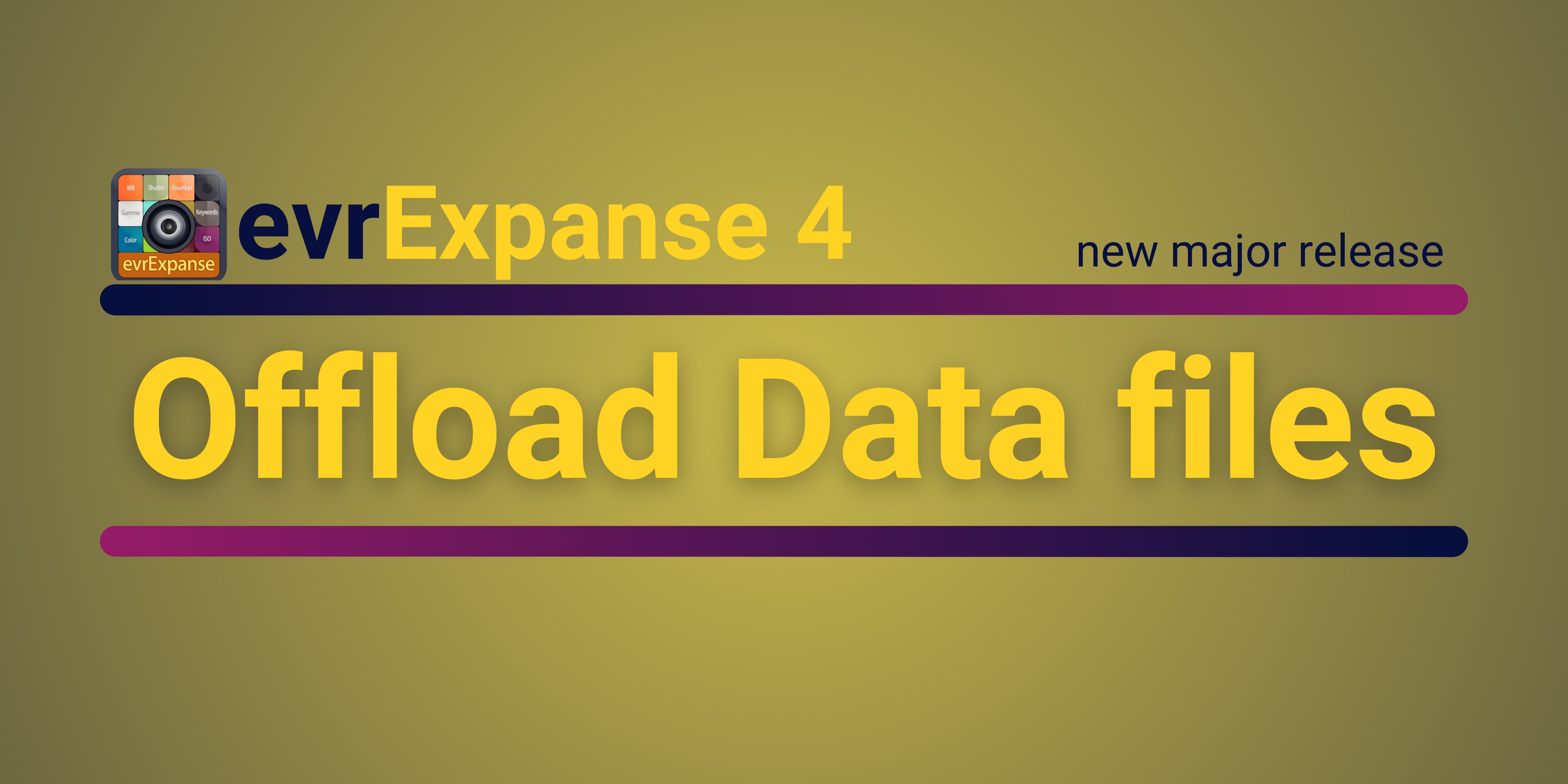 ---
---
X2Pro5 is out now on the Mac App Store at a discounted introductory rate (USD$50 off) for two weeks only!
The original X2Pro will remain on sale, as X2Pro5 only works on macOS Ventura & Sonoma.
It's been completely re-written and redesigned with the following new features:
Native Apple silicon support
Expanded roles
Enhanced media management
Simple workflow via redesigned UI
Marquis' new X2Pro5 software has been designed to integrate Final Cut Pro projects into a professional audio workflow, enabling Avid Pro Tools to be used for audio finishing. It works by converting the exported Final Cut Pro XML into an AAF file, which Avid Pro Tools can then open as a session, delivering seamless integration between the two applications.
X2Pro5 is a complete rewrite of Marquis' popular X2Pro Audio Convert software, bringing with it native Apple silicon support and a redesigned user interface.
X2Pro5 takes advantage of the innovative metadata-based organising features in Final Cut Pro X, with expanded role management allowing unlimited numbers of audio roles in Final Cut Pro X to be converted into Pro Tools tracks for further audio processing and finishing by the audio engineer.
X2Pro5 has a simple, straightforward interface and is easy to customise; for example, you can decide if you want to include disabled or inactive clips in the export, and you can choose the length of frame handles. The software provides a fully professional audio workflow for Final Cut Pro editors, enabling a very complex audio timeline to be sent to the Pro Tools audio engineer with ease.X2Pro5 faithfully translates your audio timeline along with L-cuts, J-cuts, transitions, levels, automatic gain and fade handles, as well as the incredibly powerful FCP X compound and multicam clips. Transitions are converted into linear cross fades. Audio media can be any QuickTime supported audio, non-PCM audio is converted to PCM at either 16 or 24 bit.
With immersive audio technology continuing to grow in popularity, X2Pro5 provides a quick way for FCP users to be able to deliver a project to an external Pro Tools audio editor, sharing the FCPXML file so they can mix – and deliver – multi-channel audio.
R3D media is supported.
We recommend rendering an off-line or proxy version of the flattened video and exporting that if a reference is needed within Pro Tools. Only audio media is translated by X2Pro5.
System Requirements:
Final Cut Pro X, and FCPXML from v1.7
macOS 13 Ventura and later. X2Pro5 is tested on the latest release macOS and the previous release.
Pro Tools v7.0 or later for AAF import (not LE versions, v7 and v8 require Digitranslator for AAF import)
You can purchase on the Mac App Store here.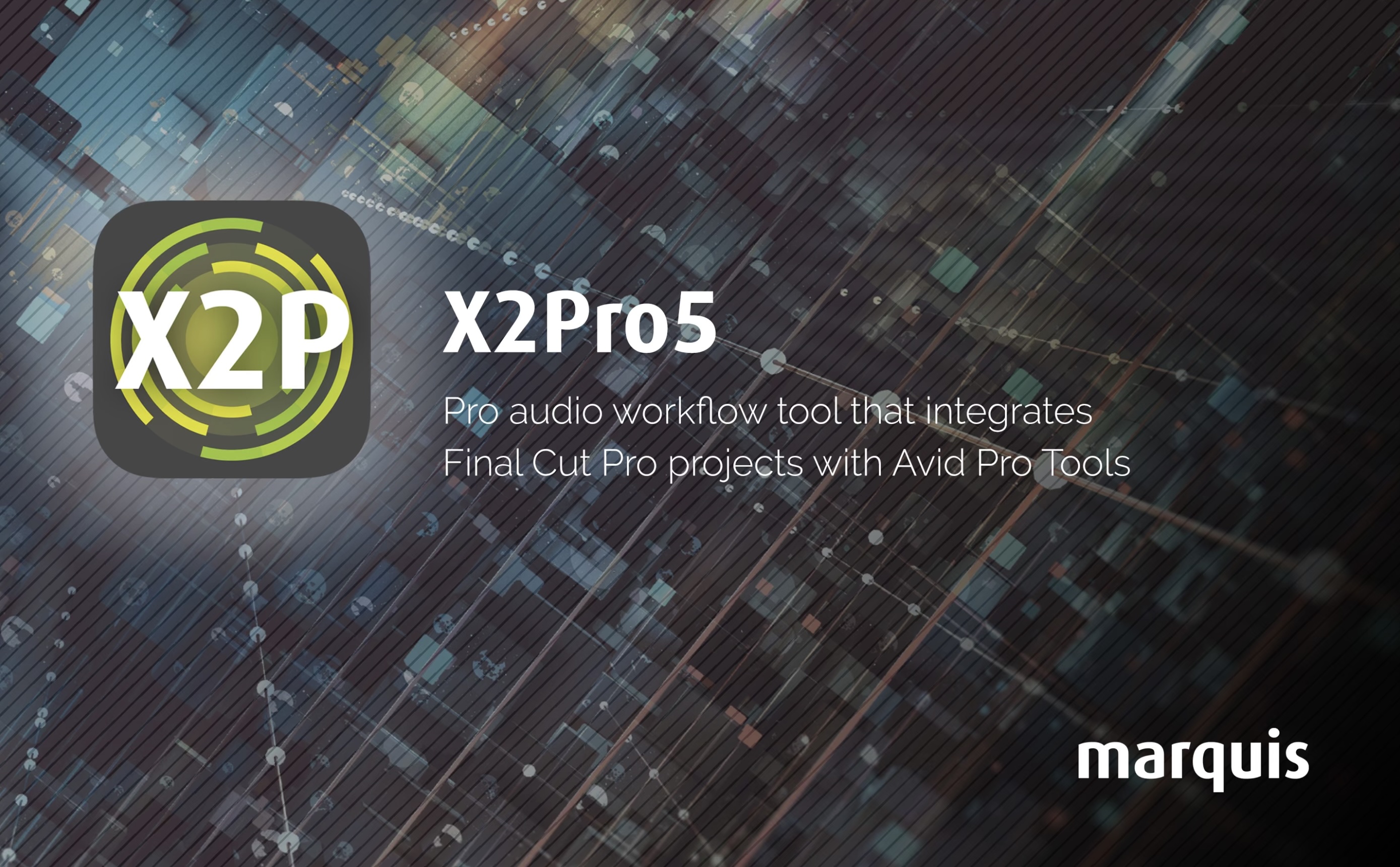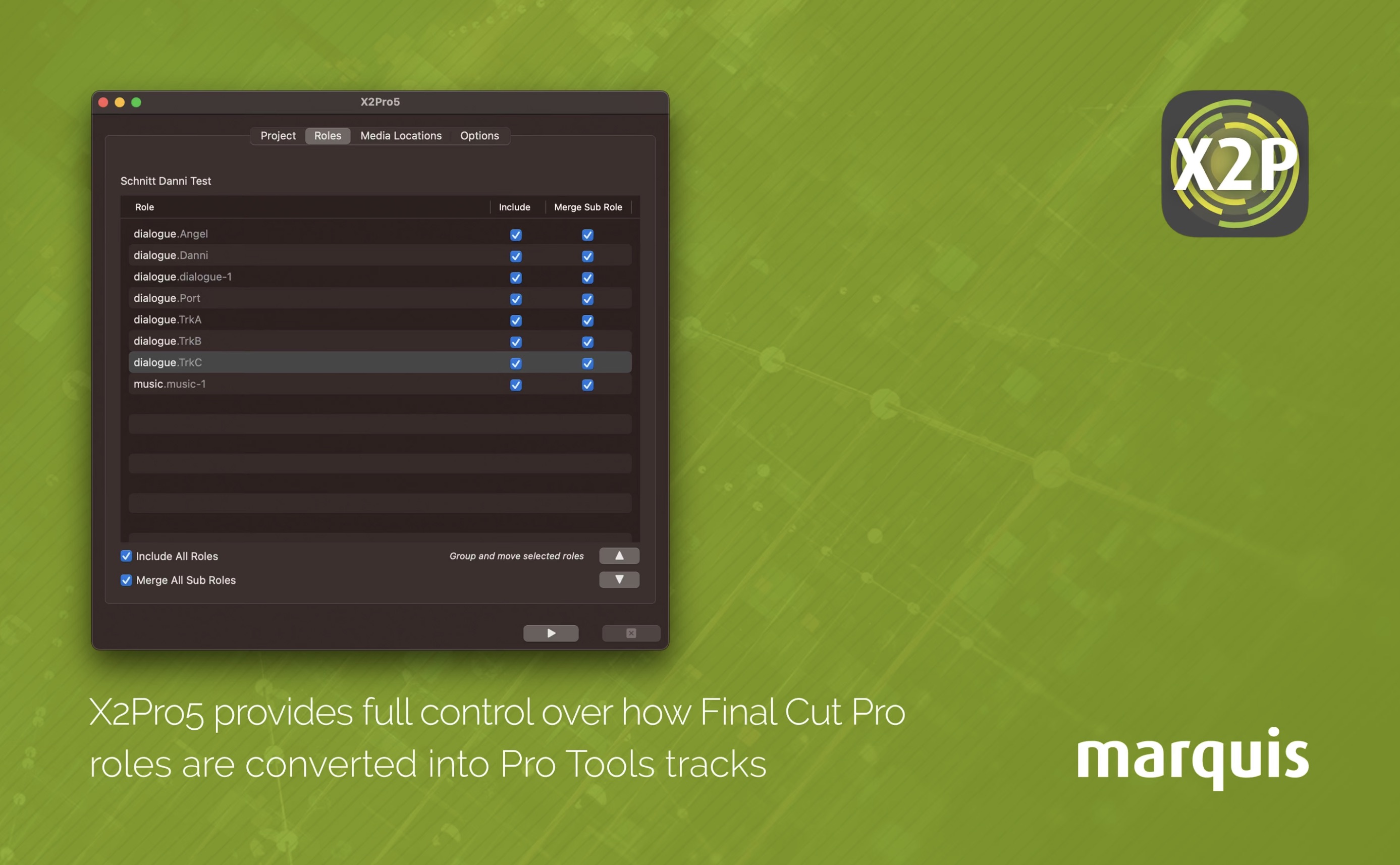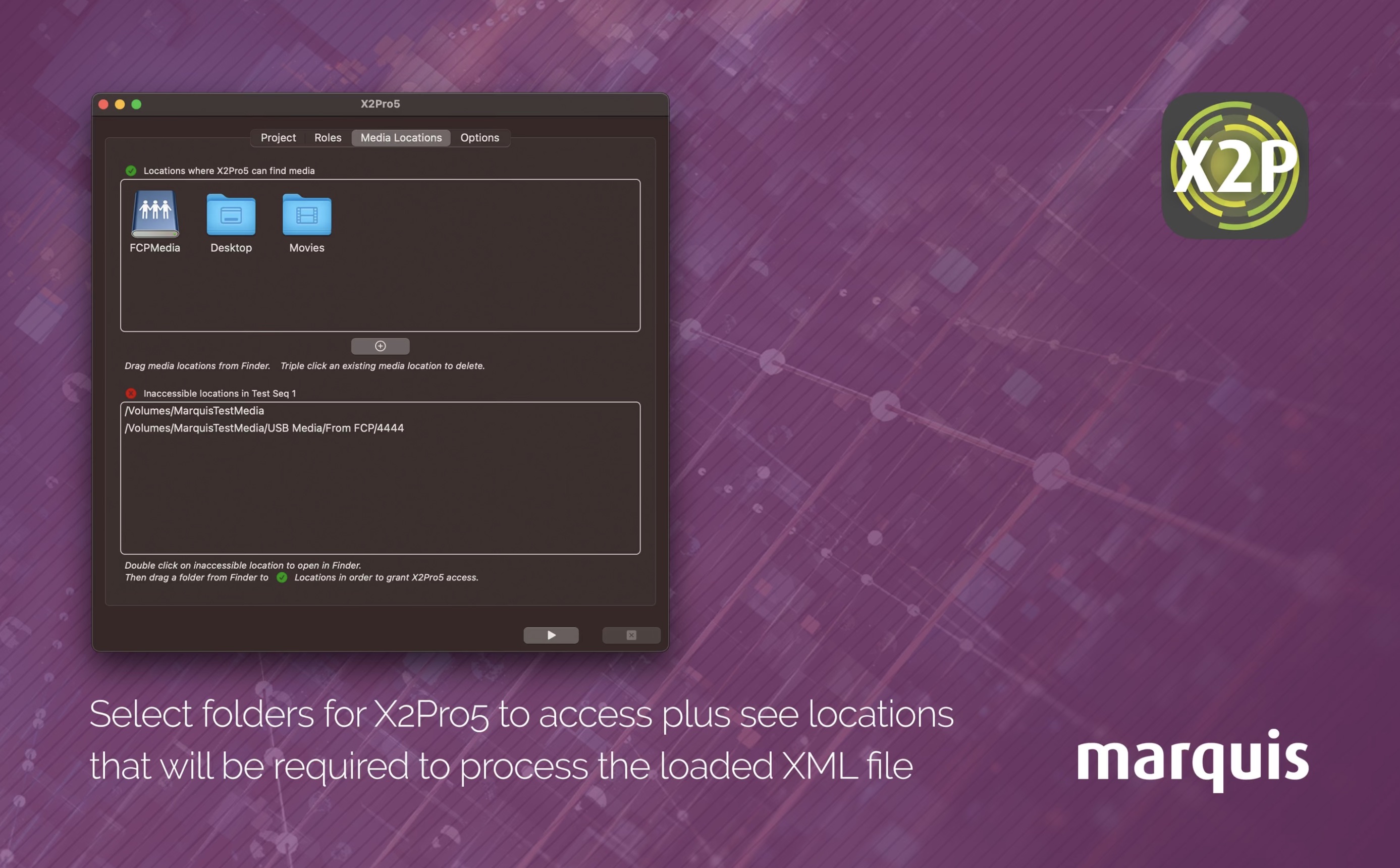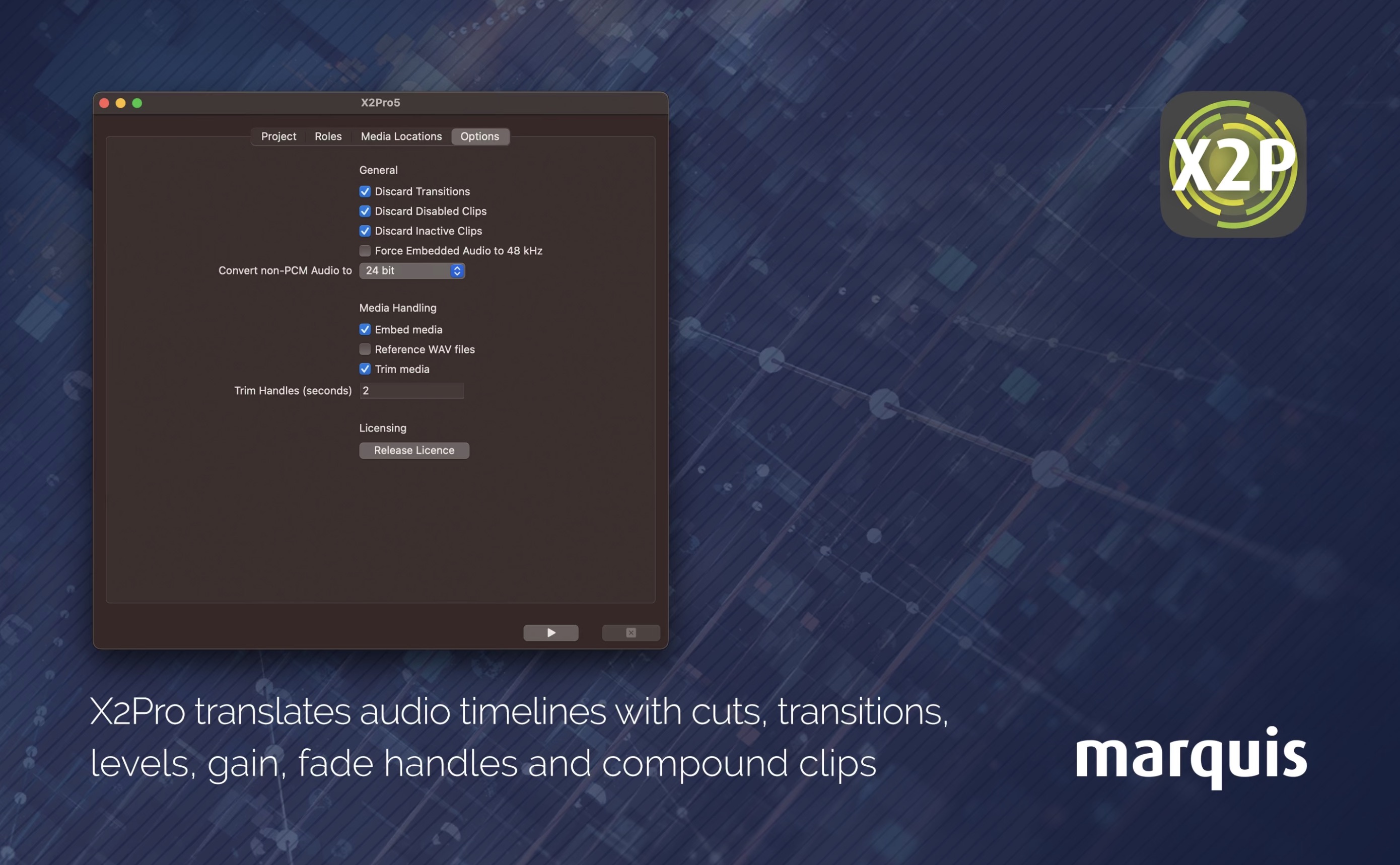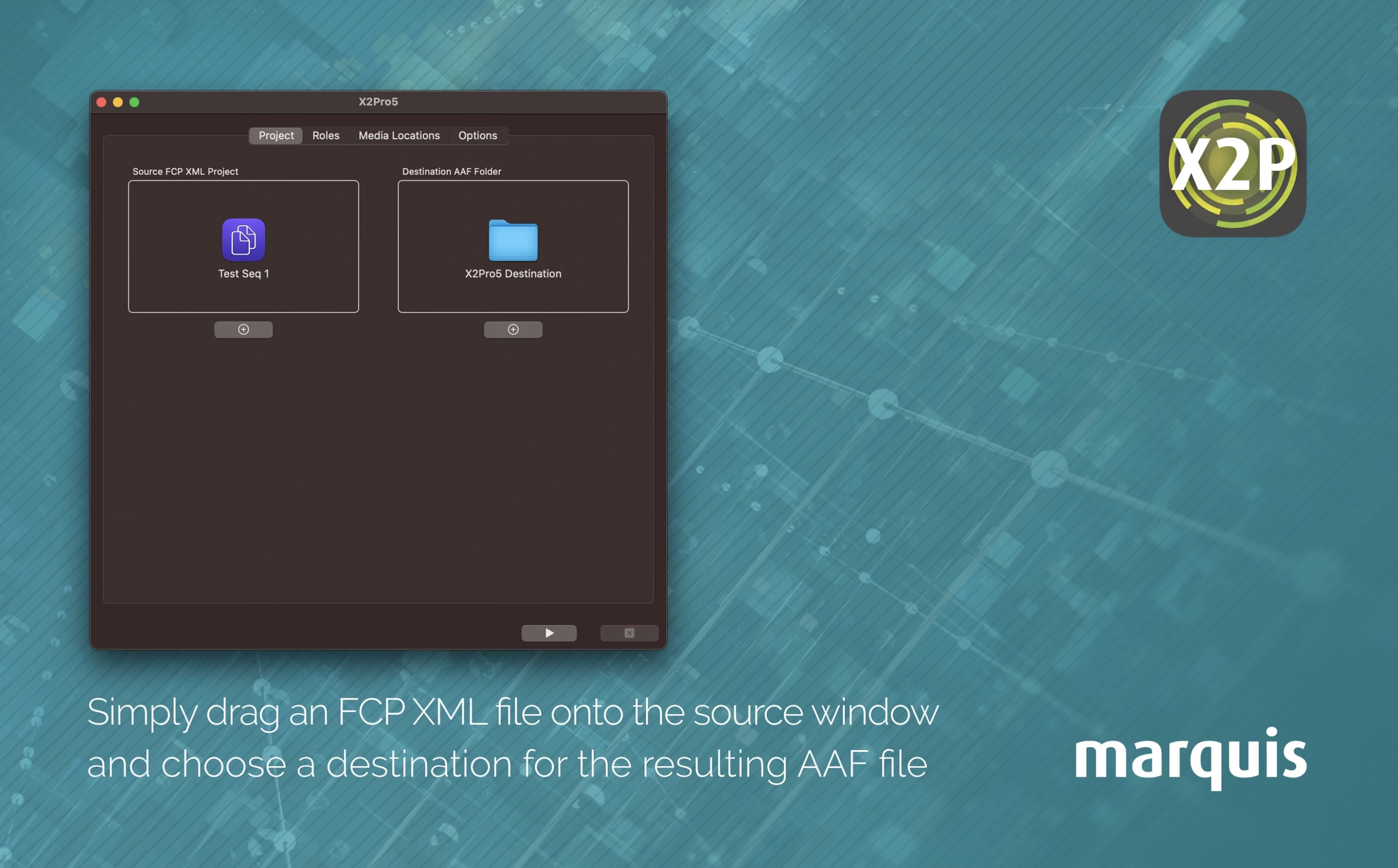 ---
Final Cut Library Manager v3.98 is out now!
It now supports Final Cut Pro 10.7 libraries.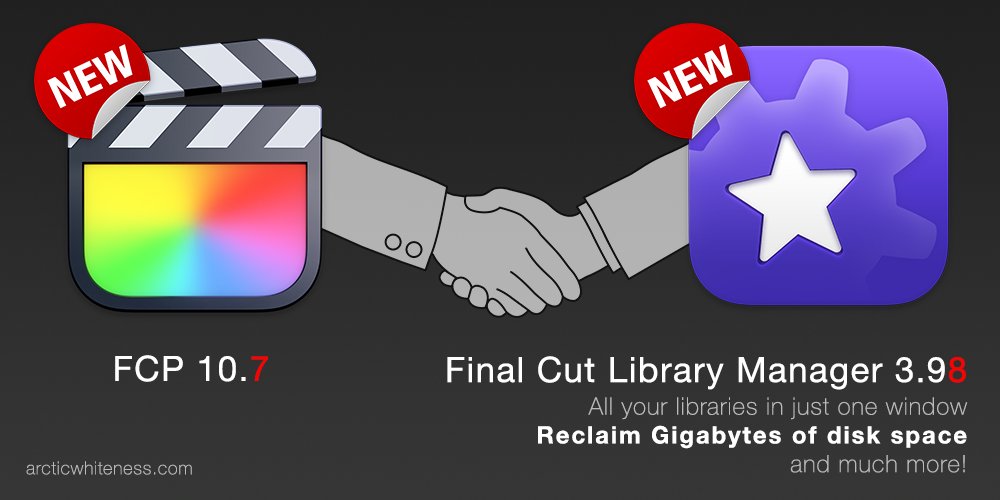 You can learn more here.
---
---
Transfer Toolbox v1.1.0 is out now!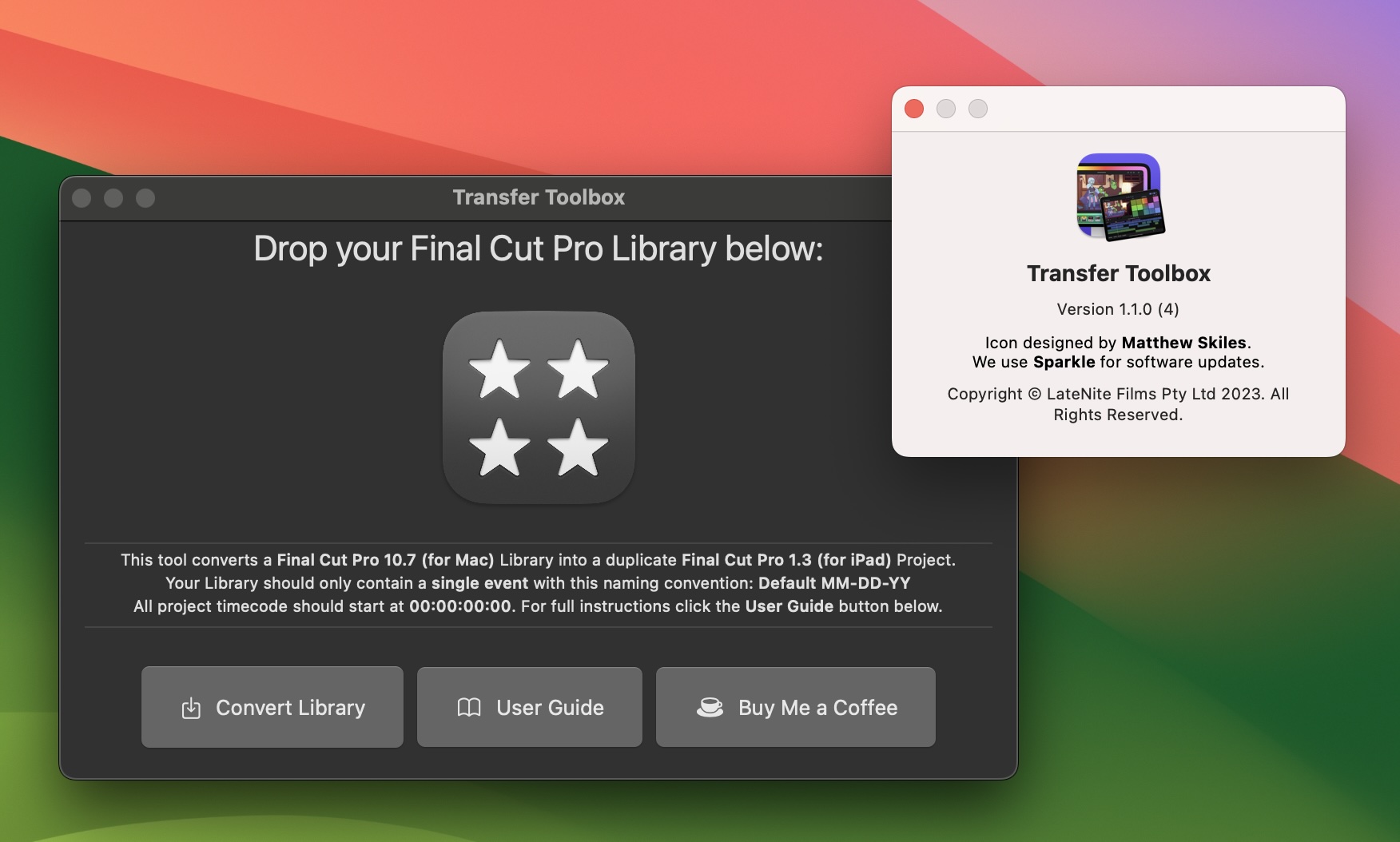 We've updated Transfer Toolbox so that it now works with Final Cut Pro 10.7 and Final Cut Pro 1.3 (for iPad).
You can now transfer Final Cut Pro libraries from your Mac to your iPad for free!
You can learn more and download here.
---
---
Since its release yesterday, we've been busy testing and exploring Final Cut Pro 10.7.
So far we haven't found any issues or problems with Final Cut Pro 10.7 and CommandPost, BRAW Toolbox, Gyroflow Toolbox, Marker Toolbox, Recall Toolbox or Fast Collections.
If you haven't already, you can read all the release notes in yesterday's post.
It's worth noting that Pro Video Formats & FxPlug SDK also got an update. The Workflow Extensions SDK did not.
There's lots of great videos out there talking about this update, such as:
If you've found any other Final Cut Pro 10.7 videos you've really liked, please let us know in the comments!
Rather than just recapping what the above people have already covered in depth, we instead wanted to discuss some more of the niche/more technical things...
---
FCPXML:
There have been no changes/updates to FCPXML in this update - it still uses FCPXML v1.11.
Sadly this means that FCPXML is still broken with certain text parameters - for example, Tracking, All Caps Size, Z Position, etc. don't translate properly in FCPXML: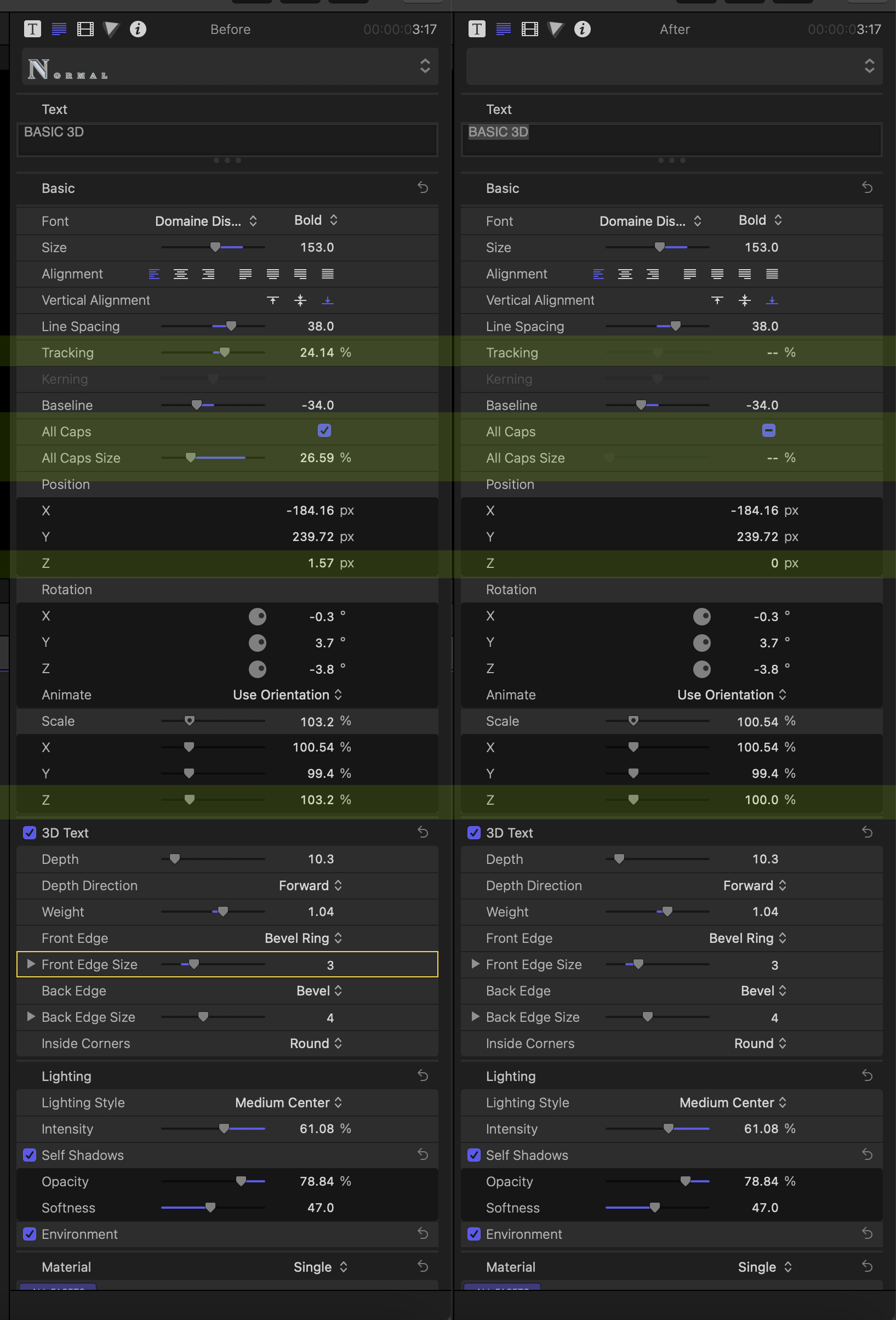 This has been reported to Apple many times over the years. If this bug annoys you, please file feedback via Feedback Assistant referencing FB13434162.
---
Scrolling Timeline:
The most exciting change to Final Cut Pro 10.7 is the addition of a Scrolling Timeline.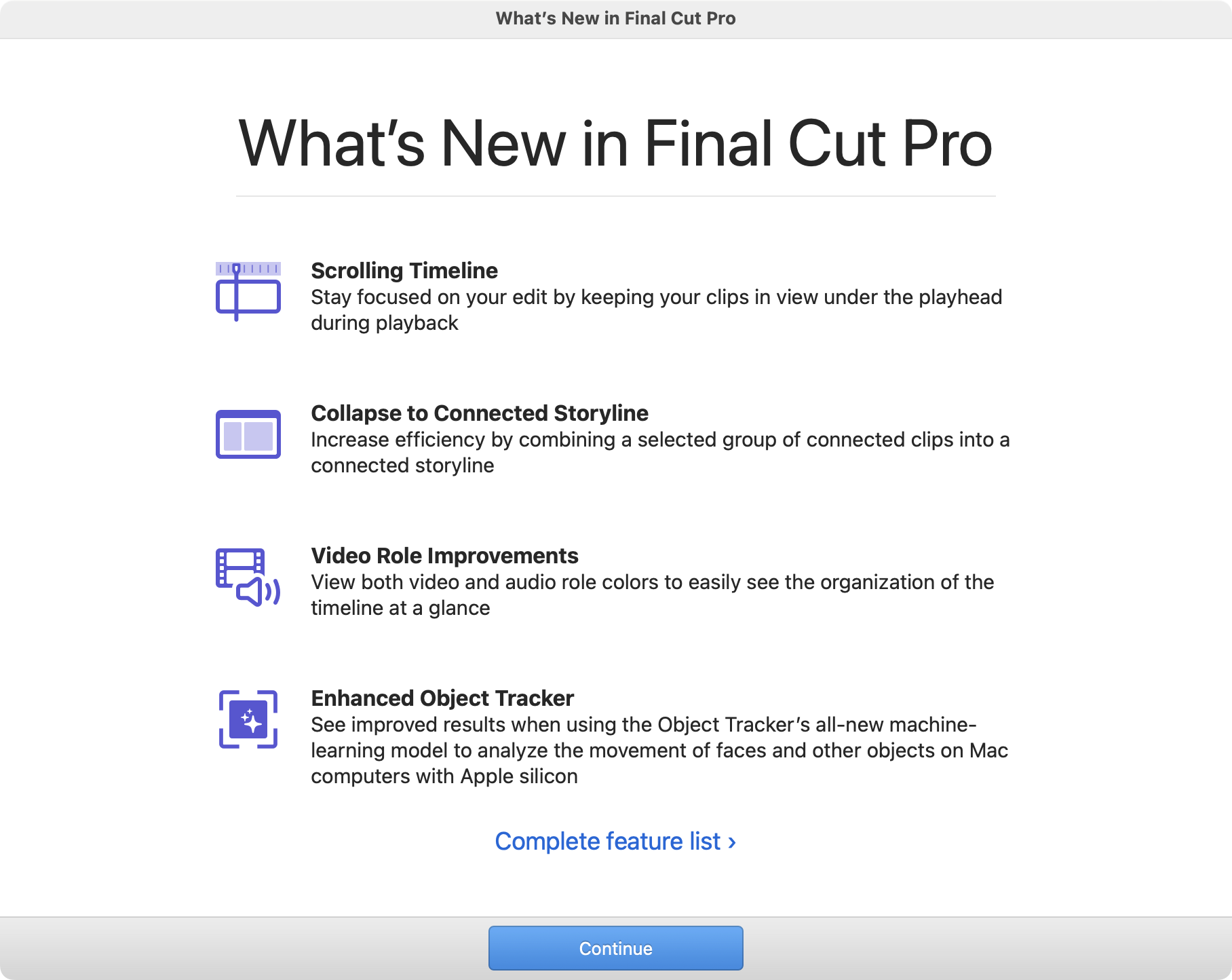 CommandPost has had a scrolling timeline in Final Cut Pro since 2016.
FWIW - the CommandPost scrolling timeline still works in Final Cut Pro 10.7, so you can still keep using it if you prefer it to the official scrolling timeline.
Funnily enough, in an very early version of CommandPost, we also had a feature called Timeline Playhead Lock, which locked the timeline playhead to the centre of the timeline - but this feature was removed at some point as very few people actually used it.
You've also been able to turn on Enable Rendering During Playback so that Final Cut Pro keeps rendering, analysing, and generating thumbnails and waveforms even during playback - which works great in combination with CommandPost's scrolling timeline.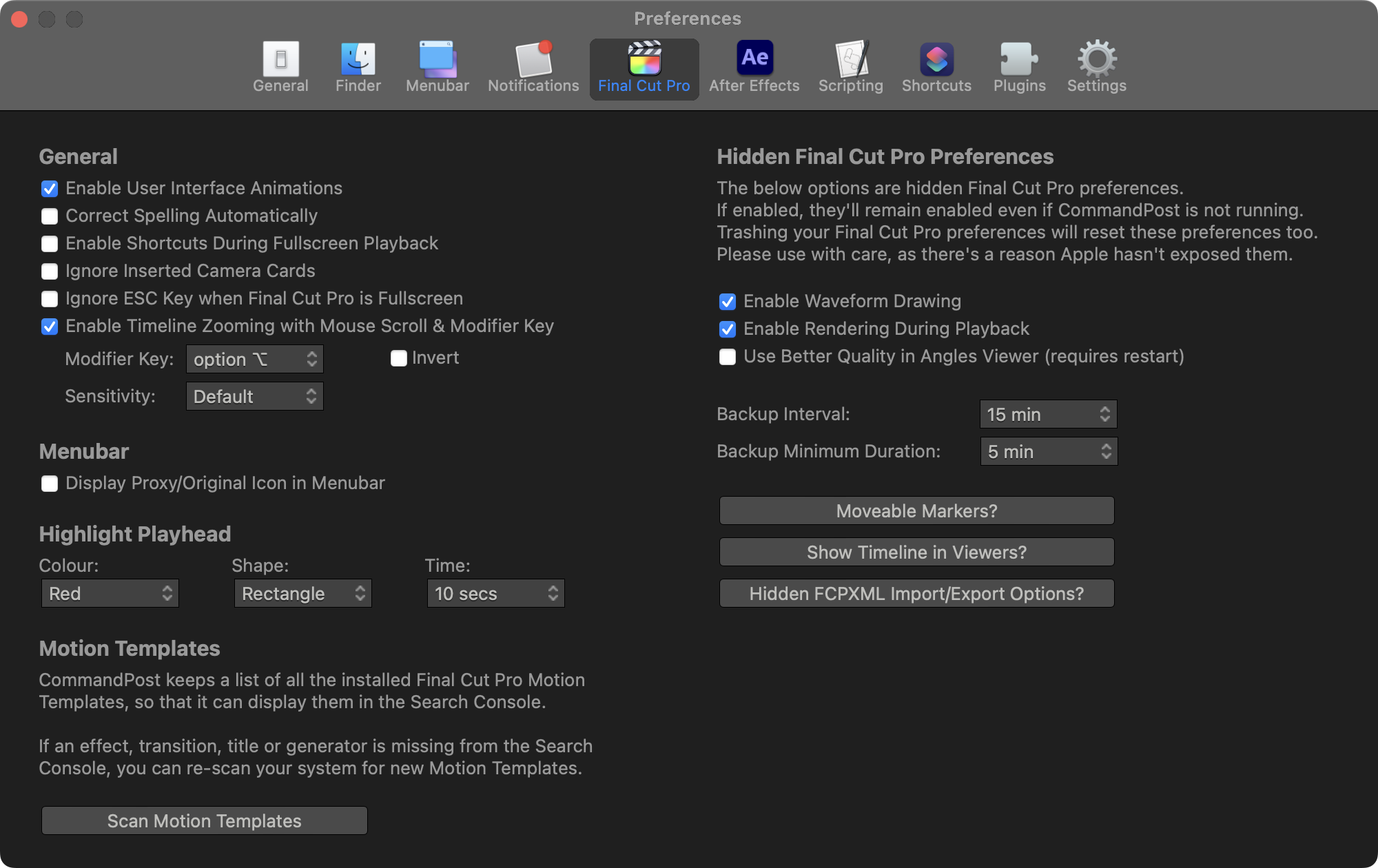 The new Scrolling Timeline in Final Cut Pro 10.7 is definitely a big improvement from what CommandPost can offer, and is a really nice implementation, as you'll see in the various videos linked to above. Richard Taylor is VERY happy.
What's interesting though is that when you enable the scrolling timeline, it also enables Final Cut Pro's ability to generate thumbnails and waveforms during playback - and when you turn off the scrolling timeline it disables this ability.
It's also interesting that the scrolling timeline is disabled by default.
A scrolling timeline has been referenced inside Final Cut Pro for years now. My GUESS the reason it's taken so long for Apple to enable and release publicly is because they've been waiting for the hardware to catch up.
This also explains why it's disabled by default (along with generating thumbnails & waveforms during playback), as it runs pretty slow/laggy on very complex projects/timelines, especially on older Intel hardware, and Apple don't want new users to experience that straight out of the box - hence scrolling timeline is "hidden" in the preferences, and not with a simple toolbar button.
I'm sure eventually, once you can no longer install the latest macOS and Final Cut Pro on Intel machines, then Apple will make generating thumbnails & waveforms during playback always on - not just when you have the scrolling timeline enabled.
Once this happens, maybe they'll add a Scrolling Timeline toggle next to the Skimming button in the Timeline Toolbar.
In the meantime, CommandPost's Enable Rendering During Playback preference still seems to work on Final Cut Pro 10.7, which is great.
Alternatively, if you never want to use the new scrolling timeline, but still want to generate thumbnails and waveforms during playback without CommandPost, you can also use this Terminal command:
However, if you turn on the scrolling timeline and then turn it off again, FFGenerateThumbnailsDuringPlayback will also be disabled again.
---
Library Database:
The Final Cut Pro Library Database version has also been updated to 1090, compared to 1071 in Final Cut Pro 10.6.10.
This means that any Libraries created prior to Final Cut Pro 10.7 will need to be updated to the latest format, and you can't go back from 10.7 to earlier versions of Final Cut Pro.
Whilst Final Cut Pro does always do an automatic backup of libraries prior to updating them, we also strongly recommend manually creating a ZIP file of your library before updating too, so that you can roll back to an older version of Final Cut Pro if a major bug or regression is found.
The Backups for Final Cut Pro application is also highly regarded for automating library backups.
Interestingly, Final Cut Pro for iPad v1.3 also uses the 1090 database format - so Final Cut Pro for Mac and iPad are once again in version parity.
Unfortunately for us, Final Cut Pro for iPad has become less interesting after Apple prevented Transfer Toolbox from working - which was our solution to get from Mac to iPad.
We've since stopped developing Transfer Toolbox for now - you can read more about this decision in more detail here.
UPDATE (3rd Dec 2023): After writing this news entry, we've since brought back Transfer Toolbox to life with Final Cut Pro 10.7 support. You can learn more here.
Our big hope/dream with Final Cut Pro for iPad was to use it for doing director/client/agency selects, and then send those selects to the Mac, but ideally we want to do all the prep work on Mac - i.e. syncing everything with Sync-N-Link, etc.
You can easily get from Final Cut Pro on iPad to Mac, so we're now exploring ways to take the selects from iPad and translate them across to Multicam Clips created in Sync-N-Link (for example).
The fact that you can now import iMovie for iOS projects into Final Cut Pro for iPad might be a hint that native Mac to iPad is also on their radar/wish-list.
Apple still publicly advertise that Third-party Content is coming soon to Final Cut Pro for iPad - so we should see third party MotionVFX Motion Templates on iPad at some point in 2024: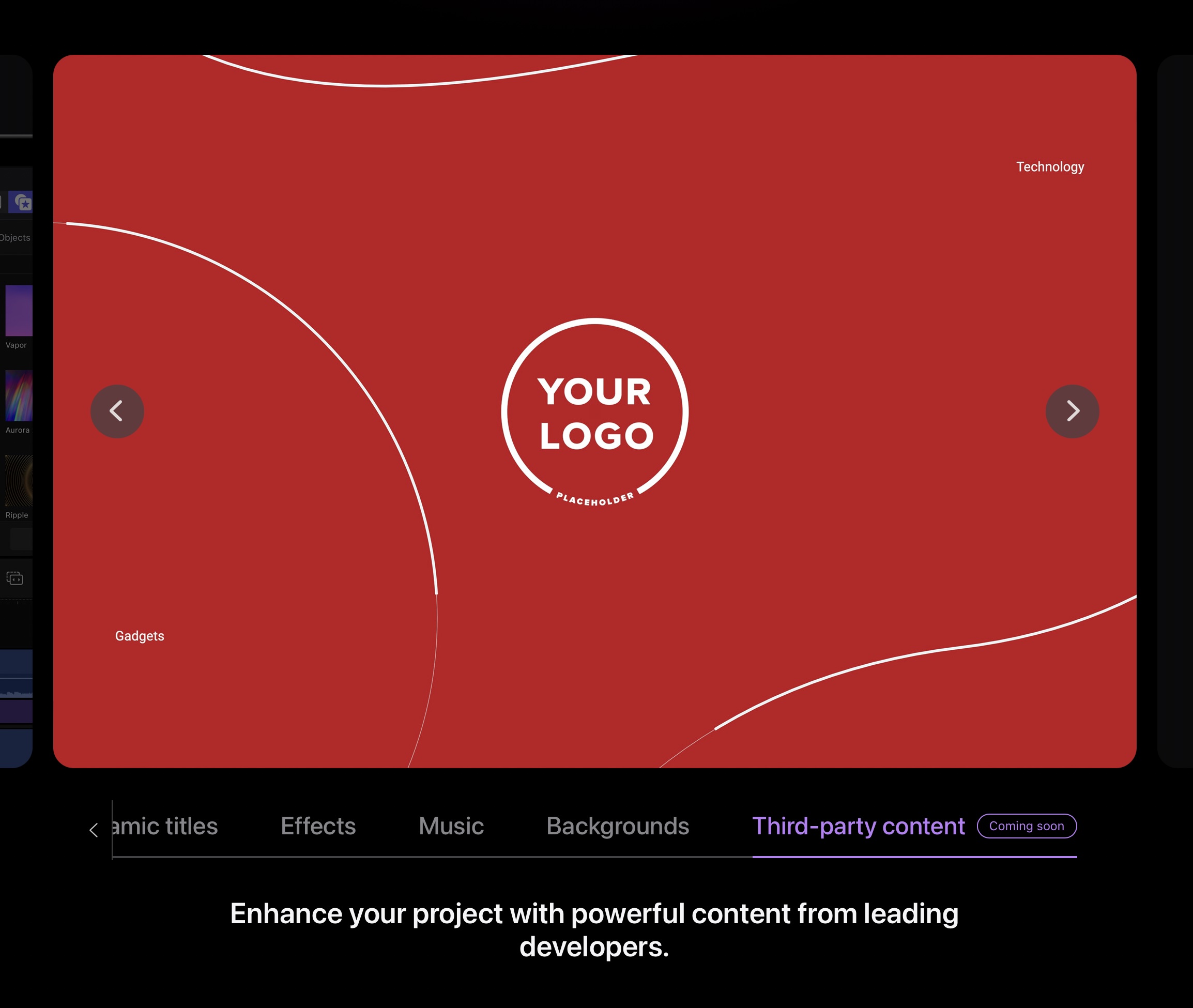 ---
Command Sets:
The only two Command Editor items between Final Cut Pro 10.6.10 and 10.7.0 are Collapse to Connected Storyline and Timeline Scrolling.
They did however follow the more recent macOS naming conventions, and renamed the Preferences item to Settings.
They also replaced a lot of OS X to macOS in various warnings and error messages.
The built-in default Command Set also has had a few changes:
Collapse to Connected Storyline has been added as COMMAND+SHIFT+DOWN.
Set Monitoring Angle has changed from SHIFT+V to SHIFT+OPTION+M.
Start/Stop Voiceover Recording has changed from SHIFT+OPTION+A to SHIFT+OPTION+R (same as Final Cut Pro for iPad v1.3).
Record Voiceover has changed from COMMAND+OPTION+8 to SHIFT+V (same as Final Cut Pro for iPad v1.3).
---
Reveal in Browser:
It's worth noting that the enhanced Reveal in Browser feature allows you to locate a clip in the Browser without losing your selected Keyword Collection or Smart Collection.
However, if no Keyword or Smart Collection is currently selected, it will still just match back to the Event.
For a number of years now, CommandPost has had a Reveal in Keyword Collection action: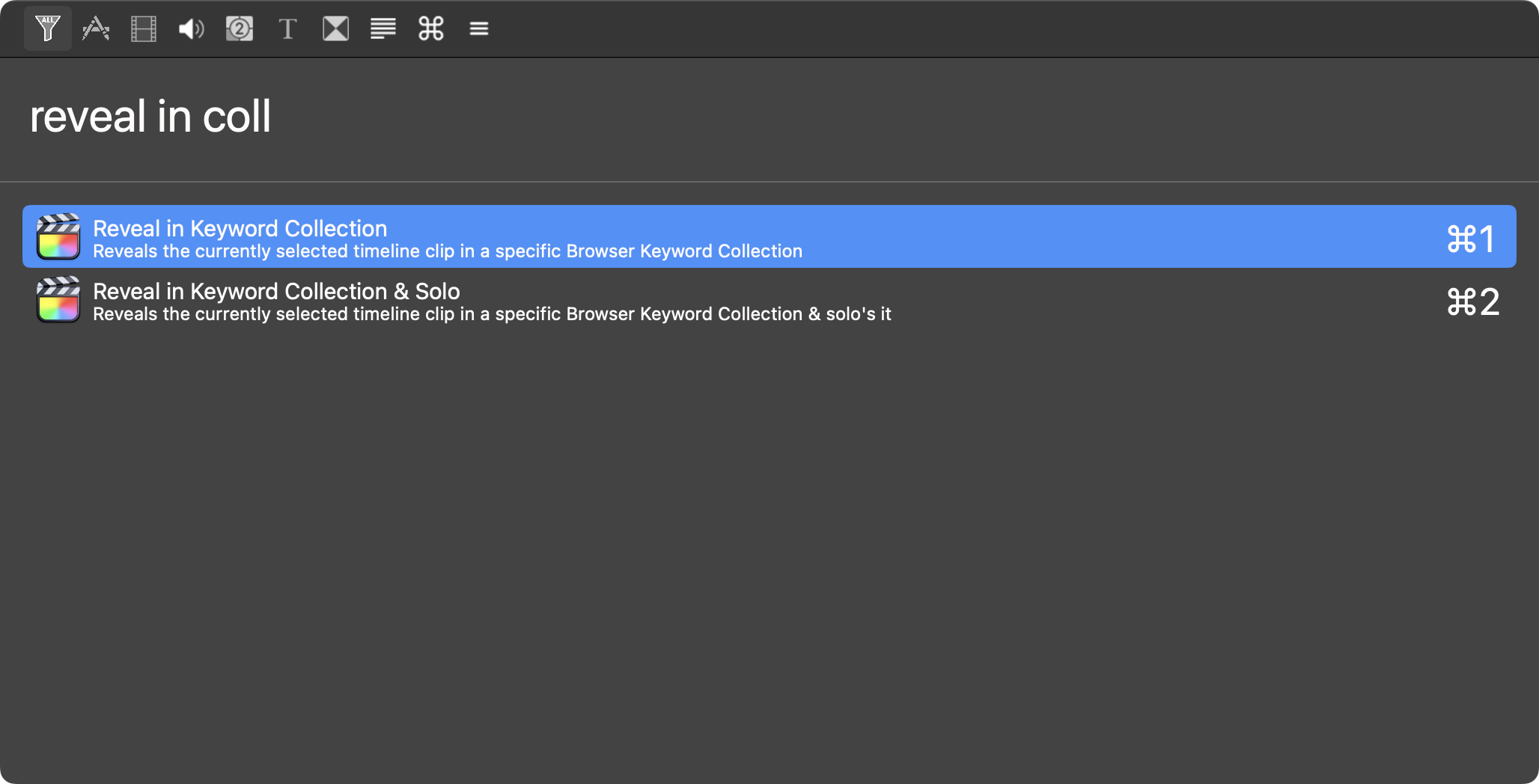 If you trigger Reveal in Keyword Collection on a clip in the timeline that has multiple keywords applied to it, it will prompt you for which one you want to reveal to: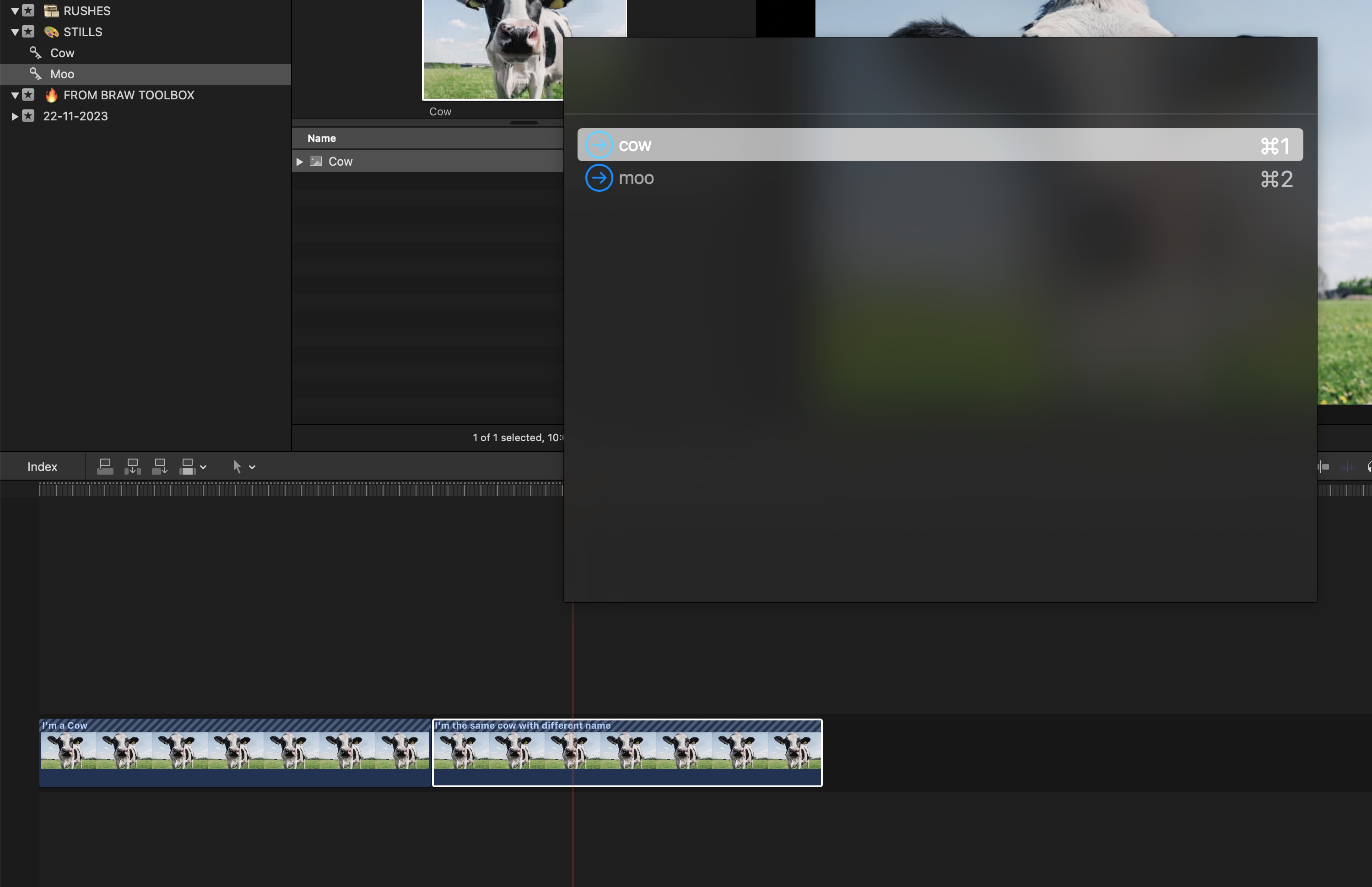 This feature still works great on Final Cut Pro 10.7, and can be handy when you want to quickly match back to a Keyword Collection, rather than an Event.
---
Faster HEVC & H.264 Exports:
Faster HEVC and H.264 export will only happen if you're using macOS Sonoma and a Mac with Apple M1 Max, M1 Ultra, M2 Max, M2 Ultra, or M3 Max.
It works by simultaneously processing video segments across available media engines, but it will only split up video to the different media engines if the content is long.
For example, you won't get faster exports if you have a 30sec or 1min timeline, but a feature length film you'll see improvements.
Because an export is essentially "split up" into multiple chunks for different media engines, there's also some time spent at the end of the process to "combine" the chunks again. Whilst this is all done in the hardware, there's still some overhead, which is why it won't split things up for shorter clips (as you'll waste time combining them at the end).
As an example, on my 2021 16-inch MacBook Pro (Apple M1 Max, 64GB RAM, 8TB SSD), a 1 hour and 35 minute timeline was split up into three chunks for HEVC export.
---
Undocumented Fixes:
The Command Set Import window now only accepts .commandset files! This was reported as FB12868396. Thanks Apple!
The relink progress bar has been improved, so that the progress bar doesn't "block" the Relink panel interface. This means that as things relink in the progress bar, you can visually see things get removed in the matched files list.
---
Bugs:
Whilst so far Final Cut Pro 10.7 has been pretty stable and reliable, I've still seen it do some funky things.
For example, random red lines in the Timeline for no apparent reason:

If you see something similar, please report it in FB13434993.
The Scrolling Timeline sometimes misbehaves at certain Zoom Levels. This is discussed in FB13436367.
Some users have reported that Final Cut Pro thinks a QWERTY keyboard is attached, when instead a AZERTY keyboard is.
If you're using a AZERTY keyboard, we would suggest backing up your custom Command Sets prior to updating to Final Cut Pro 10.7, so that you can import them back in.
I've been able to make it crash using third party Audio Units, even after selecting Settings > General > Audio Units > Validate on Next Launch.
Also, since at least Final Cut Pro 10.6.10, Send To Compressor doesn't correctly render any third-party audio effects.
If you can reproduce, please report it in FB13435050.
The Inspector button tooltips have disappeared - it now just says:

If you can reproduce, please report it in FB13435003.
When first installing Final Cut Pro 10.7 it had the code name for ProRes Proxy in the Rendering Dropdown: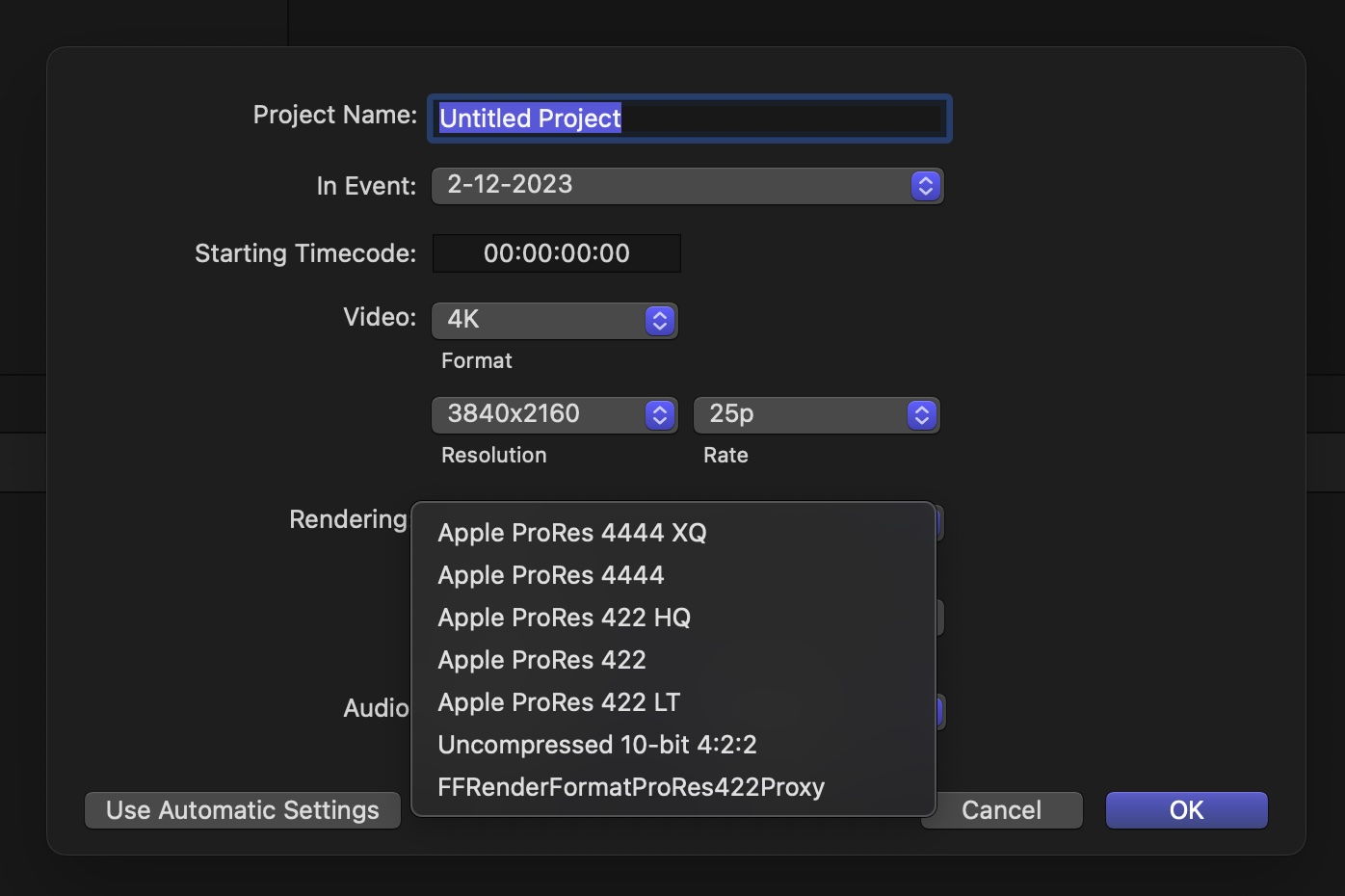 Since seeing this, ProRes Proxy is no longer an option in the Rendering Dropbox.
When trying to change a font, the font variation popup menu would sometimes loose it's text, and you couldn't select a different variation.
Interestingly, when this is happening and you hover over the empty popup menu items, the render bars above the selected Title go crazy.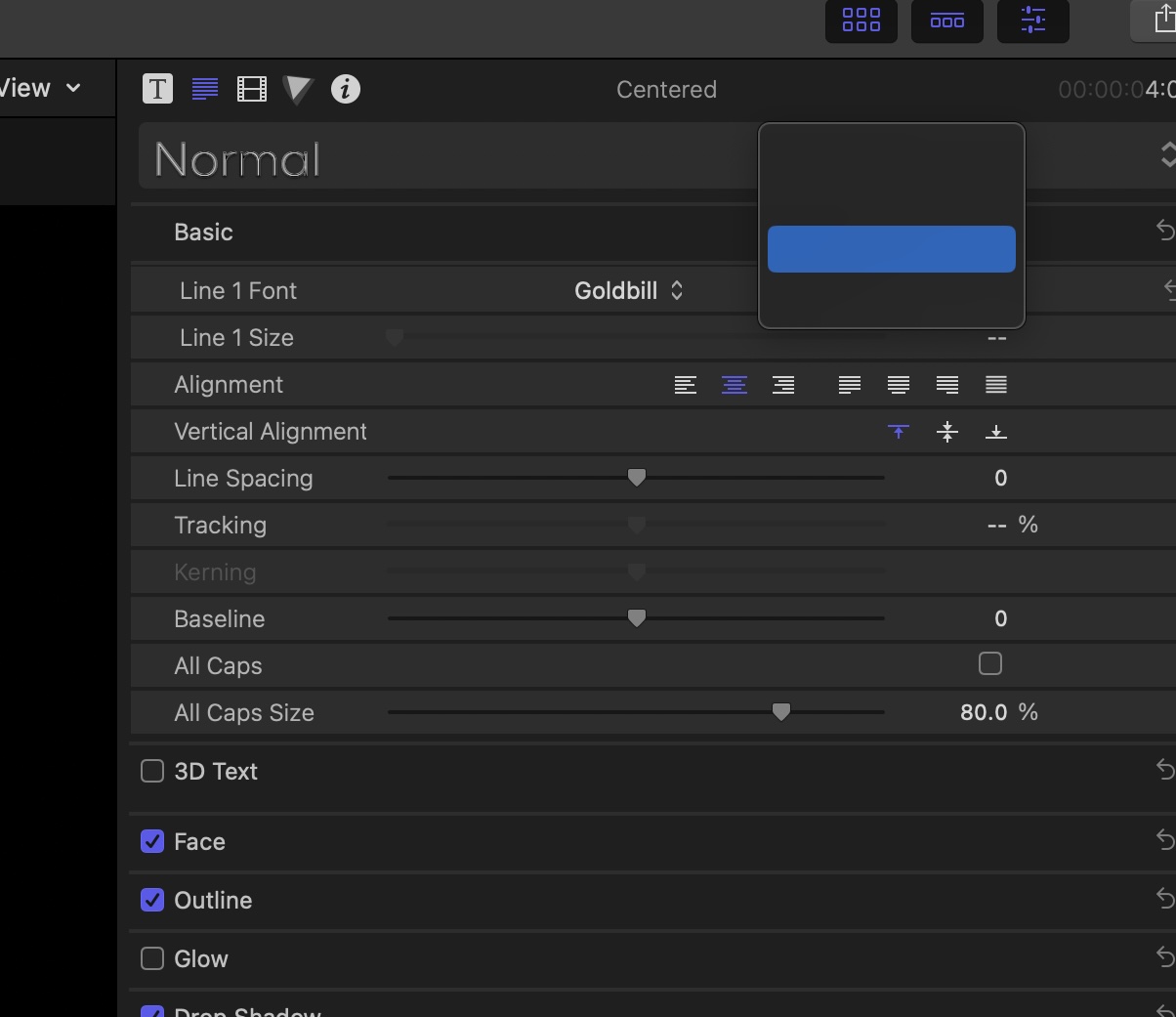 This could prove to be a major regression - but we need to do some more testing to confirm exactly what's going on. So far some other users have been able to reproduce this, so it looks like a bug sadly.
If you can reproduce this issue, please let us know in FB13434977.
However, generally speaking, it's been pretty rock solid - even when enabling the Scrolling Timeline on our massive Blackmagic RAW test timeline, which is full of all kinds of weird and wonderful BRAW clips in all different types of frame sizes, frame rates and aspect ratios.
We'll continue to test and explore Final Cut Pro 10.7 over the coming weeks and report any findings on FCP Cafe.
If you spot any bugs or issues, please make sure you report them on the Bug Tracker. Thanks team!
---
---
Final Cut Pro 10.7 and Final Cut Pro for iPad 1.3 are out now!
This was the version demonstrated at the Final Cut Pro Creative Summit. Whilst there was no new feature surprises, it does have some very welcome bug fixes!
Final Cut Pro 10.7 includes the following enhancements and fixes:
Automatically scroll the timeline to keep your clips in view under the playhead during playback.
Increase editing efficiency by combining a selected group of connected clips into a connected storyline.
View both video and audio role colors to easily see the organization of the timeline at a glance.
See improved results when using the Object Tracker's all-new machine-learning model to analyze the movement of faces and other objects on Mac computers with Apple silicon.
Use the enhanced Reveal in Browser feature to easily locate a clip in the browser without losing your selected Keyword Collection or Smart Collection.
Export HEVC and H.264 files faster by simultaneously processing video segments across available media engines (requires macOS Sonoma or later and a Mac with Apple M1 Max, M1 Ultra, M2 Max, M2 Ultra, or M3 Max).
Fixes an issue that caused an offline media badge to remain on an event after reconnecting.
Fixes an issue that could cause video to be cropped in the multicam angle editor.
Improves performance when upgrading a library that contains many markers.
Final Cut Pro for iPad 1.3 includes the following features and enhancements:
Record voiceover and live audio directly in the timeline using the built-in iPad microphones or external microphones.
Dial in the perfect look with stunning new color-grading presets.
Choose from a selection of new titles and generators.
Increase editing efficiency by grouping connected clips into a connected storyline.
Control stabilization in the pro camera mode.
New keyboard shortcuts:
Group clips into a connected storyline: Command-G
Ungroup clips from a connected storyline: Shift-Command-G
Show or hide the voiceover controls: Shift-V
Start or stop recording audio from the voiceover controls: Shift-Option-R
Play full screen: Shift-Command-F
Enter or exit Picture in Picture: Command-3
Improvements and fixes:
Adds a skin tone indicator to the vectorscope.
Adds color gradients to controls in the Color Adjustments effect and color-grading presets.
Adds the Sharpen effect to the content browser and inspector.
Increases the Volume Offset maximum to 20 dB.
Allows dragging anywhere at the top of the timeline to resize it.
Fixes an issue that caused resetting Format settings for a Live Drawing clip to remove its contents.
Fixes an issue that caused Live Drawings in an HDR portrait project to show an unexpected border.
Fixes an issue that prevented nudging of the last animation keyframe for clips in a connected storyline.
Improves reliability when reimporting missing media files.
Improves reliability when copying and pasting color conversion and rate conversion settings.
Improves reliability when undoing a copy and paste of Audio settings.
Improves reliability when importing iMovie for iOS projects.
Includes stability and performance improvements.
Motion 5.7 includes the following enhancements and fixes:
See improved results when using the Object Tracker's all-new machine-learning model to analyze the movement of faces and other objects on Mac computers with Apple silicon.
Title template backgrounds are now disabled by default.
Fixes an issue that caused FxPlug-based plug-ins to stop responding when you cancel an analysis.
Compressor 4.7 includes the following enhancements and fixes:
Export HEVC and H.264 files faster by simultaneously processing video segments across available media engines (requires macOS Sonoma or later and a Mac with Apple M1 Max, M1 Ultra, M2 Max, M2 Ultra, or M3 Max).
Create, configure, and build stereoscopic packages for the iTunes Store.
Preview Log encoded video with or without Log applied.
HDR content now displays in the correct color space in the viewer.
Improves performance when enabling or disabling audio tracks on long multi-channel ProRes clips.
Adds support for JSON and XML output to batch submissions when using the command line.
Fixes an issue where creating a Watch Folder would prevent the "Enable audio pass-through" setting from being selected.
Pro Video Formats 2.3 is also out now. The Pro Video Formats package provides support for the following codecs that are used in professional video workflows:
Apple ProRes RAW and ProRes RAW HQ*
Apple Intermediate Codec
Avid DNxHD® / Avid DNxHR® decoder
AVC-Intra 50 / 100 / 200 / 4:4:4 / LT
AVC-LongG
XAVC
XF-AVC
XF-HEVC
DVCPRO HD
HDV
XDCAM EX / HD / HD422
MPEG IMX
Uncompressed 4:2:2
For developers, FxPlug SDK 4.2.9 is also out now with the following:
A new -projectAspectRatio:error: method in FxProjectAPI_v2.
The FxBrightnessAnalysis example has been updated to optionally perform backward analysis, image well analysis, and GPU analysis.
Improved overall stability.
Improved the speed of analysis cancellation.
Fixed an issue in -timelineTime:fromImageTime:forParameterID: that had caused an incorrect time to be returned as timelineTime.
FxColorGamutAPI can now be instantiated from within -parameterChanged:atTime:error:
FxProjectAPI can now be accessed during a push button callback.
Fixed a leak in the FxSimpleColorCorrector example plug-in.
Fixed an issue that would cause a hang in Motion when multiple instances of the same plug-in were applied to an object.
Fixed an issue that would cause generated output to be composited on frames requested by the FxAnalysisAPI and FxTimingAPI when a plug-in was applied to a title template's Title Background layer.
Fixed an issue that could cause a crash when analyzing very large inputs in effect templates that had relatively small project dimensions.
Xcode 15 is now required to build FxPlug plug-ins.
As usual, Ripple Training have released an awesome detailed video explaining all the new features:
The incredible Jenn Jager has also released an awesome video:
And of course, the The Final Cut Bro, Dylan Bates is also on the case:
We'll be testing Final Cut Pro 10.7 and Final Cut Pro for iPad 1.3 in detail over the coming weeks, and we'll keep you posted if we discover any unexpected bugs or issues.
---
New Case Study!
Sebastian Leitner has written an incredibly detailed and technical case study on the film Women of Resilience: Tales of Kurdish Identity, discussing Broadcast Versioning and Mastering.
You can watch the trailer for his project here:
You can read the case study here.
---
---
#
November
Recall Toolbox is out now on the Mac App Store!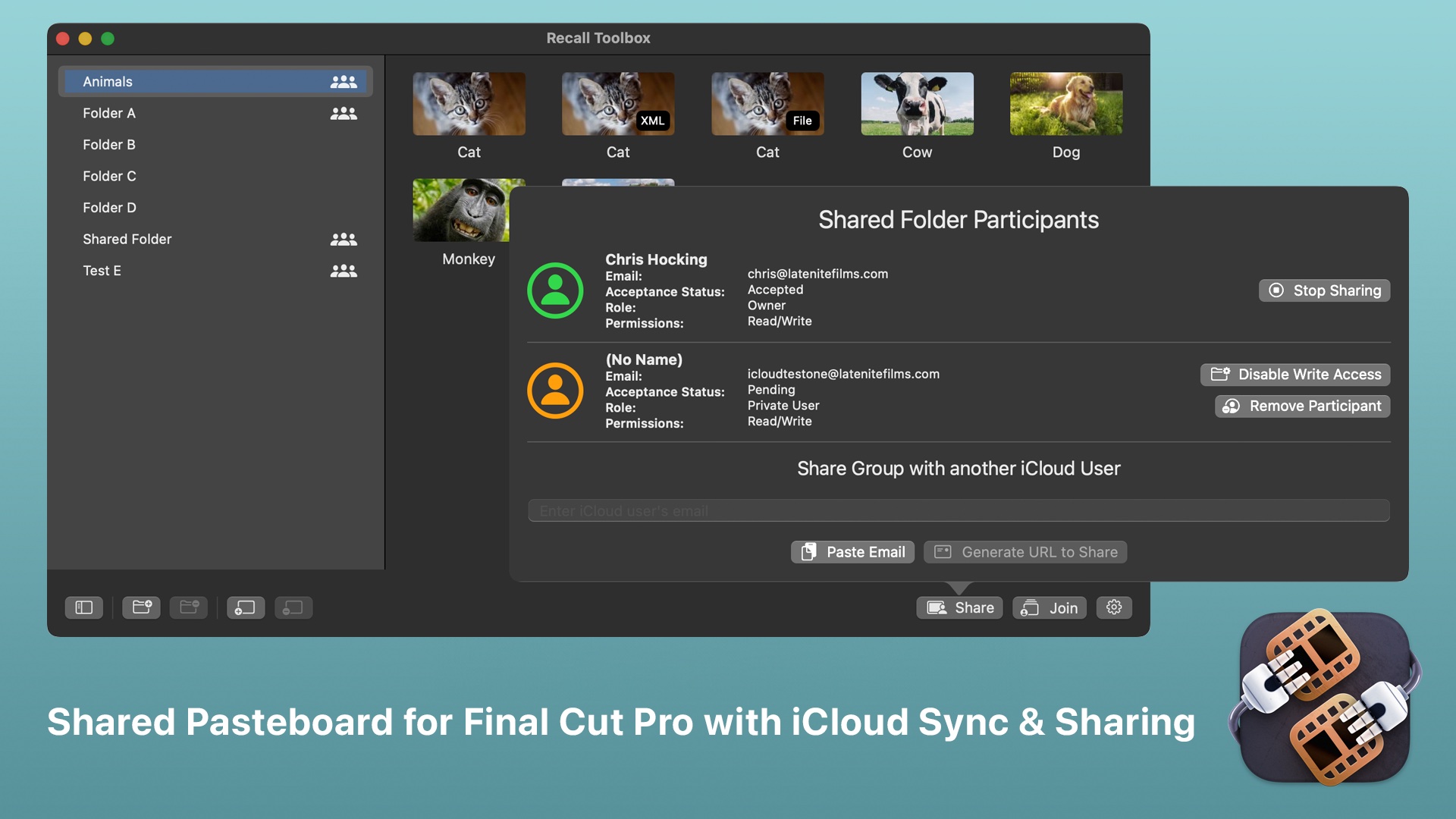 Recall Toolbox is a Final Cut Pro Workflow Extension that acts as a Shared Pasteboard.
Anything that you can copy and paste in Final Cut Pro, Recall Toolbox can store.
You can even drag-and-drop clips and projects from the Final Cut Pro Browser, and link to files (such as logos on a shared drive).
Recall Toolbox automagically syncs to all your Mac's on the same iCloud account.
You can also share Folders with other iCloud users, and control permissions. For example, you could have a "read only" folder that contains client lower thirds for a current job.
Whilst there are third party tools like the amazing Copy 'Em ​(for Mac), they're not quite as visual as Recall Toolbox, and they're not built from the ground up for Final Cut Pro users.
Recall Toolbox works as a Final Cut Pro Workflow Extension, so it's window position gets saved with your custom Workspaces.
Whilst CommandPost has had a Shared Pasteboard & Pasteboard Buffers for years, it's really optimised for Control Surfaces. You can access the Shared Pasteboard from the CommandPost menubar, and it is super powerful, but it's not as visual - you just get text, not a fully customisable thumbnail.
Recall Toolbox feels like a natural extension to Final Cut Pro, with a similar look and feel to Final Cut Pro's Effects Browser.
It's 29.99 in your local currency (i.e. AUD29.99, USD29.99, CAD29.99).
You can find out more here.
---
---
We have an exciting new case study on FCP Cafe!
Achu P. Chandra writes about his project, Guardians of Himalayas.
This is a very detailed and technical case study with lots of screenshots. Enjoy!
You can read it here.
---
Paul Matthijs Lombert from Hedge has written about the FCP Creative Summit on his blog post titled, Visiting Cupertino.
You can read it here.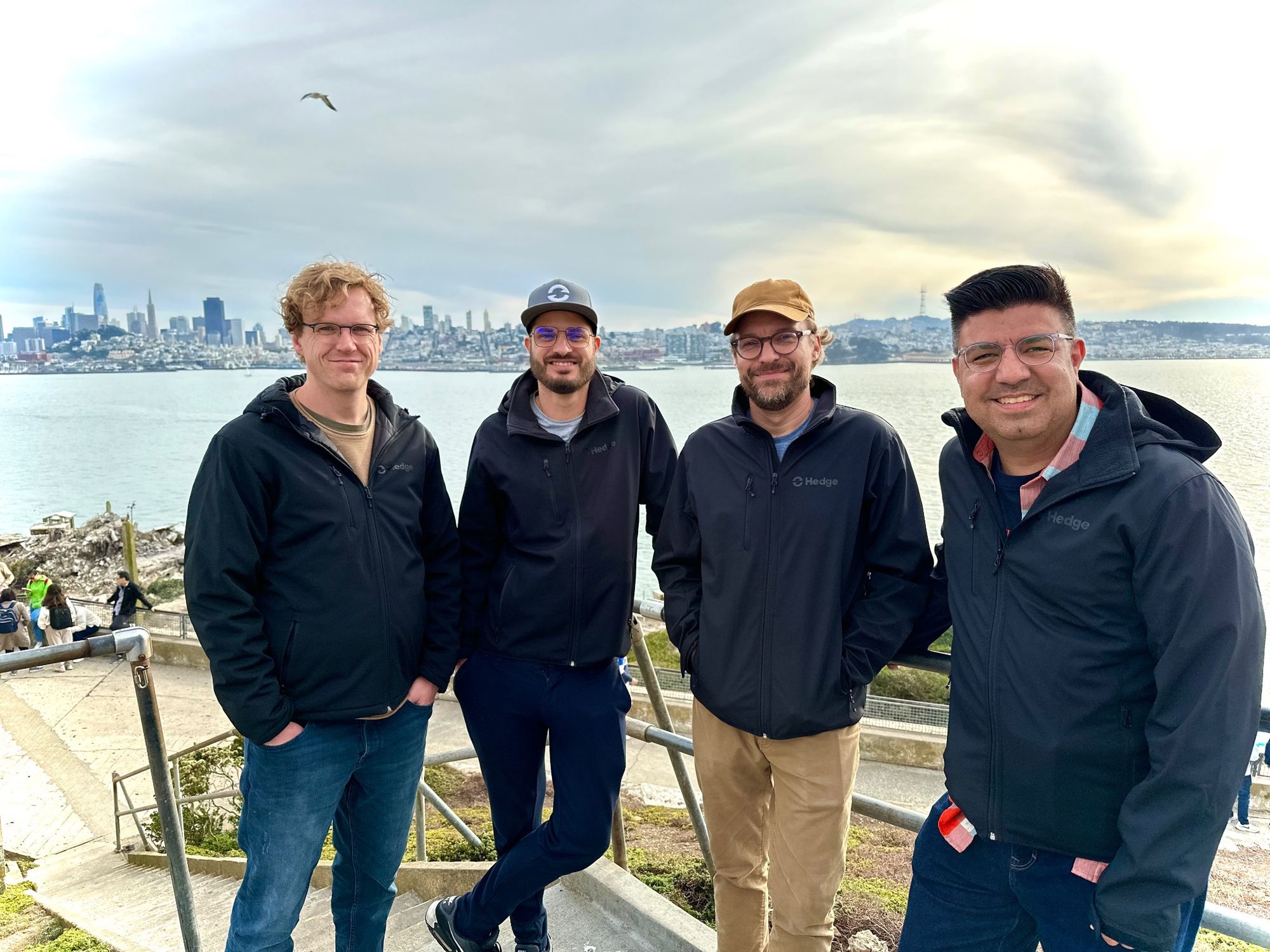 ---
---
Ulti.Media is having a Black Friday Super Sale.
Get up to 50% off their products and bundles, like BeatMark Pro, FCP Diet 2, FCP Cut Finder, FCP STR Importer 2, BeatMark 2, Ulti.Media Converter 2, FCP Video Tag and PoweResize.
You can learn more here.
---
MotionVFX is also having their biggest sale of the year, with up to 50% off and free packs.
You can learn more here.
---
---
Vigneswaran Rajkumar at The Acharya has just released Airlift.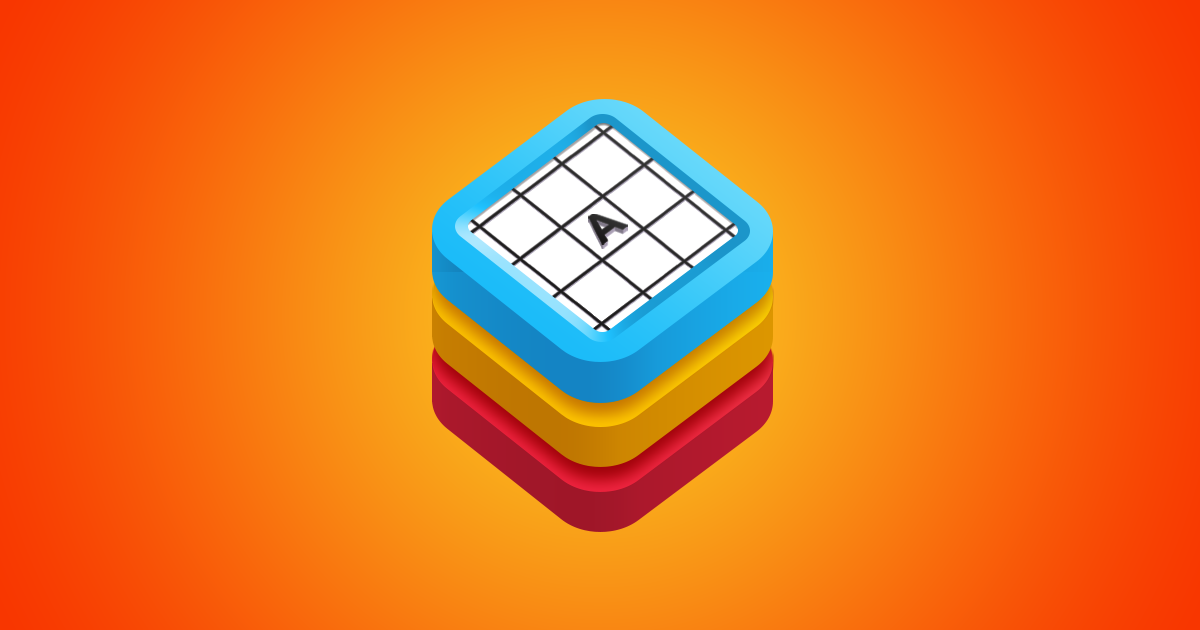 Automated uploading of .csv or .json data to Airtable
Ability to update and auto-create new entries for single select field and multiple select field
No subscription of third party platform required
Ability to upload attachments via build-in Dropbox client
Ability to upload attachments to multiple attachment columns
Uses long-lived refresh token for Dropbox client
You can learn more about the free and open-source tool here.
---
---
The amazing Jenn Jager has posted a video on YouTube recapping the Final Cut Pro Creative Summit.
You can watch here:
You can learn more about Jenn here. She's the best.
---
BretFX has released Outliner FX, a comprehensive package of animated Outline Effects, Outline Styles and Custom Outline Shape Effects.
You can download a free trial, and purchase for USD$19.99 (instead of the regular price of USD$29.99).
You can learn more here.
---
Get Photomator for USD$9.99 for the first year of an annual subscription and Pixelmator Pro for USD$24.99 for a lifetime!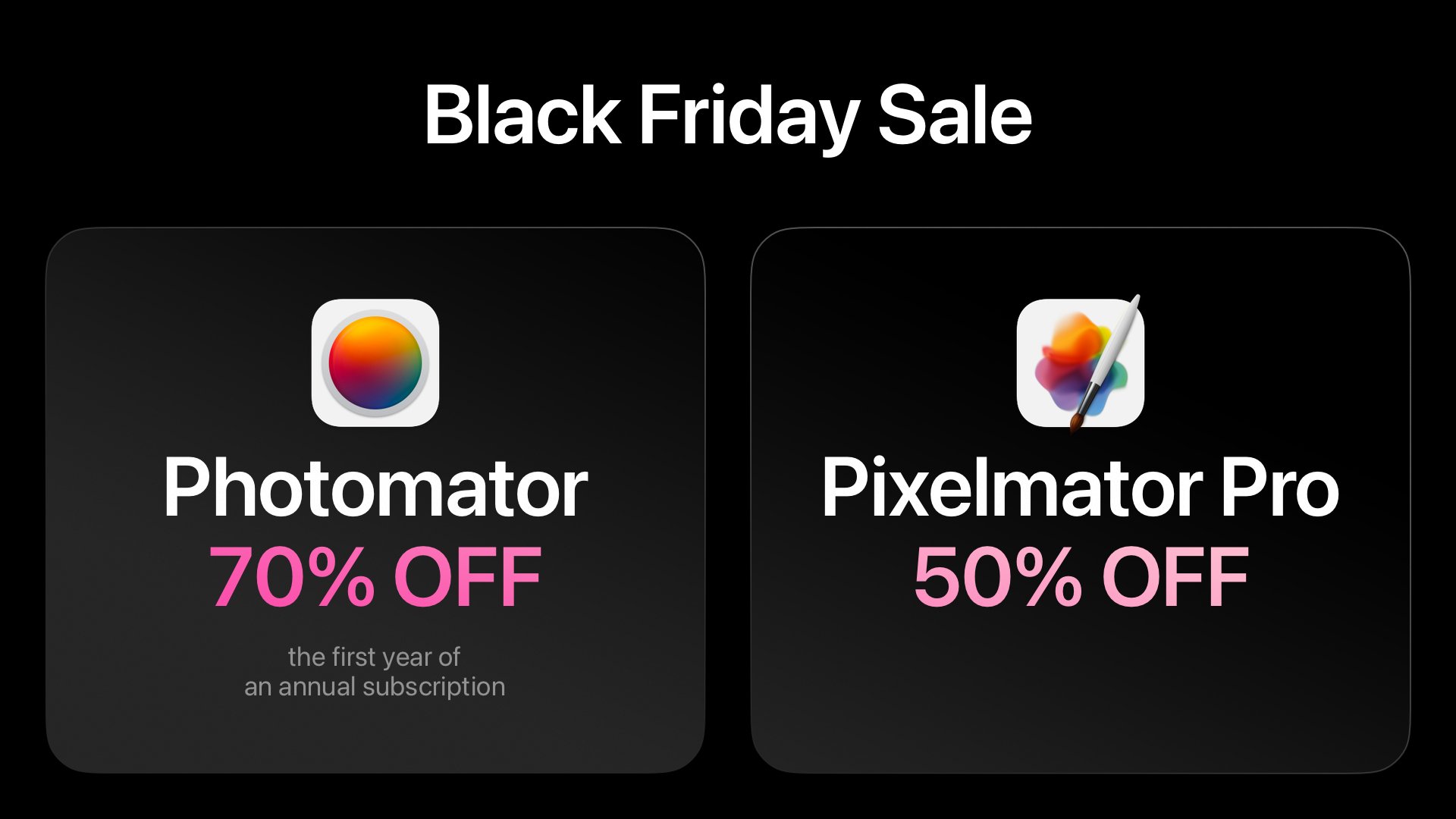 You can purchase on the Mac App Store here.
---
Upgrade and save on iZotope Post Production Suite 7.5, including brand-new Nectar 4, and let your vocals shine. Or, complete your toolkit with 70% off all iZotope's flagship products in the Everything Bundle.
You can learn more here.
---
Klevgrand also has a bunch of Black Friday deals:
Up to $551 to be saved on single products!
Two temporary special bundles, saving up to $264!
Choose two Tomofon Extension packs (worth $30) for free with every purchase of our multi-layer wavetable synth Tomofon! Choose packs at checkout.
You can learn more on their website.
---
---
Larry Jordan has updated his Timeline Scrolling Finally Comes to Final Cut Pro in New Release article with some replies and screenshots from Apple, giving more context and information.
For example, Apple supplied this screenshot for how the Collapse to Connected Storyline feature works: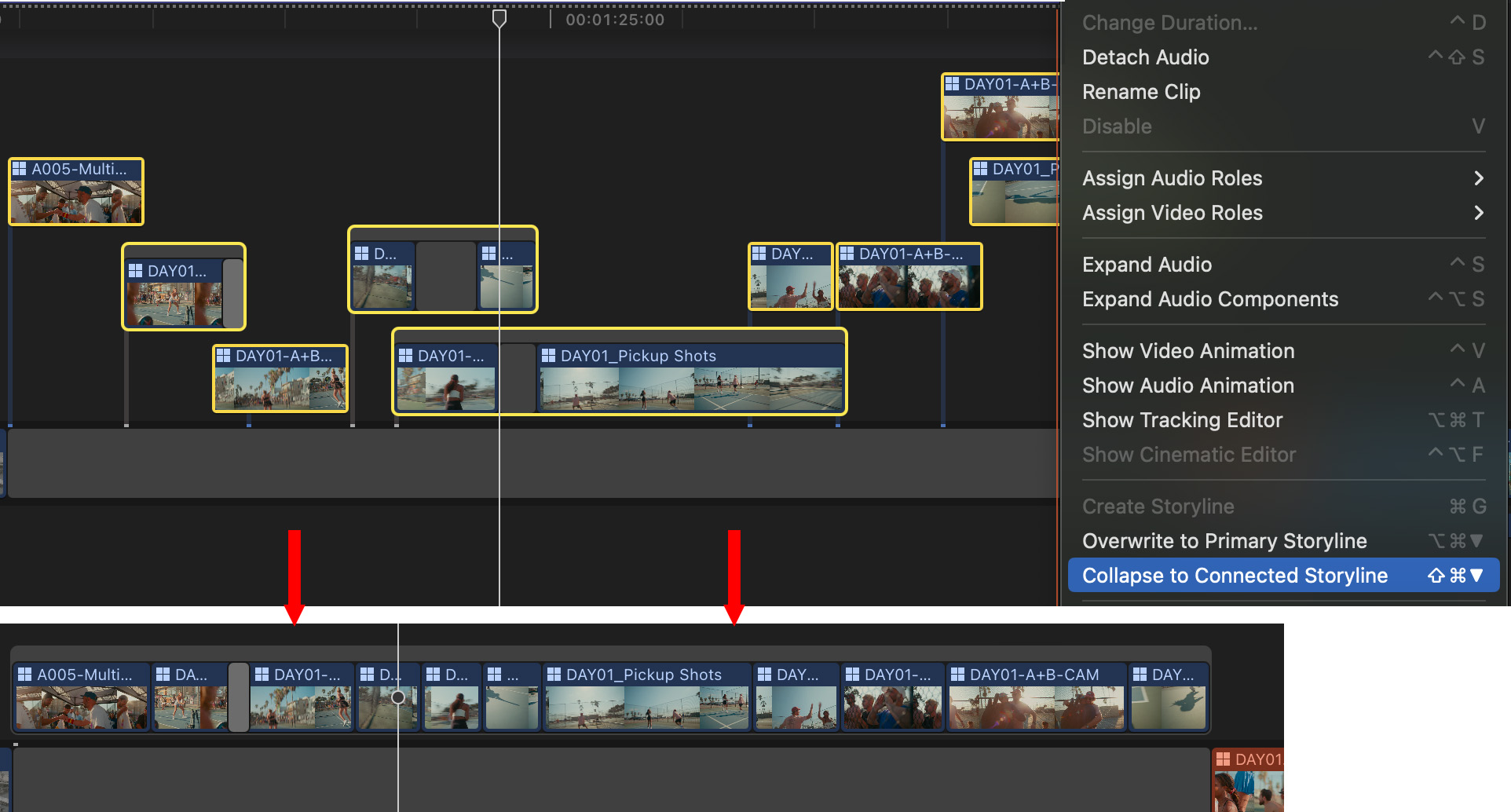 You can read the updated blog post here.
---
Isaac T. (Workflow Architect at Hedge) has posted a blog post with his 2023 FCP Creative Summit Highlights.
You can read here.
---
MotionVFX reports on Twitter:
⚠️ On another note, If you're having issues with our products on macOS Sonoma (mainly red screen in FCP), please make sure to update mInstaller (3.0.2 version) 🚀Only once that's done, uninstall the product and install it again (don't use the "repair" option this time) 😉
You can learn more about MotionVFX here.
---
BRAW Toolbox v1.3.4 (62) is out now!
This release includes the following bug fix:
In the previous BRAW Toolbox v1.3.3 (59) release, we made some major under-the-hood changes to improve playback performance (such as only using one shared instance of the BRAW SDK Factory). Unfortunately however, those changes resulted in the BRAW SDK not releasing used threads correctly, and as the thread count grew, eventually the BRAW Toolbox Renderer would stop working correctly in Final Cut Pro. This would only really happen on older machines, and Libraries with hundreds of BRAW clips. We've now reverted back to how we were doing things in v1.3.2 (57) and earlier, with some additional checks and protections. We will continue to research and explore ways we can improve playback performance, so that the export times of timelines with BRAW clips in Final Cut Pro get closer to what you see in DaVinci Resolve.
You can learn more here.
---
Color Finale is having a Black Friday sale with deals at over 50% off.
For example, get Color Finale 2 Pro for USD$99, instead of USD$149!
You can learn more here.
---
Sound Ideas is currently having a Black Friday sale with 50% off all Sound Ideas Proprietary Libraries & Buy 2 Products and get the third free!
Offer ends 30th November.
You can learn more here.
---
Jamie Lejeune noticed on Twitter that Blip allows you to upload Final Cut Pro project directly.
The FAQ explains:
Can Blip send Final Cut Pro projects? Yes! Unlike many other services, Blip can send Final Cut Pro .fcpbundle files without needing to zip them first. .fcpbundle files are technically folders, and Blip fully preserves folder structures and any links within. And of course, Blip works regardless of the tool you use, be it Final Cut Pro, Adobe Premiere, or something else entirely.
Blip is currently a free service that allows you to send files directly between two desktop or mobile devices. It doesn't store files on the cloud - it transfers directly between devices.
You can learn more about Blip here.
---
---
Neat Video v5.6.0 for Final Cut Pro is out now with the following changes:
Added support for new GPUs: Apple M3, M3 Pro / M3 Max, Apple M2 Ultra
Improved processing of certain error messages
Minor corrections in GUI of Preferences
Minor improvements in the installer
Fixed several minor issues
You can learn more here.
---
---
John Gruber has posted a detailed blog post titled, Vision Pro, Spatial Video, and Panoramic Photos.
This is interesting because yesterday Apple has announced that Final Cut Pro will gain spatial video editing at some point next year.
John begins with...
Yesterday Apple released developer beta 2 of iOS 17.2, the first version of iOS to include support for capturing spatial video with iPhone 15 Pro models. Today came the public beta, enabling the same feature. Apple invited me to New York yesterday, not merely to preview capturing spatial video using an iPhone, but to experience watching those spatial videos using a Vision Pro.

The experience was, like my first Vision Pro demo back at WWDC in June, astonishing.
You can read the entire blog post over at Daring Fireball.
---
---
Thank you to the 15.33k unique visitors that have visited the site in the last 30 days!
Onwards & Upwards!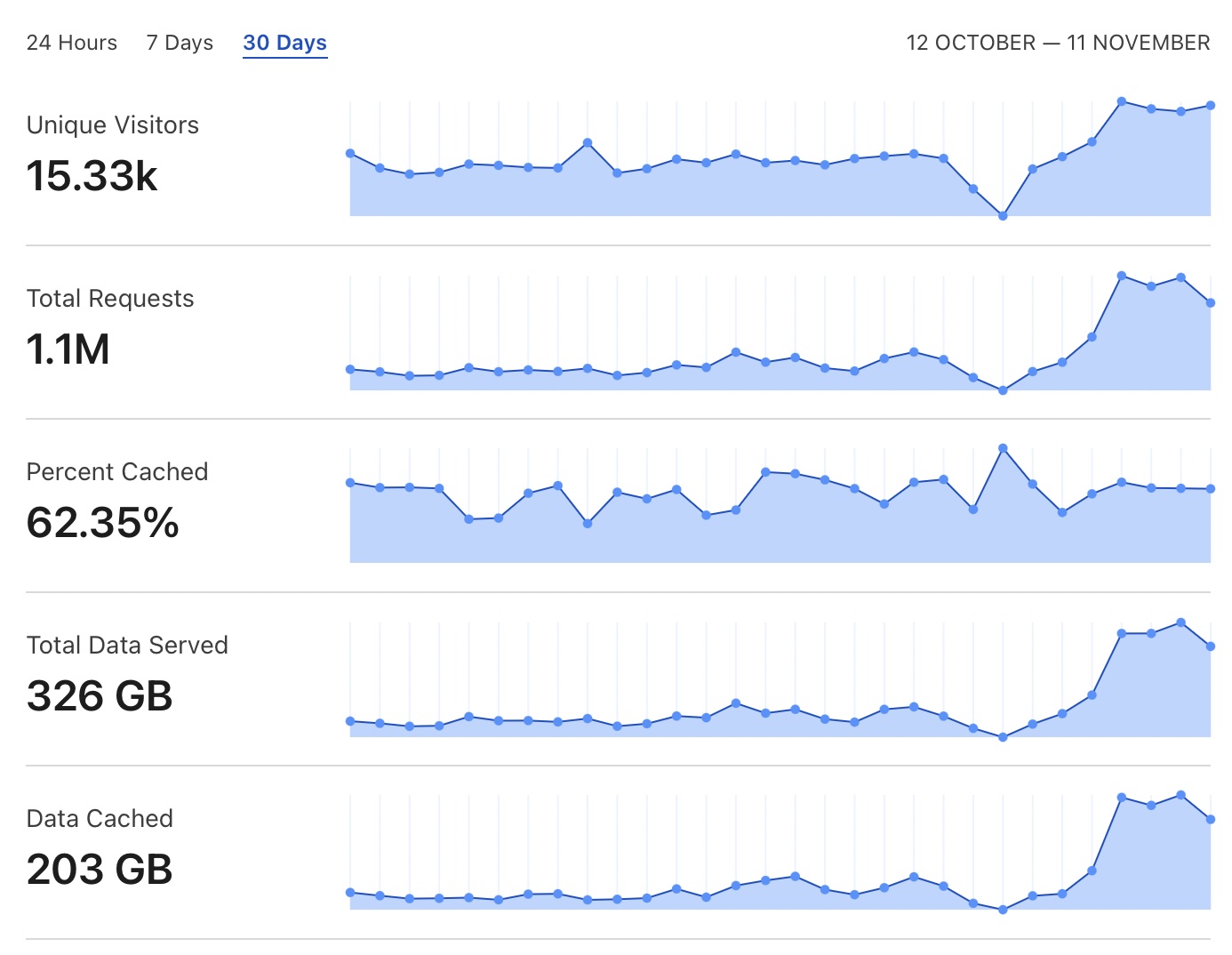 ---
Today Apple has announced that Final Cut Pro will gain spatial video editing at some point next year.
CNET reports:
Final Cut Pro, Apple's video editing software, will get Spatial Video editing support, but not until sometime next year.
9to5Mac reports:
Apple released iOS 17.2 developer beta 2 on Thursday, enabling iPhone 15 Pro hardware to capture spatial videos for the first time. The public beta version just dropped as well, and so have some early press reviews of personal spatial videos on Vision Pro.

The company has also shared that Final Cut Pro will gain the ability to edit spatial videos sometime next year. iOS 17.2 beta 2 and macOS 14.2 beta 2 also introduce the "Spatial" media type in Photos for easy filtering.
As announced at the Final Cut Pro Creative Summit, Final Cut Pro 10.7 will come out later this month, so it's most likely that spatial video editing won't appear until Final Cut Pro 10.8 - maybe another 12 months away.
---
Pablo Fernández talks about the Final Cut Pro Creative Summit on the Spanish El Minicast de laurindel podcast.
You can listen on iTunes here.
---
To celebrate the success of the Final Cut Pro Creative Summit, Iain Anderson & Packt are offering 25% off Iain's book, Final Cut Pro Efficient Editing.
You can use the discount code: 25FCPCON
When you purchase the book, you also get free electronic updates!
You can learn more here.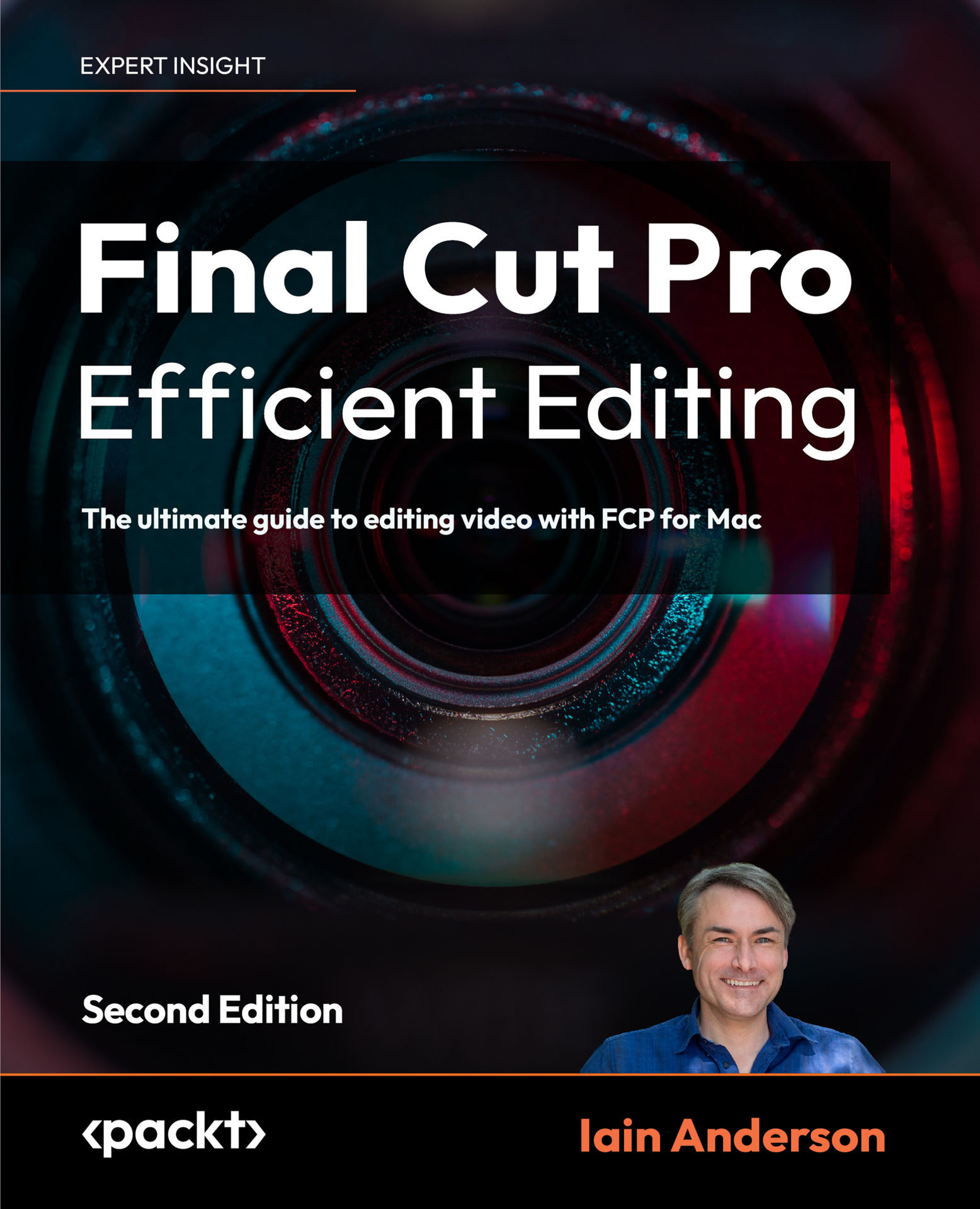 ---
---
Jace Sparks took a roadtrip up to Cupertino for the Final Cut Pro Creative Summit and stopped to camp for the night in Big Sur along the way.
He give his theories on the future direction of Final Cut Pro, and why he believes Apple is designing the most revolutionary creator stack in history.
You can watch on YouTube here:
---
---
...and that's a wrap!
Today was day three, and the final day of the Final Cut Pro Creative Summit.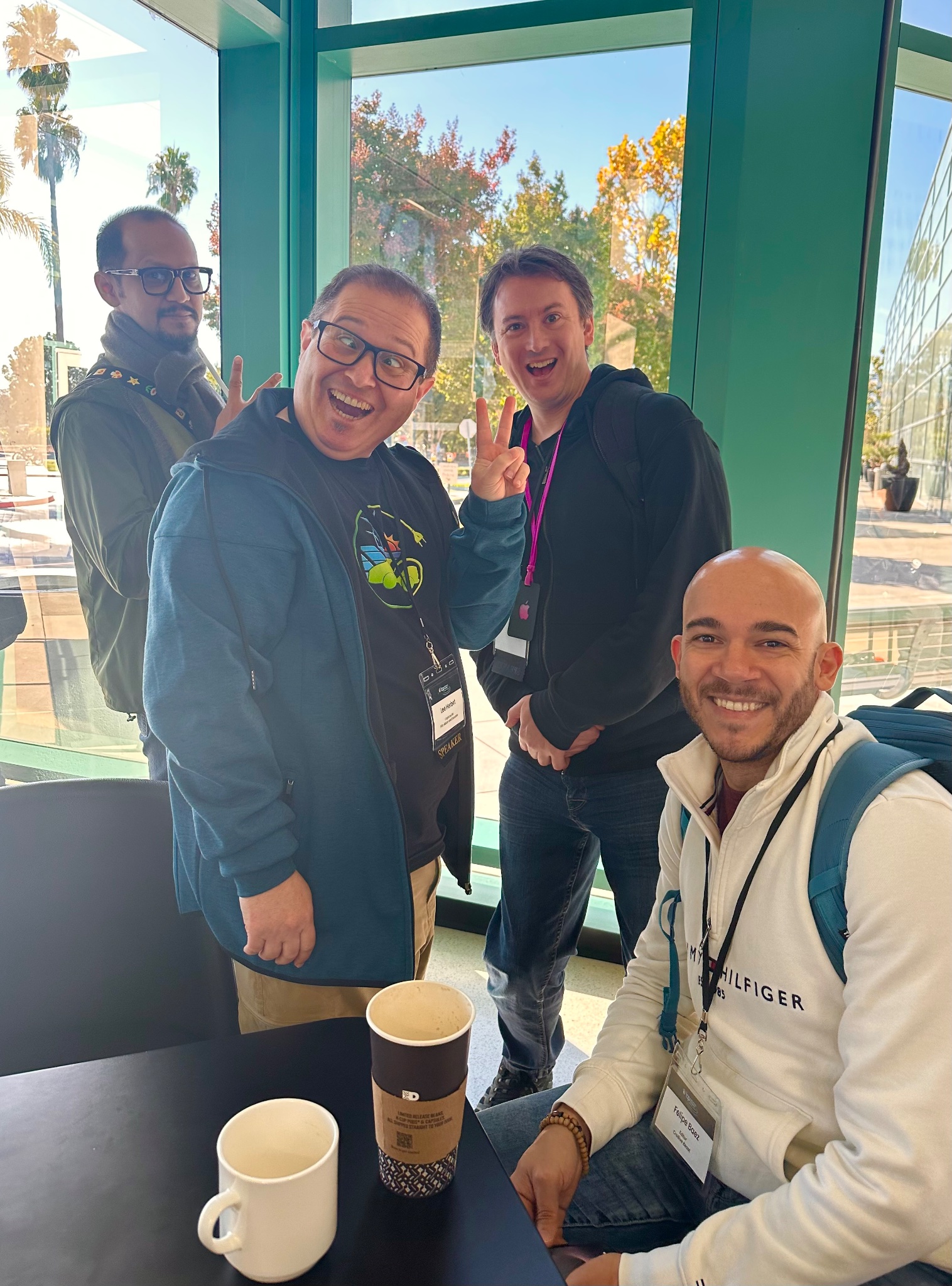 This is the first time I (Chris Hocking) have personally attended the Summit, and it's a looooooooong and expensive trip from Melbourne, Australia.
HOWEVER, this conference has been absolutely awesome and worth every penny.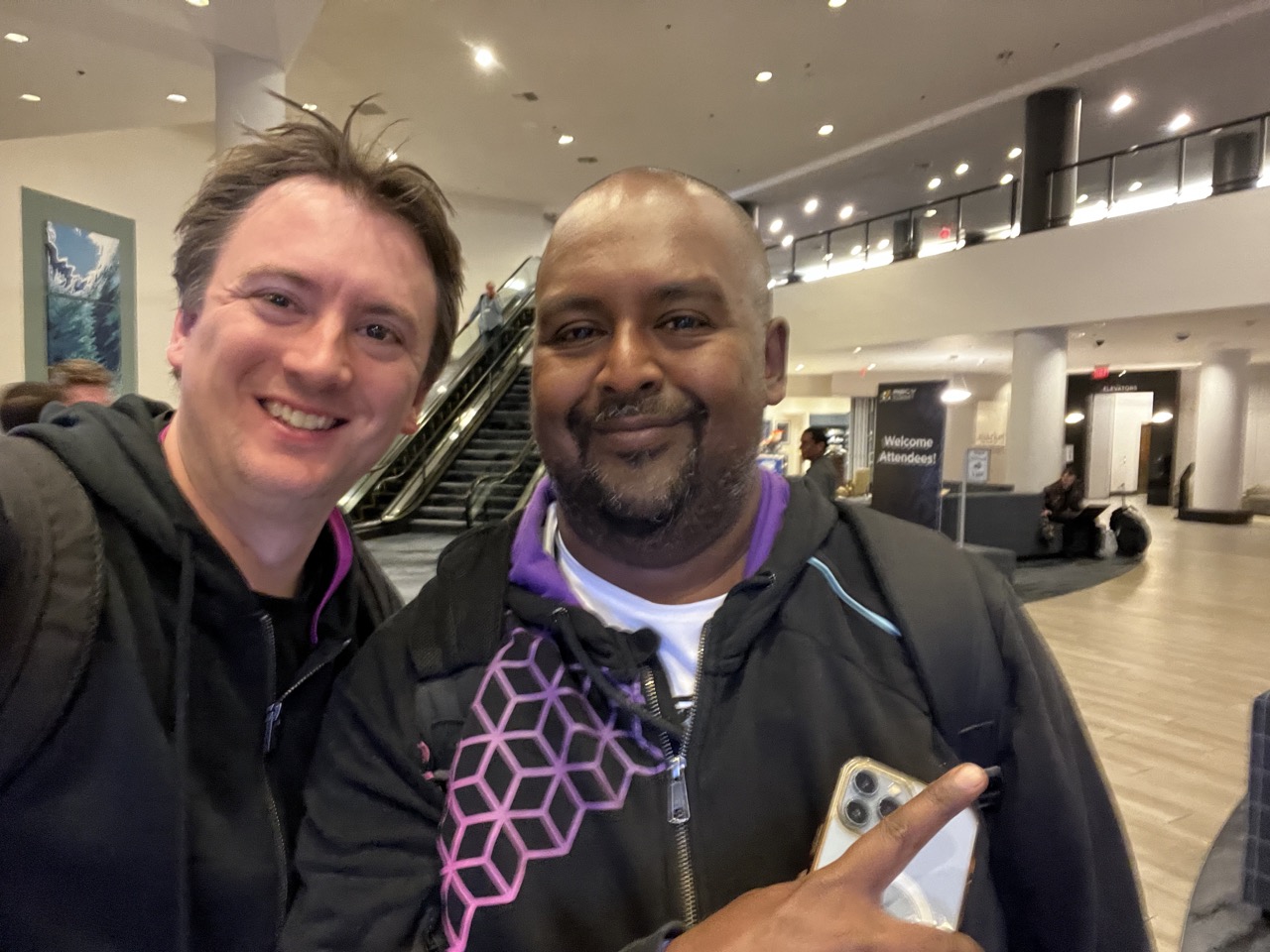 HUGE thank you and congratulations to both Future Media Concepts and Apple for putting on such an incredible event.
Ben, Megan, Jessica, Elise and the rest of the FMC team, you've all done an insanely awesome job. Thank you for making us all feel so welcome, and part of your FMC family. Putting on a huge event like this is a MASSIVE job, but you nailed it. Thank you.
MASSIVE thank you to Nick Harauz (Director of Product Marketing at Boris FX) for all the incredible work he did putting everything together, but also his insanely awesome leadership/MC'ing on all the panels throughout the Summit. He's a REALLY great interviewer.
Bill, and the rest of the Apple team, I can't imagine how much politics and incredible hard work it was to get us into Apple Park, so thank you, thank you, thank you. It was a one in a lifetime opportunity to visit the campus, and something I'll never forget.
CoreMelt, MotionVFX & Hedge - thank you for supporting this incredible community financially, and allowing the conference to happen at all. Please support these three awesome companies!
Thank you to Richard Taylor for allowing people at home that couldn't attend the Summit in person to still feel connected to the event via his live streams.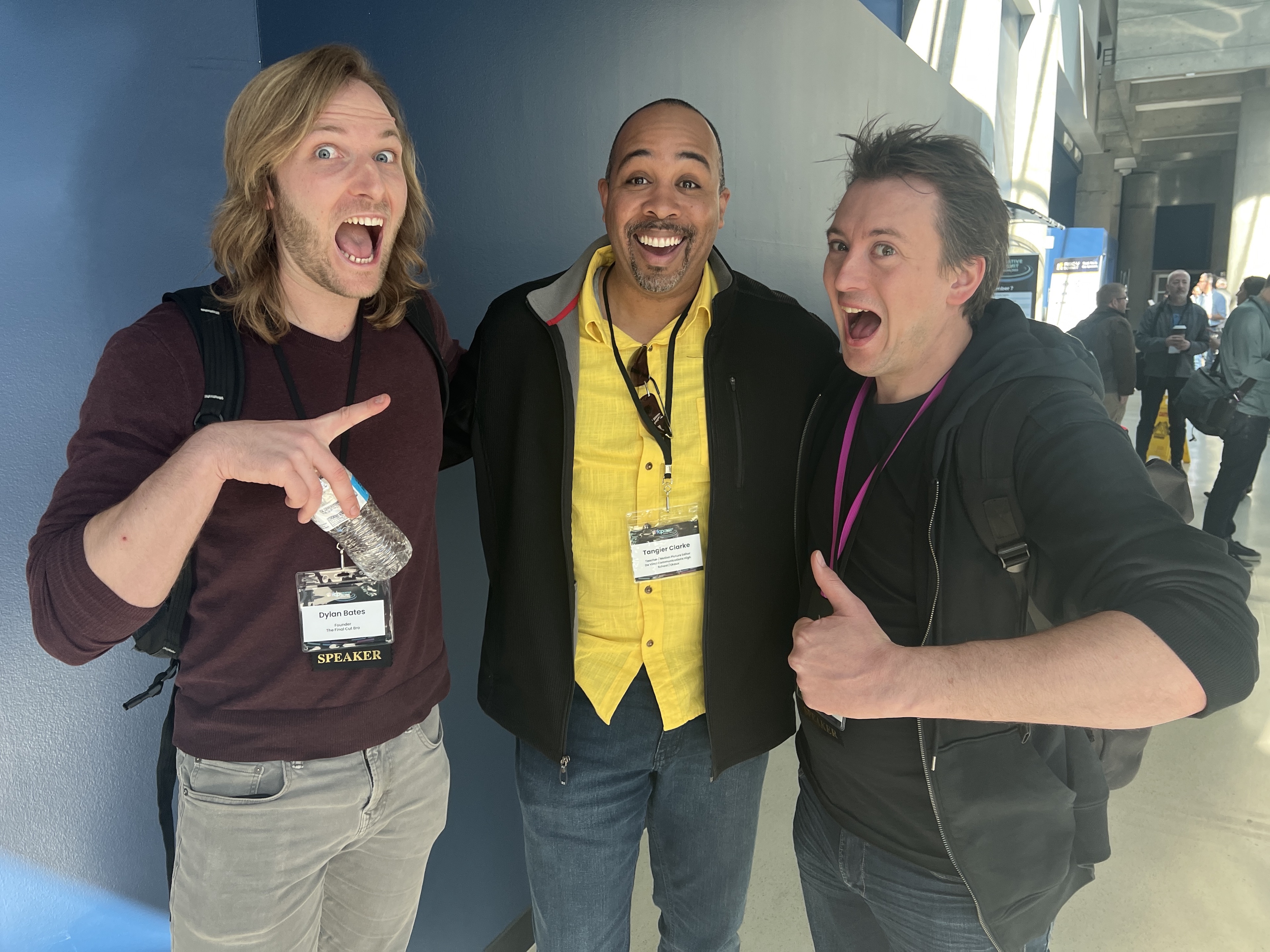 Over the last few weeks, I've had... concerns, about whether or not flying across the world to hang out with a bunch of Final Cut Pro editors would be a... bad investment/waste of time or not. By the time you add flights, accommodation, conference cost, food, social drinks, etc - it becomes a very expensive endeavour, and a long time away from my young family. However this conference has been unquestionably worthwhile.
I've had the incredible opportunity to meet people I've only previously known via the Internet. I've got to meet and make new friends from all over the world. I've been able to connect with people who use this site and my software to do absolutely incredible things. I've been able to casually chat with the team behind the tool I use every day, Final Cut Pro, as well as all the 3rd party developers that make the Final Cut Pro ecosystem so unstoppable.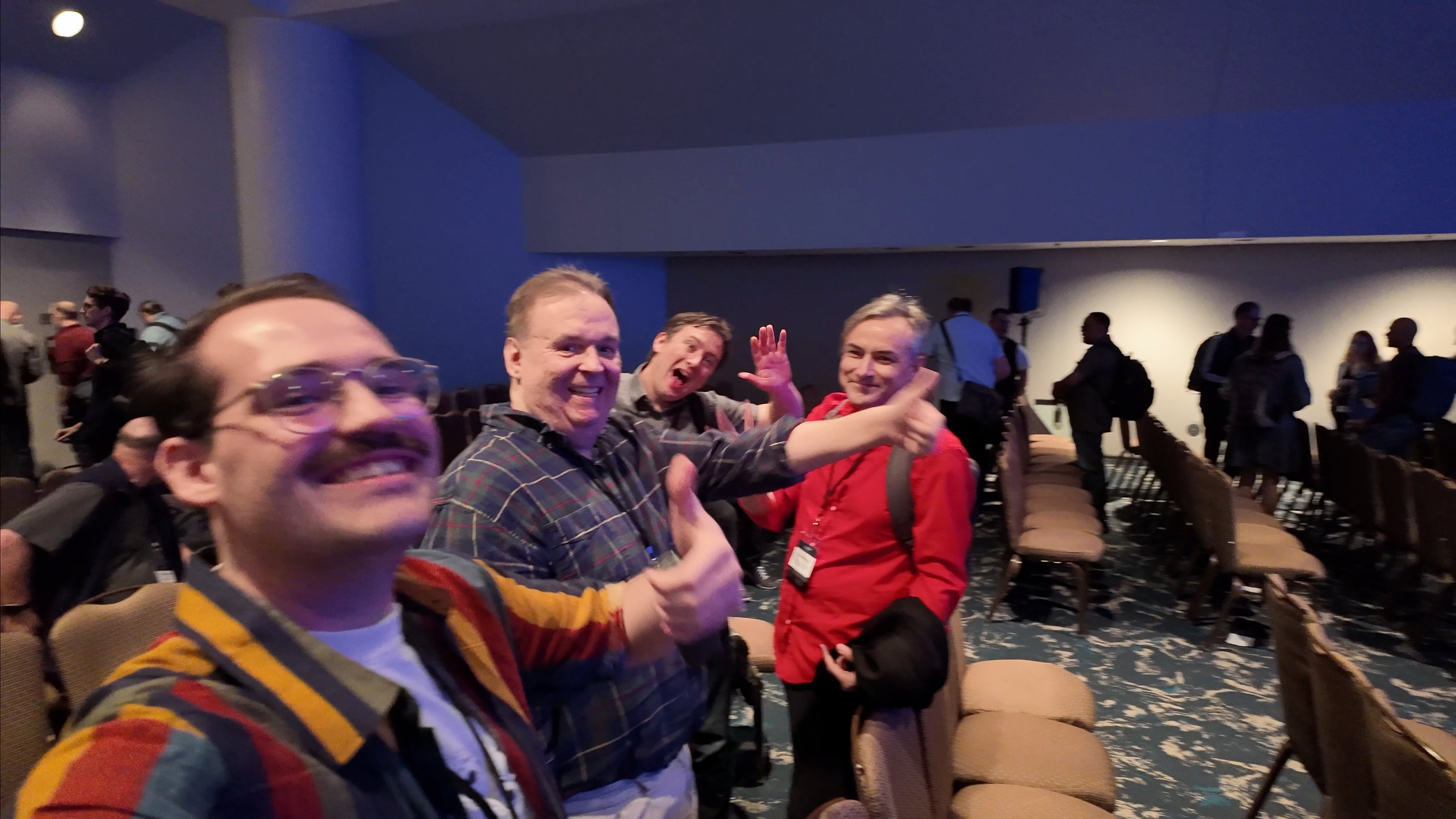 Again, I've never been to previous FMC events, however what impressed me was both the turnout, and the quality and passion of the attendees. I had the honour and privilege of meeting talented people, from all walks of life, and all different parts of the industry, that use Final Cut Pro at a very high level. Everyone's a hardcore Final Cut Pro end-user.
It was pretty incredible how many people travelled from Australia, the UK, Germany, etc. to come to the Summit - it truely was a global audience.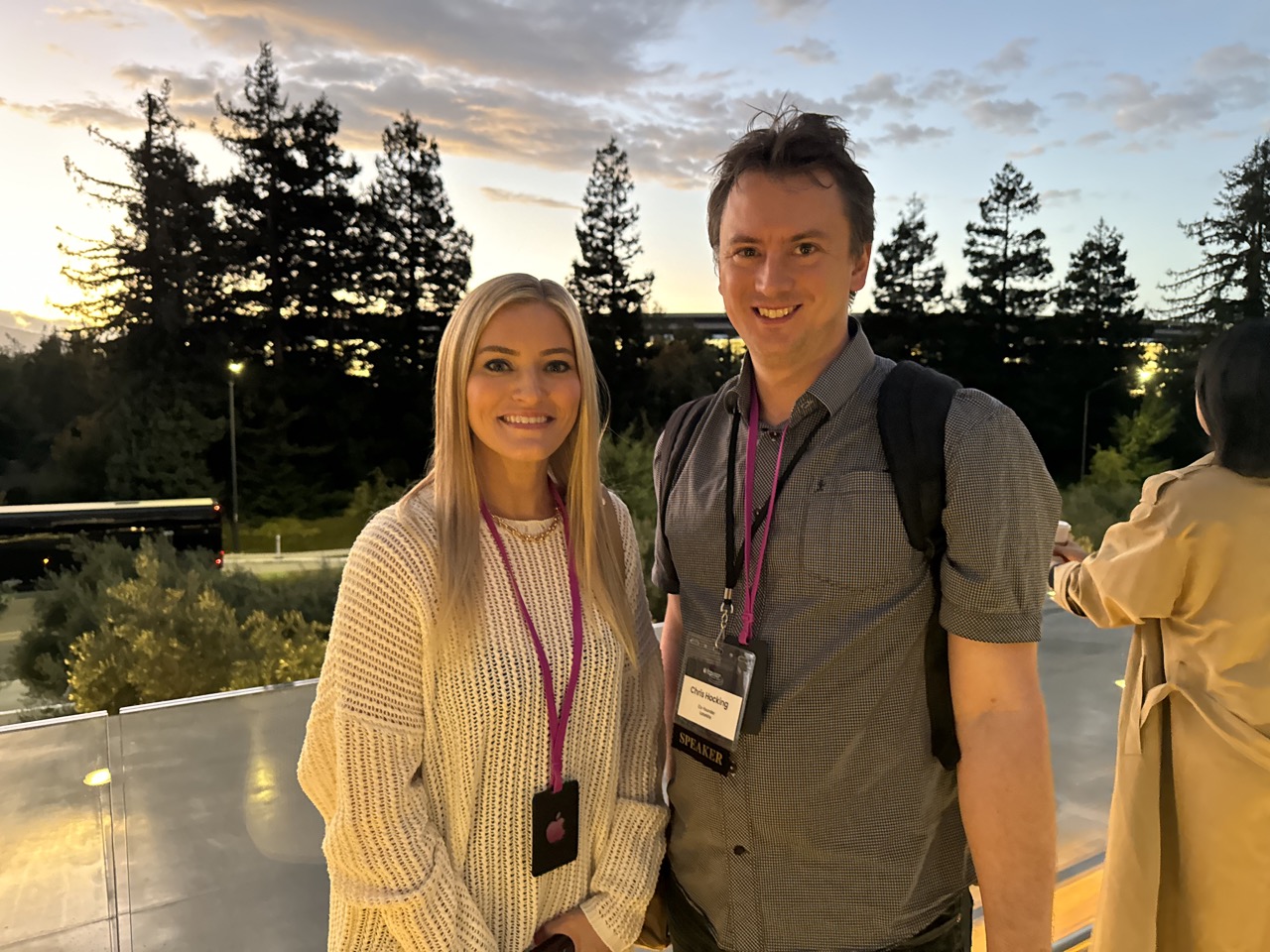 So... what happened today? In terms of sessions, they were some of the best of the week.
First up we had:
AI Person Masking, Tracking and Paint in ShotAnvil, a session presented by CoreMelt with Ché Baker
Shooting and Editing Captivating Interviews in FCP with Abba Shapiro
Word Play: Advanced Typography Techniques in Final Cut Pro with Jenn Jager
Hooking in Hardware with Iain Anderson
Social Media Workflows with Nick Harauz
Hide and Seek: Advanced Masking and Tracking in FCP with Robin Kurz
I had the pleasure of attending the CoreMelt session first up. Ché Baker & Roger Bolton did an excellent demonstration of the new CoreMelt ShotAnvil tool.
You can get 30% off ShotAnvil and PaintX by visiting their special Final Cut Pro Creative Summit page here.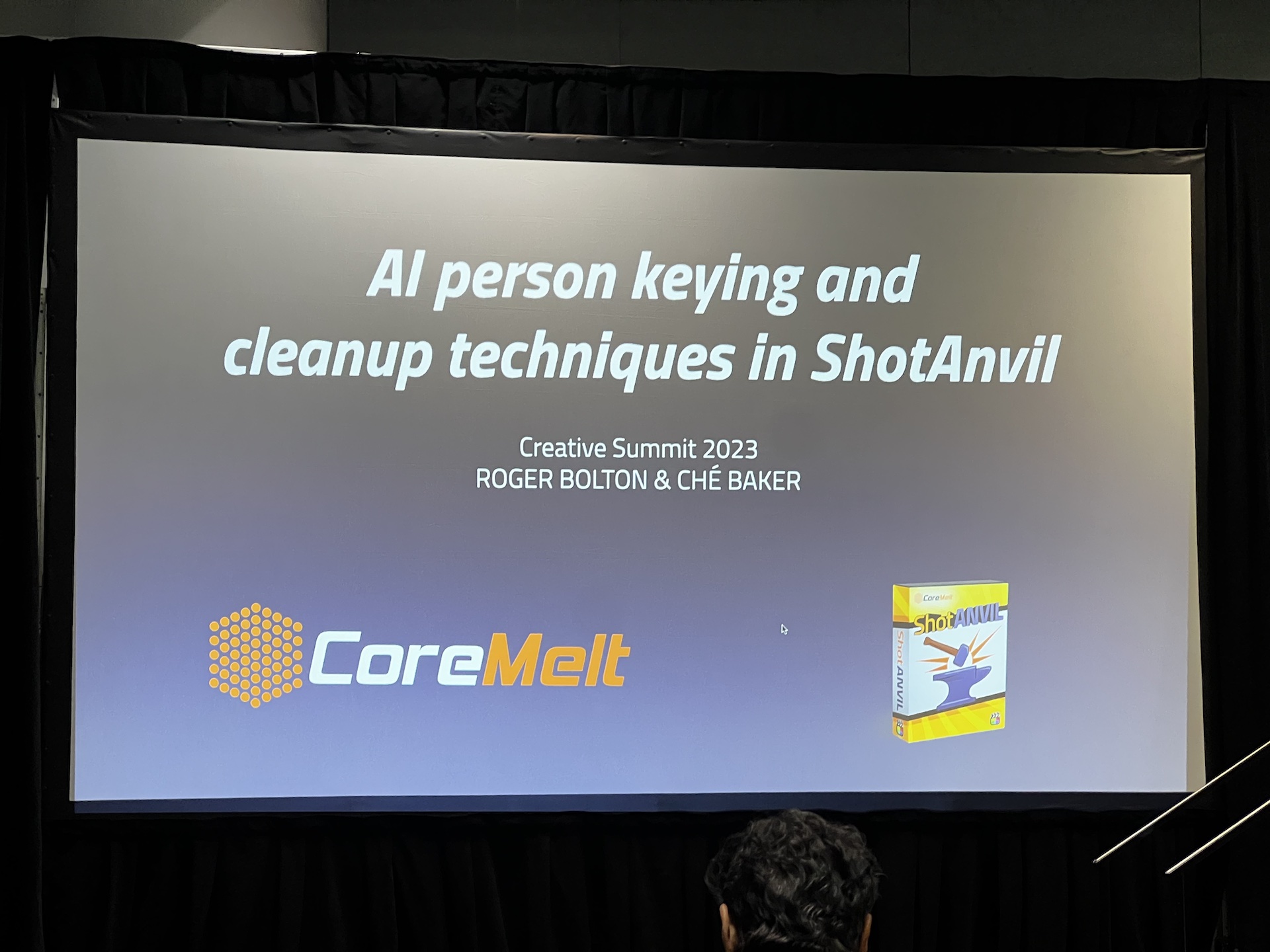 Next I attended Iain Anderson's Hooking in Hardware session - which showcased how he uses CommandPost + MIDI Controllers + Tangent Ripple + Monogram Console to control Final Cut Pro in fast and powerful ways.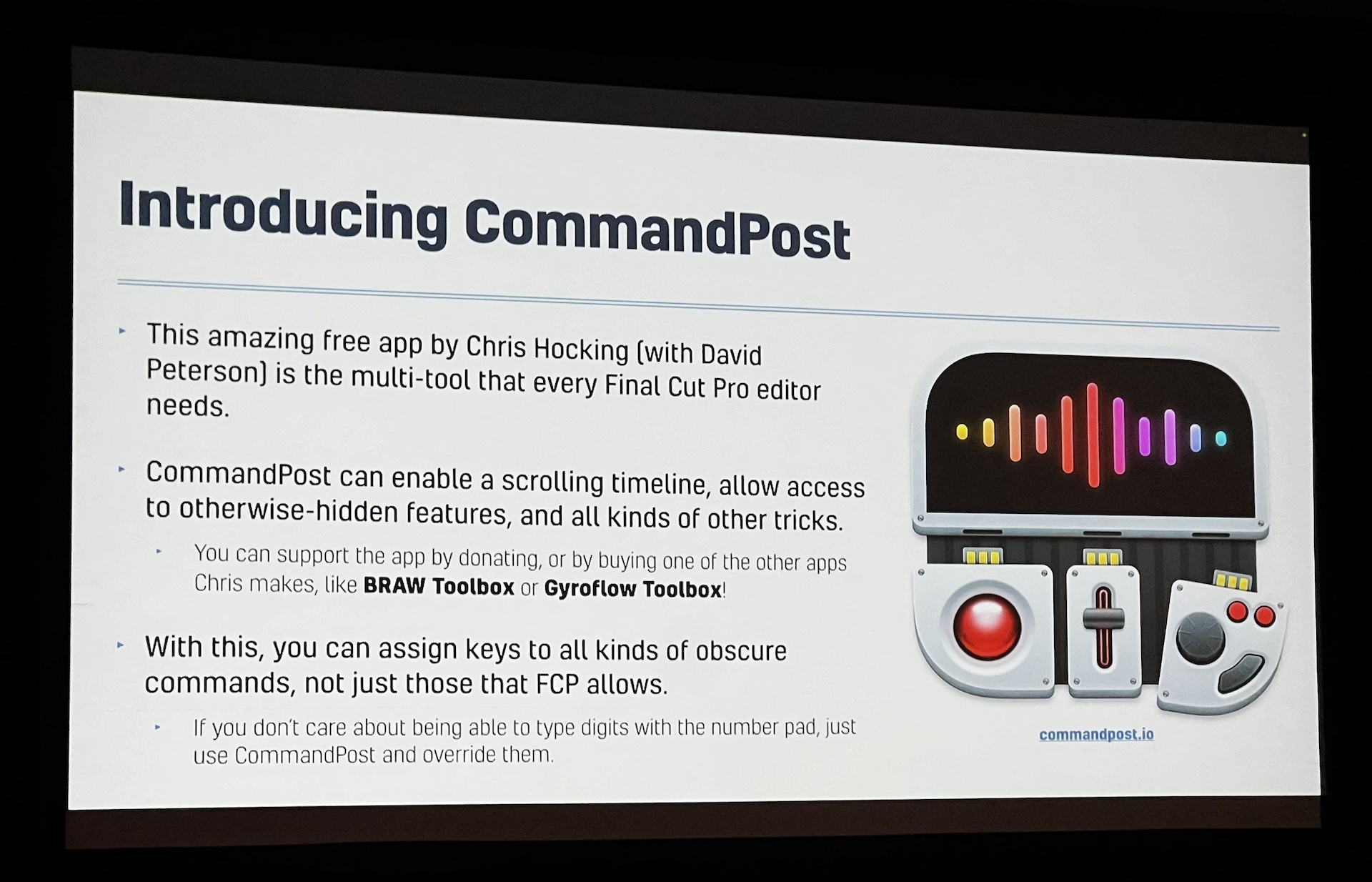 You can watch one of Iain's older YouTube videos on MIDI controllers here:
After another delicious boxed lunch pack in the sun, we had:
Chaos to Clarity: Mastering Clip Organization (iPad) with Dylan Bates
Controlling the Color Pipeline: HDR Workflows in Mac and iPad with Steve Martin
Media Management Techniques with Mark Spencer
Becoming an Accidental YouTuber with Lee Herbet
Custom 3D Objects in Motion with Iain Anderson
Session Presented by MotionVFX with George Edmondson
Steve Martin's (from Ripple Training) course on HDR was incredible. It was by far the most polished and slick talk of the whole conference - I really felt like I was in a University classroom for the 45mins. Steve is such a great educator and communicator - he really takes it to another level (Mike Seymour-level as I like to call it).
Lee's talk was also great - very interesting and engaging. You can follow his YouTube adventures here.
MotionVFX's session was also insanely awesome. What I didn't realise was this wasn't a MotionVFX session - as in, there were no MotionVFX staff attending. MotionVFX basically just paid for one of their external contractors, Seed Media to do a talk about MotionVFX's new subscription tools, CineStudio.
George Edmondson and his team are one of MotionVFX's external collaborators, and produce and edit a lot of their online tutorials and promotional content - and what they do is really next level.
For example, George and his team made this entirely in Final Cut Pro:
George is such a great communicator and storyteller - but also the work Seed do for MotionVFX is world class.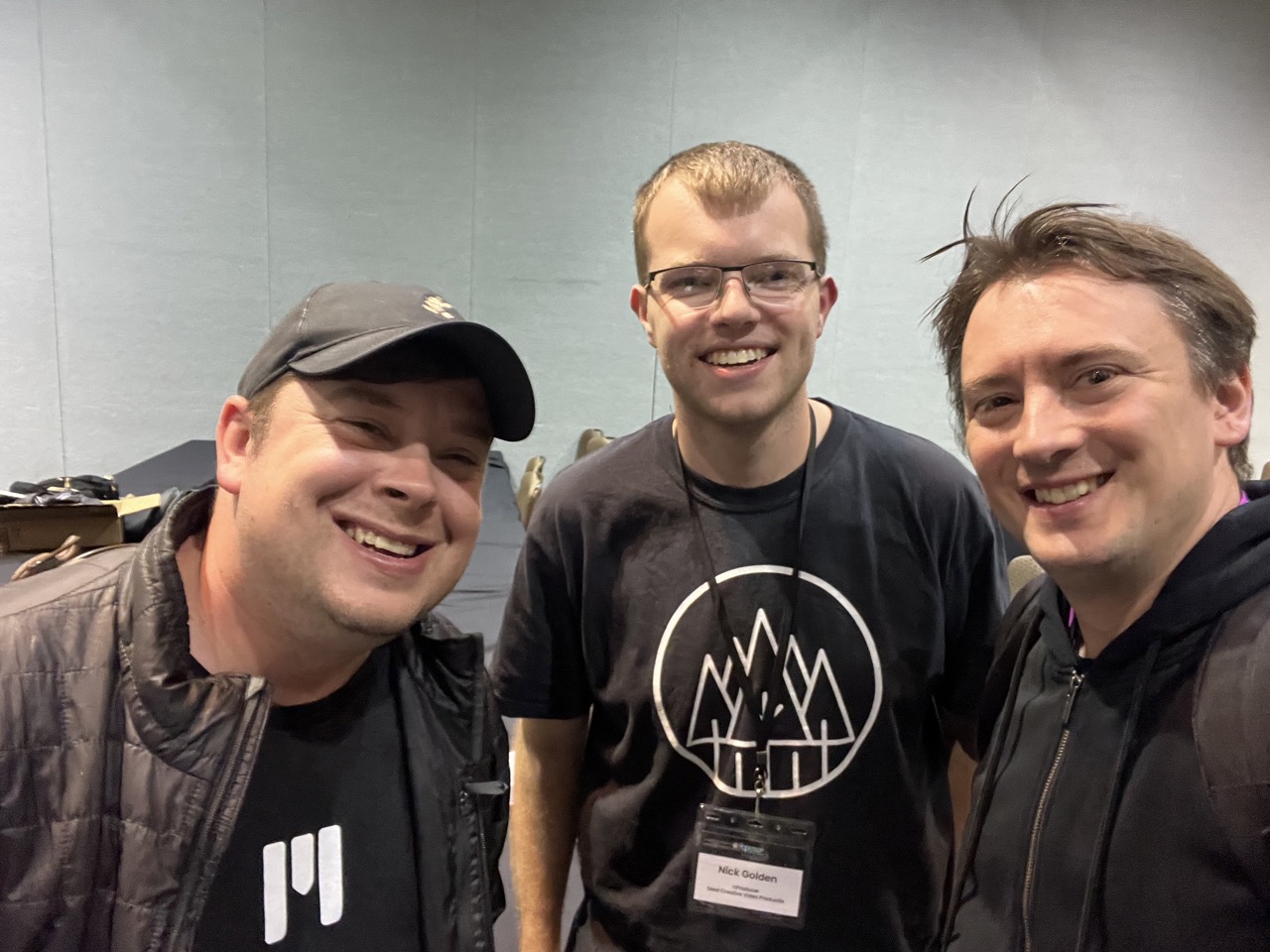 You can learn more about Seed Media here.
You can learn more about CineStudio here. You can currently get 30% off all MotionVFX plugins here.
At 4pm, we had Storytelling in Final Cut Pro panel with Josh Meyers, Mike Yanovich, and Robin Moran - with Nick Harauz moderating.
These kinds of panels are what makes the Summit so powerful and so useful - true industry professionals, doing world-class high-end work, talking about their craft. Josh, Mike & Robin are all three of the nicest, smartest and honest people you'll ever meet - and it's such an honour to hear about how they make their amazing art.
We hope to have detailed case studies with all three panelists on FCP Cafe in the not-so-distant future, as their projects become publicly accessible.
Then finally, to wrap up the conference, we had a Q&A with the Final Cut Pro team - what a perfect way to wrap up the event!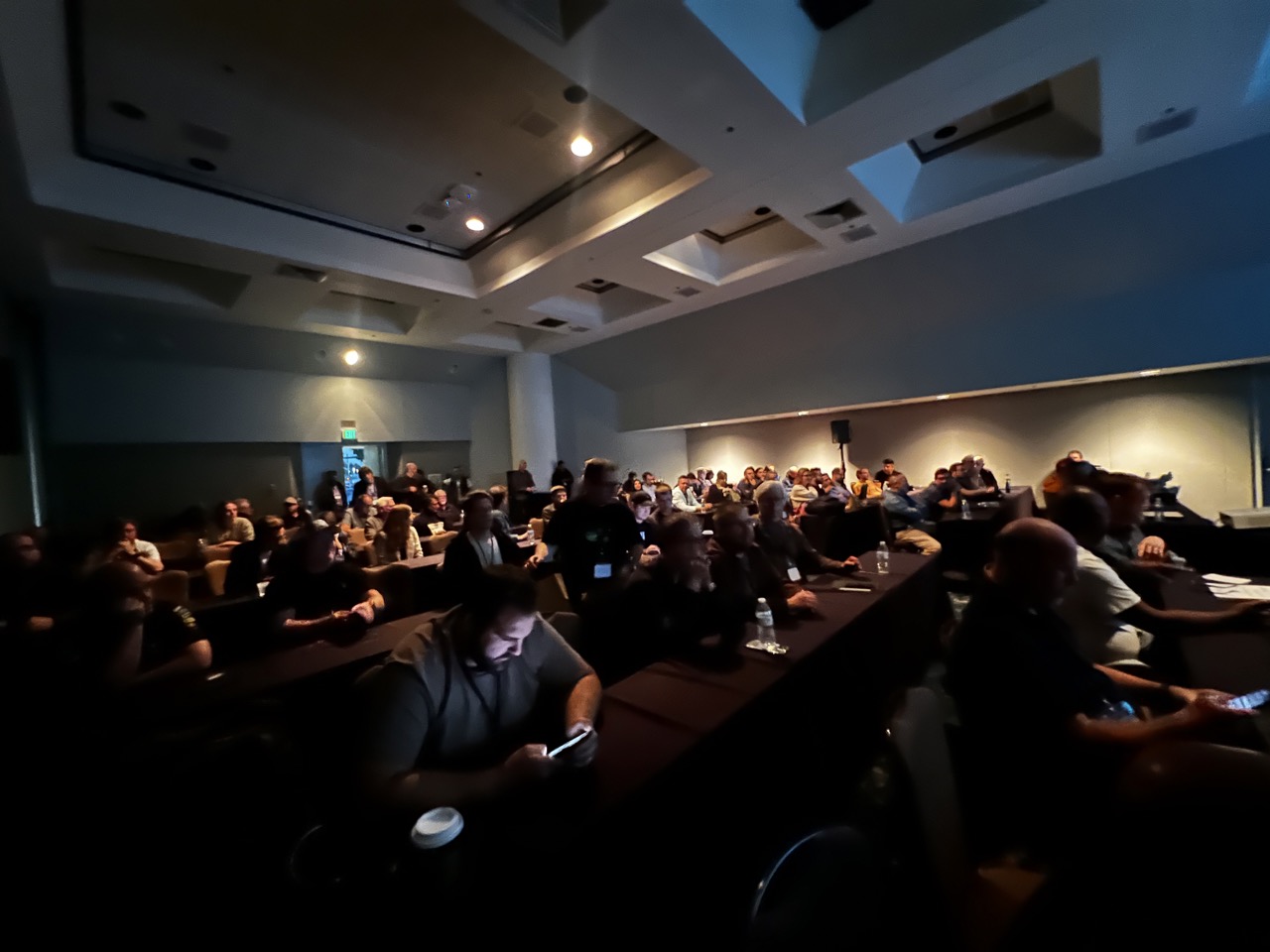 This event wasn't under NDA - however they asked for no photos, videos or recordings.
Microphones were handed around, and anyone could ask anything.
There were six people from Apple on the stage from marketing, engineering, quality control, user interface design and product manager for Final Cut Pro for iPad.
Obviously, with Apple being a giant complex company - the team couldn't talk about anything unannounced or future product plans.
The Apple team said that Final Cut Pro and ProApps are "alive and well" and the team is "super excited about the future".
They said "don't worry about the Aperture thing... it's not a thing" - referring to the fact that Final Cut Pro won't go the way of Aperture, and be suddenly discontinued.
They mentioned they're really interested in seeing how people are using Final Cut Pro on iPad. They encourage people to send feedback to them, explaining in story form how you use their devices in the real world.
The audience all learnt a new term - S.P.O.D'ing - spinning pizza of death (i.e. the spinning wheel of death). They explained that if you do ever run into the spinning wheel of doom, sending detailed feedback of exactly how you got into this state is very, very helpful.
You can send Apple feedback in any language - they have teams dedicated to translating the feedback.
Apple has a plan for Final Cut Pro and the rest of the ProApps for the next few months, AND the next 5-6 years.
The Final Cut Pro team constantly have meetings with the wider Apple teams - for example, they're constantly meeting with Machine Learning teams to see what technologies and techniques they can bring back to the ProApps.
I personally asked if we'll ever see WWDC sessions on Final Cut Pro Developer technologies like FxPlug and Workflow Extensions - and they acknowledged that this is something they'd LOVE to see.
Overall the Q&A session was calm, civil, fun, personal and entertaining. There was no NDA secrets shared. The audience got to really connect with senior members of the Final Cut Pro team on a very human level.
It's always nice to remind yourself that the people behind our favourite tools are just human after all.
And just like that, three days of the Final Cut Pro Creative Summit was over - but the discussions kept flowing in the Aloft hotel bar for many hours more.
Again, a HUGE thank you to everyone at FMC and Apple for making this event happen. Thank you to EVERYONE who presented, and EVERYONE who attended.
It was such a privilege and an honour to attend - and it was so humbling to connect with people that use CommandPost, BRAW Toolbox, Gyroflow Toolbox, Fast Collections and even the TestFlight version of Recall Toolbox!
You can watch Richard Taylor's live stream directly after the Q&A session on YouTube here.
You can refer back to the FCPCreativeSummit hashtag on Twitter here. There's some fun photos in the feed!
Onwards & Upwards!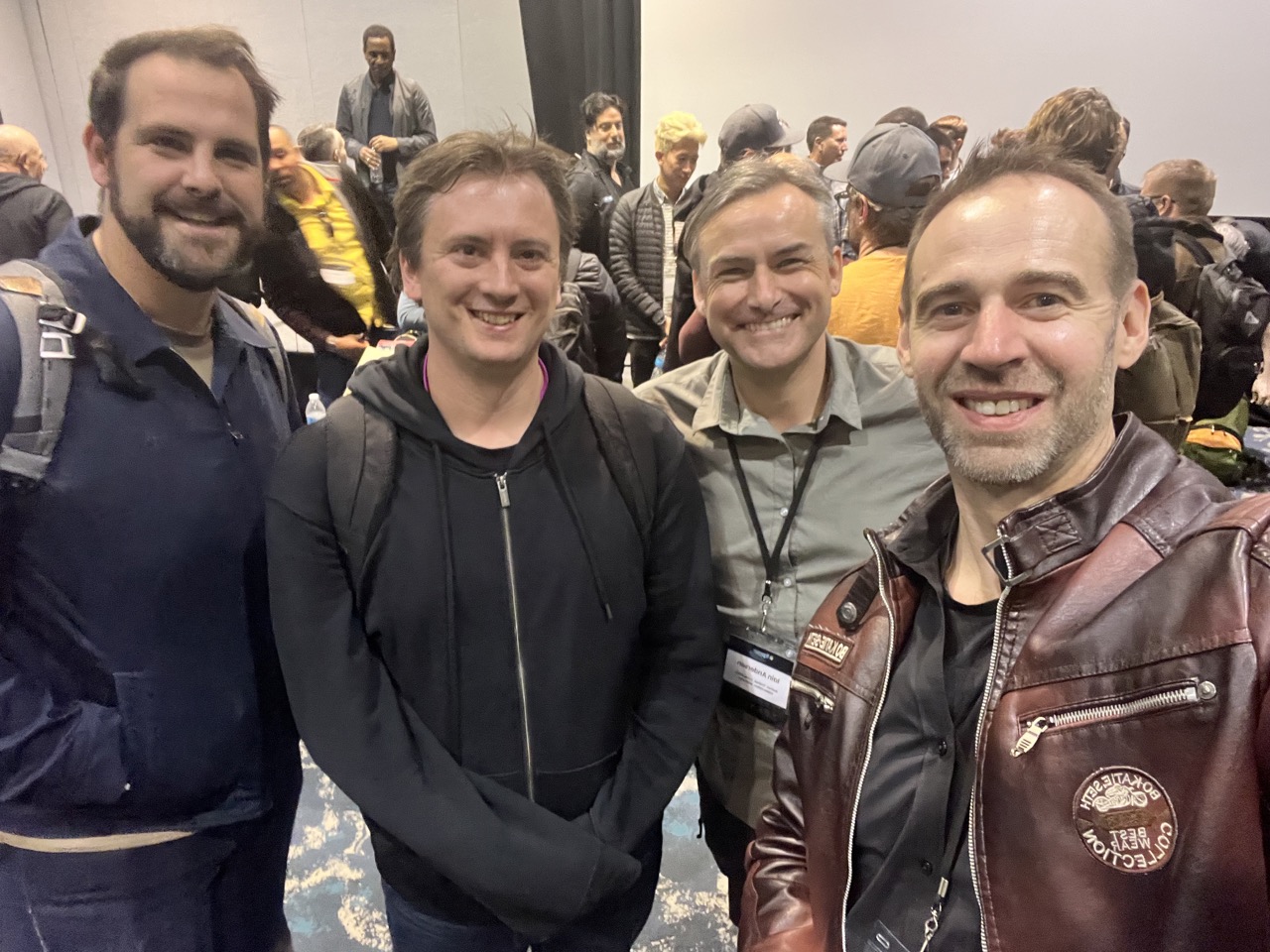 ---
---
Today was day two of the Final Cut Pro Creative Summit.
Let's start with some super exciting news first...
Another unexpected thing that came out of yesterday's demonstration room at Apple Park is there's another undocumented feature in Final Cut Pro 10.7 that wasn't talked about in the official Apple Presentation...
Final Cut Pro 10.7 has enhanced the Reveal in Browser feature, so now if you're in a Keyword Collection in the Browser, it will stay in that Collection if you reveal a clip from the timeline that's in that Collection - meaning it no longer goes back to the "base" event, which is a HUGE workflow improvement!
For example, lets imagine you have an Event with a whole heap of graphics, music and sound effects in it, sorted by Keyword Collections. If you have the sound effect Keyword Collection selected in the Browser, and you Reveal in Browser on a sound effect on the timeline, it will find that clip in the Browser, without changing the currently selected Keyword Collection.
In Final Cut Pro 10.6.10 and earlier, pressing Reveal in Browser would always go back to the "root" Event, so this is a big change, and hopefully removes the need of CommandPost's Reveal in Keyword Collection action!
This is one of those little things that seems like such a small minor improvement, but is a MAJOR time saver. The whole reason CommandPost exists in the first place is that it was originally designed to make finding the playhead easier for Scott Simmons after match framing clips!
Apple is listening. Apple do care.
Another very exciting piece of news that came away from the show floor is that comedy feature film, For When You Get Lost has won the Audience Award for Best Comedy Feature at the Austin Film Festival!
This was cut in Final Cut Pro by Jeffrey Asher. Written by Jennifer Sorenson. Directed by Michelle Steffes.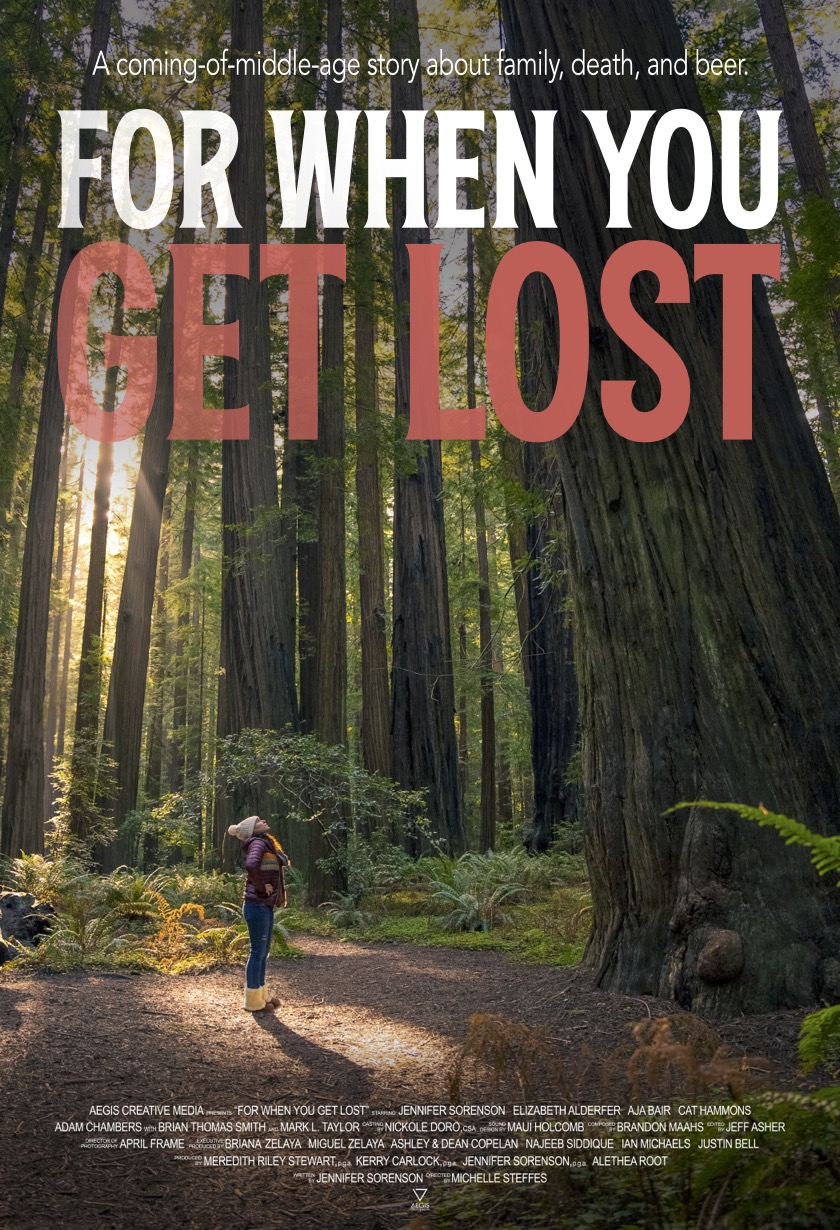 HUGE Congratulations Jeffrey and the team! We will be releasing a case study about this film in the future.
Back to the Summit...
The day opened with the Shaping the Future: Panel Discussion, hosted by Nick Harauz, and featuring Jenn Jager, Steve Martin, Andy To and myself (Chris Hocking).
Whilst I'm normally always "behind the camera" rather than in-front - I definitely had a lot of fun, and really enjoyed both Nick's fantastic questions/moderating, but also all the intelligent and thoughtful answers from Jenn, Steve & Andy, who are all so insanely talented, hardworking and super smart.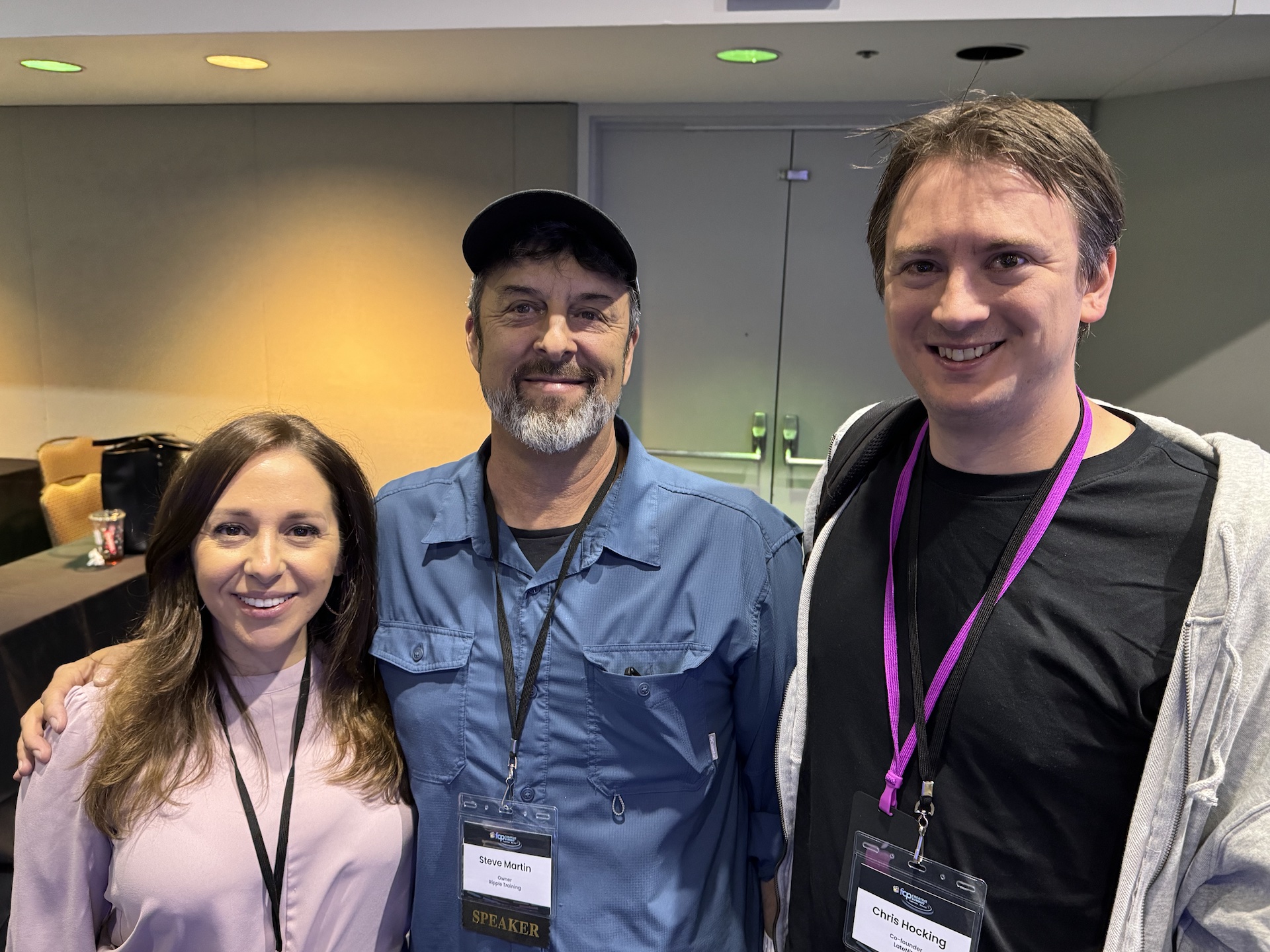 Afterwards there was sessions with:
Warp Speed Editing Techniques in Final Cut Pro with Mark Spencer
Let's Grade Together with Jeff Greenberg
Sound Advice; How to Use Roles to Master Your Mix (Mac) with Steve Martin
Mastering Transitions in FCP and Motion with Jenn Jager
I only personally attended Mark's first session - which was awesome, as you'd expect.
We then broke for lunch, with some yummy lunch boxes - generally speaking, eating outside on large tables.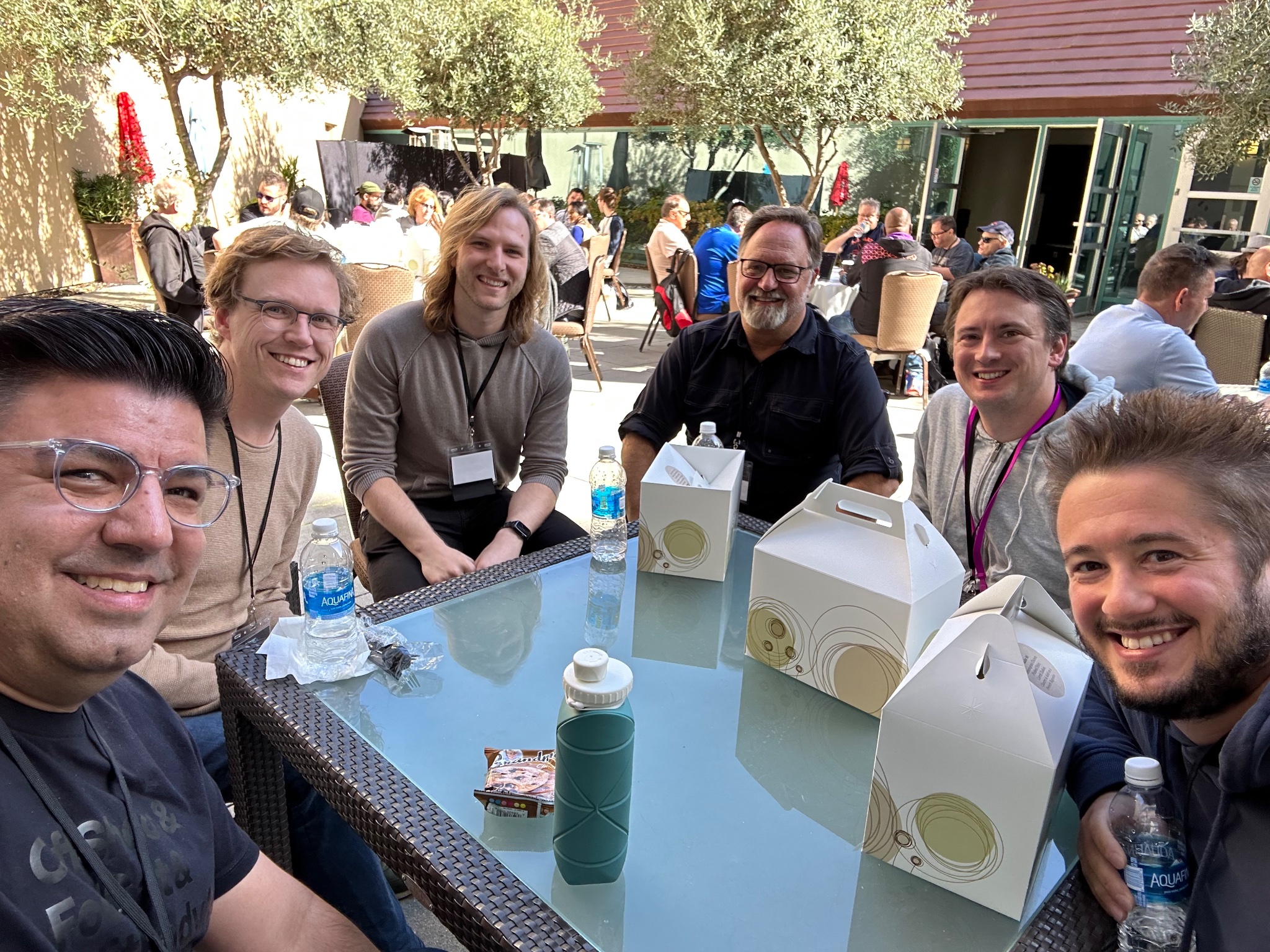 After lunch there was some more sessions:
Compress to Impress with Jeff Greenberg
iPhone Workflows in Final Cut Pro with Abba Shapiro
Creating Stunning Graphics in Final Cut Pro and Motion with Robin Kurz
PostLab - The Event of the Year with Paul Matthijs Lombert, Jasper Siegers, and Isaac Terronez
Why Multicams are One of Final Cut Pro's Most Powerful Features with Dylan Bates
360° Footage in Flat Timelines with Iain Anderson
I only personally attended the PostLab session and Dylan's session - which was really great. Dylan is so enthusiastic, so lovely, so talented, but also there was some really fantastic audience engagement and discussion, and tips were definitely shared both ways, which is awesome! It was a really fun, educational and collaborative talk.
But PostLab. Wow.
For those that don't know about PostLab already, it provides incredible cloud based and on-premise collaboration for Final Cut Pro, Avid Media Composer & Adobe Premiere Pro.
It's powerful, and used by a huge amount of professional Final Cut Pro editors around the world. It's subscription, or you can buy PostLab Local for your own on-premises server solution.
Here's what the currently shipping public version looks like: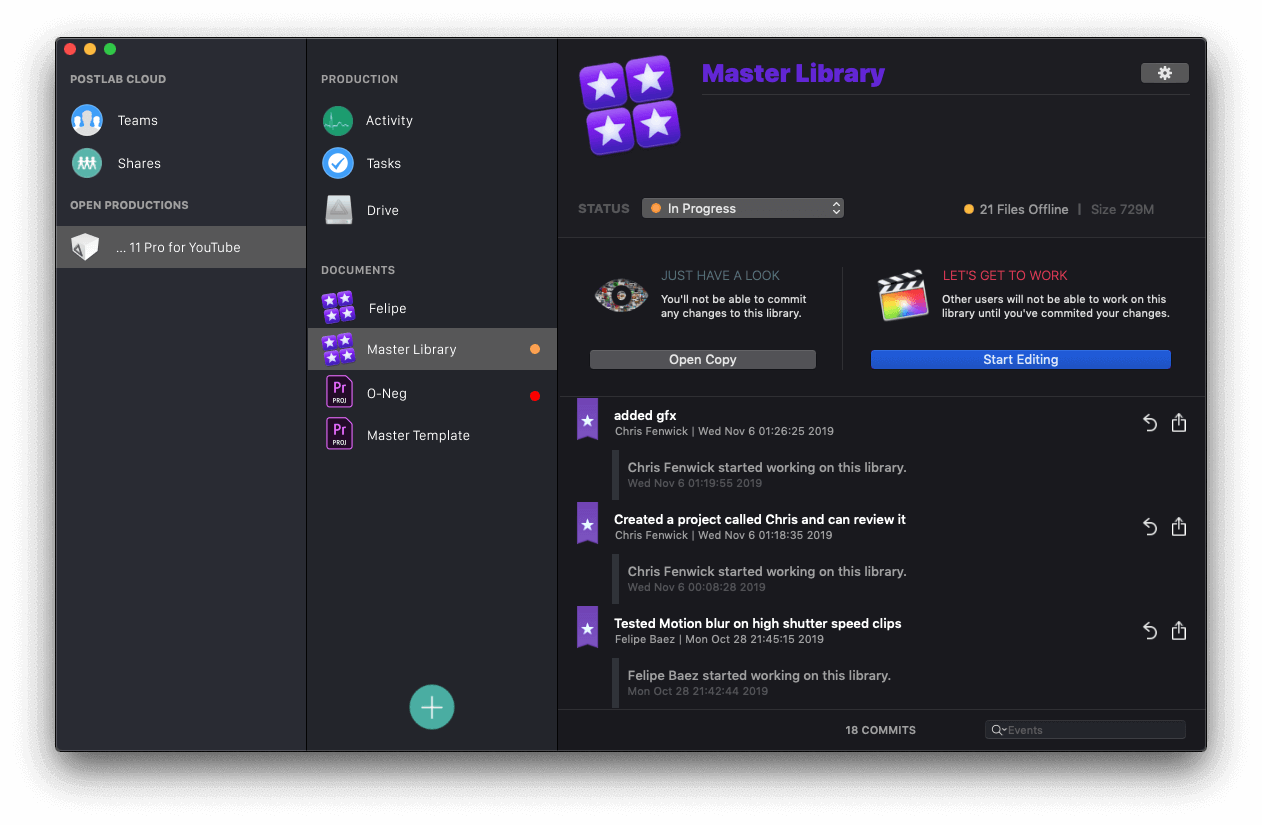 However today, Hedge threw all that away, and has essentially announced they've started from scratch on a completely new version of PostLab, that uses the same perpetual licensing as their other Hedge products (like OffShoot and EditReady).
Unfortunately, because this new version is early days, soon to be released in "Early Access Preview" (i.e. beta), they've asked not to share any screenshots of the user interface shown, as things may change during development - so no screenshots here.
They've completely changed things architecturally - rather then requiring any cloud infrastructure, it now runs on your local machine, which means it's fast, and there's no ongoing cost.
There will be a standard version, and a pro version - similar to how OffShoot now works.
PostLab will now also support ANY and every application - not just Final Cut Pro, Adobe Premiere and Avid Media Composer. You can manage Pages and Numbers documents, Logic Pro projects, etc.
But the thing that blew my mind is Event Locking for Final Cut Pro.
Essentially how it works is that you create a Team Bundle anywhere you like, which contains all your data. It's similar to a Final Cut Pro Library in that it's a package (i.e you can right-click and select Open Package Contents in Finder).
The standard version will support a single Team Bundle, and the Pro version will offer unlimited Team Bundles.
You can then create Collections within the PostLab interface however you want, like Final Cut Pro and iTunes/Music. These Collections can contain any Documents (i.e. files).
However, where the magic lies is that if you create a Final Cut Pro library, PostLab now manages the individual events within that library.
For example, you could create a Collection for "Episode 1" and "Episode 2", which each contains it's own Final Cut Pro Library. However, shared between BOTH of those libraries, you could have a single Event for "Sound Effects" that is common between both libraries, in both collections.
PostLab manages all these individual Final Cut Pro Events, so that only one person can claim ownership of them (i.e. check them out) at a time. So, for example, the "Episode 1" editor could be the owner/have checked-out the "Sound Effects" Event, which means that any other editors that try to open this Event will still be able to open it, however, PostLab will automagically inject a 🔒 emoji in the filename, so you can visually see in Final Cut Pro that the Event is essentially read-only, and no changes to that locked Event will be saved.
This is... magic. I have no idea how it works, because unlike in Avid Media Composer, for example, you can't just copy and paste Events between Library bundles, like you can with Avid Bins.
However, the geniuses at Hedge have somehow managed to make Final Cut Pro Events, behave exactly the same as Avid Bin's. It's magic, and amazing.
Everyone at the Final Cut Pro Creative Summit has the opportunity to request access to the "Early Access Preview" that will go live at some point later this month.
The new version of PostLab will not only be massive for collaboration, but solo editors - because the new version of PostLab brings simple git-like versioning to ANY document type. This is big!
It also has an absolutely fantastic new icon!
Next up we had The Ultimate FCP Tip Session with Jeff Greenberg hosting and Dylan Bates, Abba Shapiro, Steve Martin and Mark Spencer. There was lots of handy tips and tricks!
Then the last session of the day was Making Media Inclusive For All: Accessible Creative Storytelling with Storm Smith, and Jenica Teregeyo.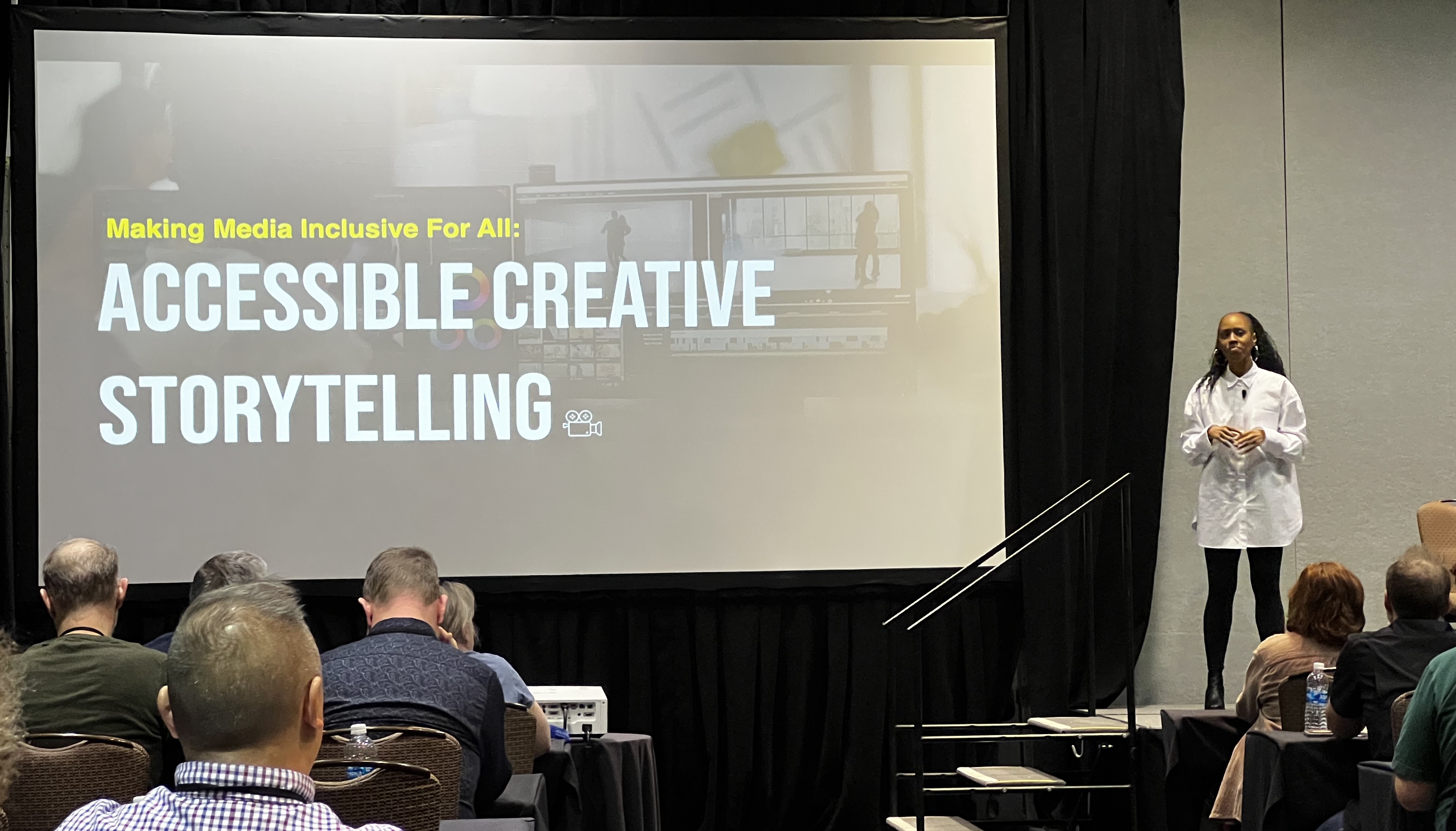 This was an incredibly powerful, educational, informative and inspiring session talking about empowering every viewer through accessible media.
It was a very slick presentation, with some great videos showcased.
Here's the top five things to take away from the talk: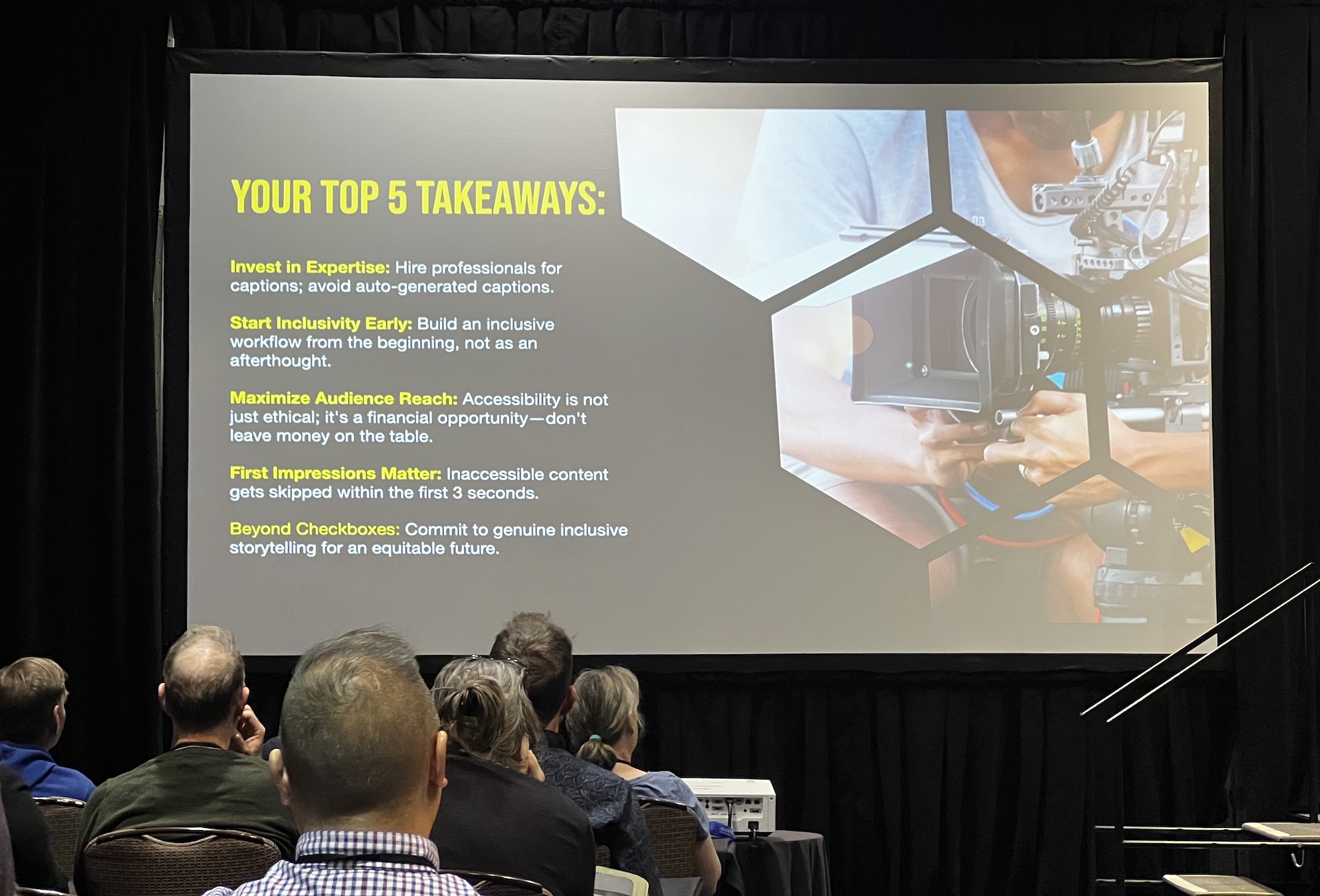 Then after this session it was Networking Expo Night, where you could talk to the Hedge Team, CoreMelt Team & others.
There was several prizes given away on the night, and free food and drinks.
The legends that are Philip & Greg also gave away a free copy of Picture This... to every Final Cut Pro Creative Summit attendee, which is amazing!
The Summit is all about connecting with like-minded people, and sharing knowledge, and the Expo Night was the perfect demonstration of just an insanely talented bunch of people all just hanging out together sharing tips and tricks.
You can watch a recording of Richard Taylor's YouTube Live Stream of the Expo Night here.
---
MotionVFX is currently offering 30% off if you use the offer code: 30BLACK
However, this discount does not apply to CineStudio, bundles & already discounted items.
You can learn more here.
---
ScopeBox 4.3 is out now!
It has an absolutely beautiful new icon, and a great new user interface.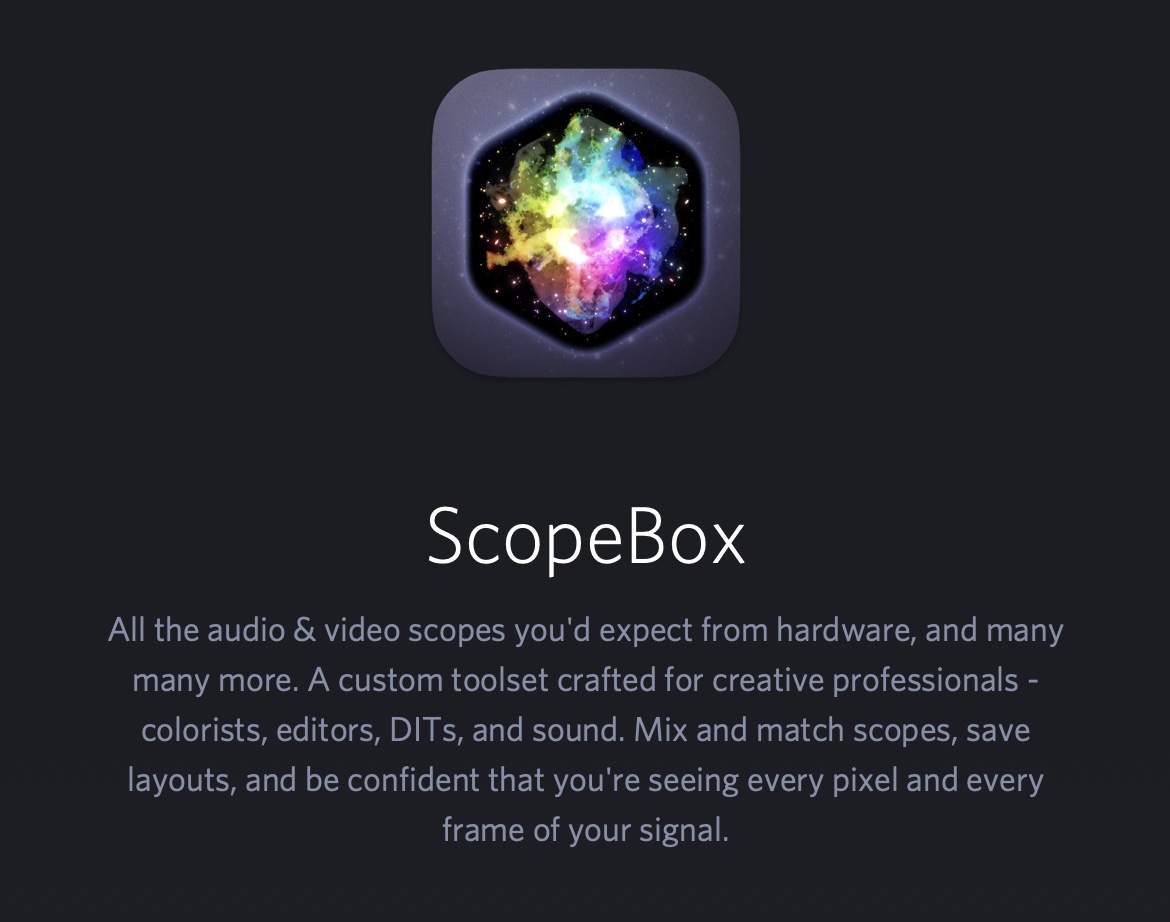 You can learn more here.
---
Blackmagic Camera 1.2 is out now!
Get more precise positioning of control dials, support for 6 additional languages, better layout of onscreen controls while in zoom mode, support for flicker-free shutter presets and more.
Here's the full feature list:
Control dials now offer haptic feedback and higher accuracy.
Support for 6 additional languages including Chinese, Japanese and Spanish.
Improved layouts for iPhones with display zoom enabled.
Improved animations for player and slate views in all iPhone models.
Improved animations for stealth mode in smaller iPhone models.
Improved organization and grouping of camera settings.
Support for selecting a specific onboard microphone.
Support to maintain zebra, peaking and false color during recording.
Support for flipping the image for SLR lenses.
Support for flicker free shutter presets for 50 and 60 Hz settings.
Support for recording clip with LUT and tagging color space.
Ability to export and import camera settings presets.
Improved grid controls with horizon detection.
Selectable time lapse duration in settings.
Ability to drag clips between projects in the media panel.
Support for iOS shortcut automation workflows.
Multiple fixes for recording HUD.
Apple Log to Rec.709 LUT is now included.
Ability to turn off uploads when on data.
General performance and stability improvements.
You can learn more on the iPhone App Store here.
---
There are some exciting updates from iodyne!
Their new Firmware Boosts Blackmagic Disk Speed Writes up to 2X faster!
Pro Data is the world's fastest Thunderbolt storage, but that doesn't stop their world-class engineering team from trying to make it even better!
Their new firmware release boosts BlackMagic Disk Speed Test write performance up to 2.3GB/s (up to 2X faster than before), further improving Pro Data's performance and out-of-box experience on widely-used industry tools.
The new 1.4 firmware release will ship in November to all Pro Data customers, downloadable free from the iodyne Utility. And it will be pre-installed on new shipments after that date.
They also added nifty UI improvements, and even more intelligence to their app: iodyne Utility can now detect and report a defective Thunderbolt cable, or invalid cabling configurations.
You can learn more here.
---
---
Today was day one of the Final Cut Pro Creative Summit.
The day opened with an incredible talk with Nick Harauz interviewing the amazing Justine Ezarik (aka iJustine).
Nick was the perfect interviewer, helping create an engaging, entertaining, insightful and honest conversation that was a joy to listen to.
Justine is so incredibly talented and insanely hard working. The talk provided a unique insight into how a person with 7.1 million YouTube subscribers runs her business, stays healthy, deal with trolls and haters, collaborates with other like-minded YouTubers, and how her and her editor use Final Cut Pro, PostLab and [Frame.io] to create great content quickly and consistently.
She's the real deal - open, honest, no bullshit, hard working, genuine.
Next up Chris Lawley talked about how he's gotten rid of his Mac all together, and moved completely to iPad and Final Cut Pro for iPad, in another very insightful, engaging and entertaining talk.
Then after a rather tasty boxed lunch, we all jumped on three buses and headed to Apple Park.
Sadly, there was no photos or videos allowed to be captured whilst in Apple Park.
You can watch this 2018 video on YouTube which shows some amazing drone footage of Apple Park during construction.
We all had special passes stored in our iPhone Wallets to gain access to the park, getting one of two coloured Apple lanyards (which we could keep) on entry: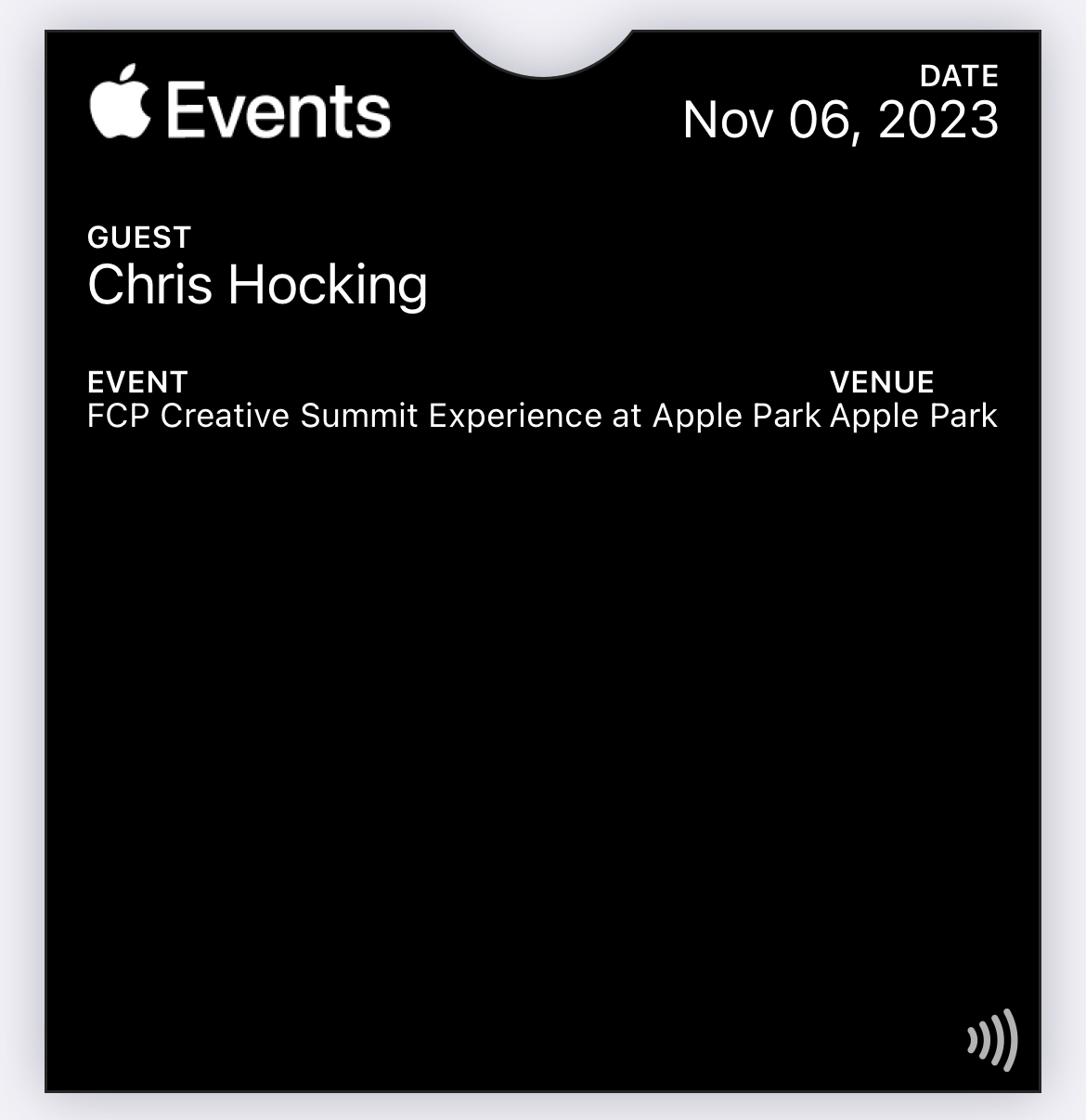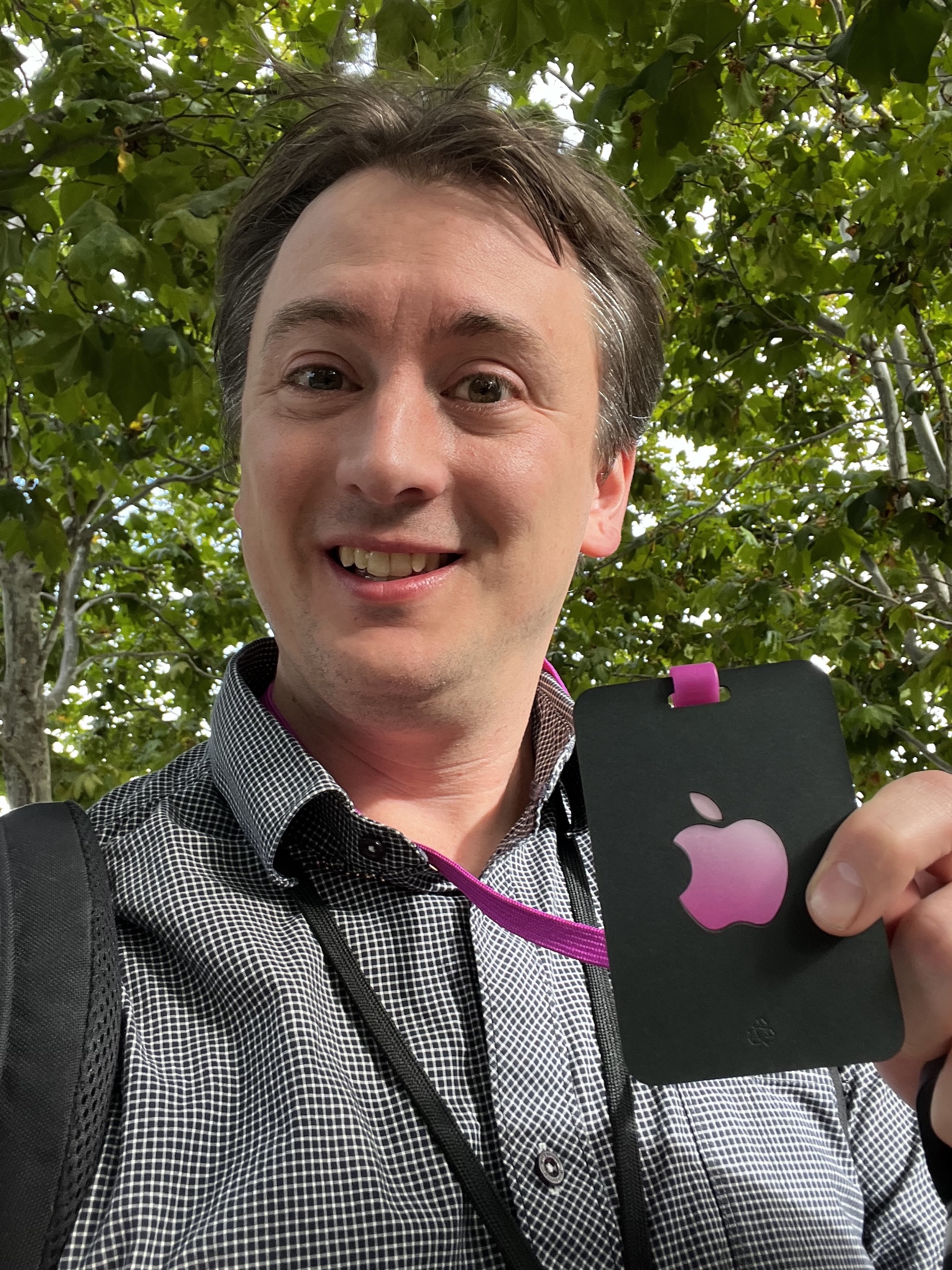 We then walked around the insanely impressive Apple Park building, with friendly Apple staff evenly spaced along the fairly long walk making sure everyone was going the right way, with no phones out.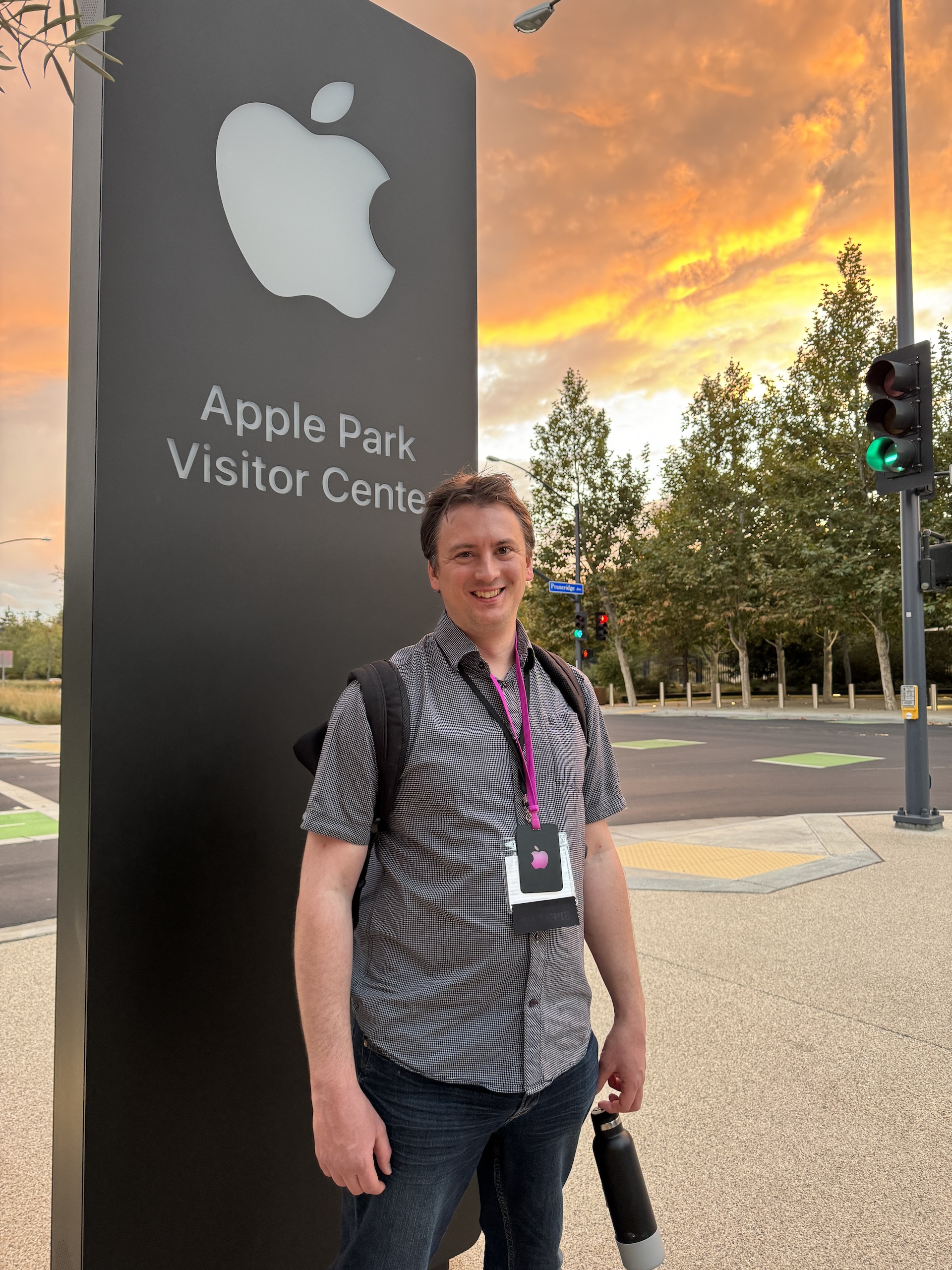 We then all entered an awesome little conference room inside the Apple Park circle, with one of the best LED screens and sound systems I've ever seen in that kind of smaller scale conference room.
Apple gave an insanely slick and polished presentation showing off the upcoming Final Cut Pro 10.7 release. Seriously - perfect sound, perfect presentations - it was like watching a keynote talk.
There was no NDA, and we were strongly encouraged to share things online (but again, no photos at Apple Park).
You can find all the specific details about the announcements here:
You can read the official Apple News Room Article titled Final Cut Pro takes video editing on Mac and iPad to the next level with powerful new features here.

You can read Iain Anderson's ProVideo Coalition article on More details: Final Cut Pro 10.7 at the FCP Creative Summit here. Iain is at the conference.

You can listen to Richard Taylor talk about the release on his YouTube Live Stream here. Richard is at the conference.

You can read Scott Simmons's ProVideo Coalition article on Final Cut Pro 10.7 announced, shipping later this month here. Scott is not at the conference.

You can watch Matthew O'Brien talk about HUGE Final Cut Pro 10.7 Update Just Announced! on YouTube here. Matthew is not at the conference.
There was nothing discussed in person that hasn't been publicly announced in the Apple News Room, however, one thing that was mentioned in passing in the demo room is that the Scene Removal Mask machine learning model has been dramatically improved on iPad and Mac, which is super interesting.
One interesting point to note is that even though the Scary Fast event wasn't cut in Final Cut Pro (yes, it was cut in Premiere) - everything for Apple Fitness+ is - over 4,700 videos, 15 hours every week, all cut in Final Cut Pro using ProRes. Apple is eating their own dog food, at a major scale. Also, all the WWDC talks this year were cut in Final Cut Pro.
After the Apple presentation we were then broken up into two groups. Whilst one group got a guided tour of further along the exterior of Apple Park, the other group went inside a demo room, where friendly Apple Staff showcased the latest Mac and iPad hardware, running the pre-release Final Cut Pro, and latest Logic Pro updates.
Apple Park is incredible - it's such a beautiful complex. Everything is perfect, everything is clean, everything smells good, everything inside is the perfect temperature, everything tastes good.
In the demo room we were able to play, hands-on with the new hardware. Yes, obviously I tried duplicating lots of audio clips to see how the scrolling timeline performed with a giant complex timeline, and I did get a spinning wheel of doom - but with the fairly complex demo timelines they had, it worked great.
Vincent Laforet was there to answer any questions about the new iPhone's - which is pretty special in of itself.
In terms of the Final Cut Pro announcements, it was basically exactly what I was expecting. After Apple finally gave us Dupe Detection, it was also fairly predictable that this would be the year that they'd finally give us a scrolling timeline - and it does look great.
Personally, I'm really happy with these incremental updates to Final Cut Pro, and they'll make my life as an editor better.
Tomorrow will be super interesting to see what PostLab has to demo!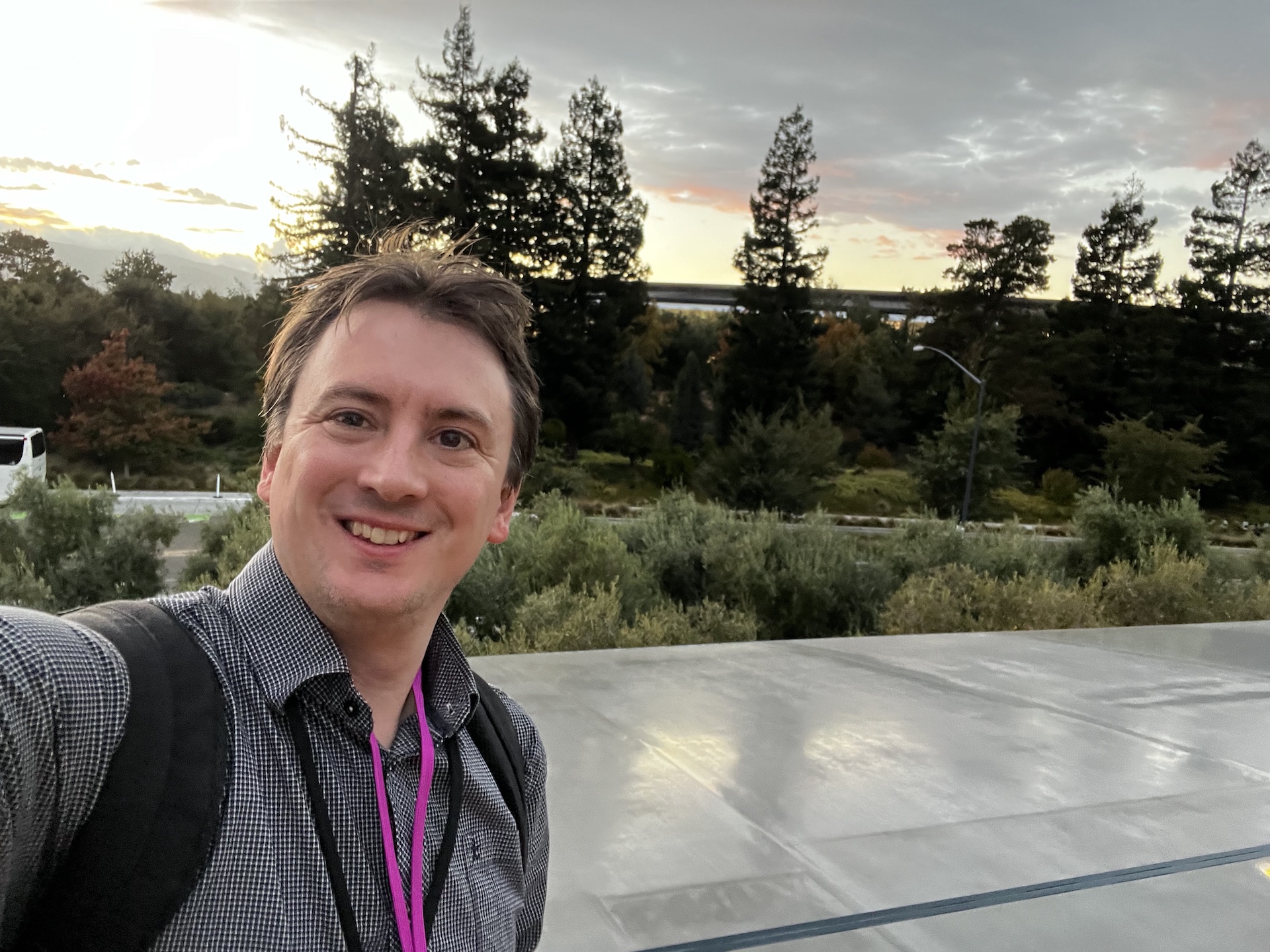 ---
Alteon now has an iPad app to help seamlessly connect Final Cut Pro workflows.
You can learn more over at ProVideo Coalition here
---
PostSync is currently 30% off if you use the offer code: Autumn30PercentSavings
You can learn more here.

---
---
On the eve of the big Final Cut Pro Creative Summit...
Tim and Vincent from ArcticWhiteness are happy to celebrate FCP Creative Summit, by offering 30% off on Final Cut Library Manager complete pack.
You can learn more here.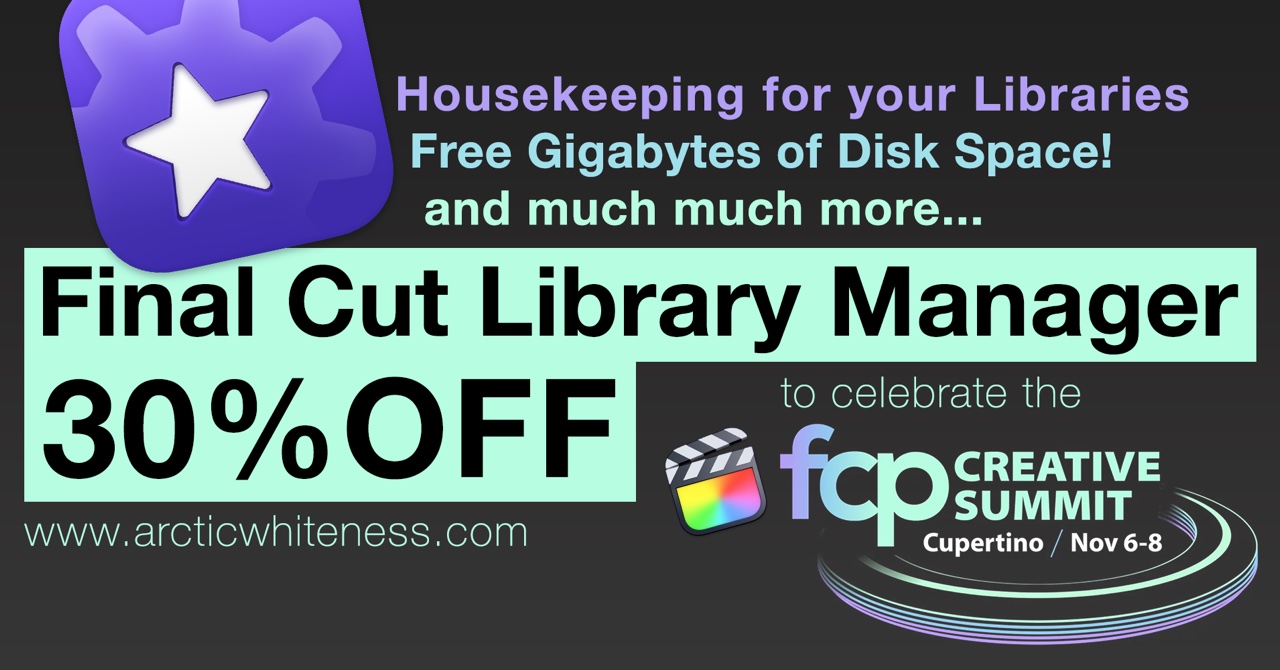 ---
---
If you can't use your camera or video output device (such as a Blackmagic or AJA IO card in Final Cut Pro) after updating to macOS Sonoma 14.1, Apple has released a workaround.
Starting in macOS Sonoma 14.1, cameras and video output devices that don't use modern system extensions won't be available to use unless you restore the legacy settings.
You can learn more here.
---
CoreMelt is at the Final Cut Creative Summit in Cupertino this week, as a Platinum Sponsor.
To celebrate they're offering 30% off both ShotAnvil and PaintX until 10th November.
Just use the offer code: FCPCS23XD*
If you missed what ShotAnvil can do, take a look at the range of tutorials.
If you don't need everything ShotAnvil does, PaintX gives you powerful tracked paint as a more affordable option, but is still very flexible and useful.
Both application are a one time purchase.
You can learn more here.
---
Color Finale is offering 20% off all individual products this week!
Just use the offer code: CW20
You can learn more here.
---
The amazing CJ Dobson at MoodLab has released an awesome video called Cloud Colour by Moodlab.
It's well worth a watch, as it's fun and educational:
You can learn more here.
---
---
This week, everyone in the Final Cut Pro community has been talking about Apple's Scary Fast keynote.
Faster Mac's is always a great thing for Final Cut Pro users. The 16-inch MacBook Pro M3 Max looks like an absolute beast!
The fact they shot everyone on an iPhone is insanely impressive. However even more exciting is finally seeing some behind-the-scenes footage from a keynote - camera aside!
You can watch the full keynote on YouTube here:
You can watch the incredible behind the scenes video on YouTube here:
You can also read Apple's Behind the scenes at Scary Fast: Apple's keynote event shot on iPhone and edited on Mac article here.
Felipe Baez has also posted a video, titled Apple's Scary Fast event - Disappointing and mediocre?.
You can watch here:
---
Dylan Bates (The Final Cut Bro) recently did a live stream on YouTube called mRotoAI Vs. Rotobrush 3.0 Vs. Magic Mask LIVE!.
You can watch here:
---
Blackmagic Design writes:
Today we announced new lower prices for the Blackmagic Cloud Store family of high performance network storage. The Blackmagic Cloud Store Mini 8TB is now reduced by $710 to $1,645, Blackmagic Cloud Store 20TB is reduced by $1,950 to $5,645 and Blackmagic Cloud Store 80TB is reduced by $7,400 to $15,595. These new prices will help make high performance network storage affordable for anyone!

Blackmagic Cloud Store and Blackmagic Cloud Store Mini are extremely fast high capacity network disks designed to handle the large media files used on Hollywood feature films. The design uses an advanced flash memory core so it easily handles lots of simultaneous users accessing media files at the same time. There is also an HDMI monitoring output so you can watch a live graphic view of the storage operating on a TV or monitor. Plus, with built in Dropbox and Google Drive sync, files can be distributed between multiple Blackmagic Cloud Stores globally so each site has very fast local file access, even though files can be distributed on lower cost internet connections.

Blackmagic Cloud Store models are in stock and available from Blackmagic Design resellers worldwide.
This is really interesting for Final Cut Pro users, as Blackmagic's network storage is now one of the most cost effective options around.
You can learn more here.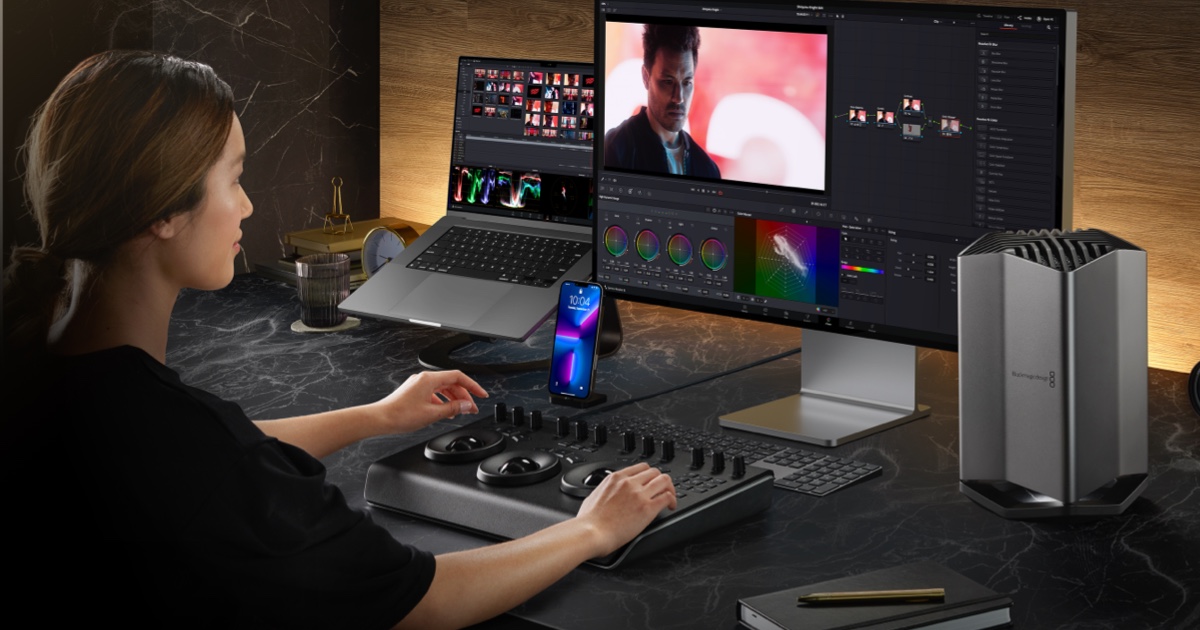 ---
---
#
October
We were very sad to learn today that fcp.co has officially disappeared from the Internet.
The site now permanently redirects to Peter's idustrialrevolution website.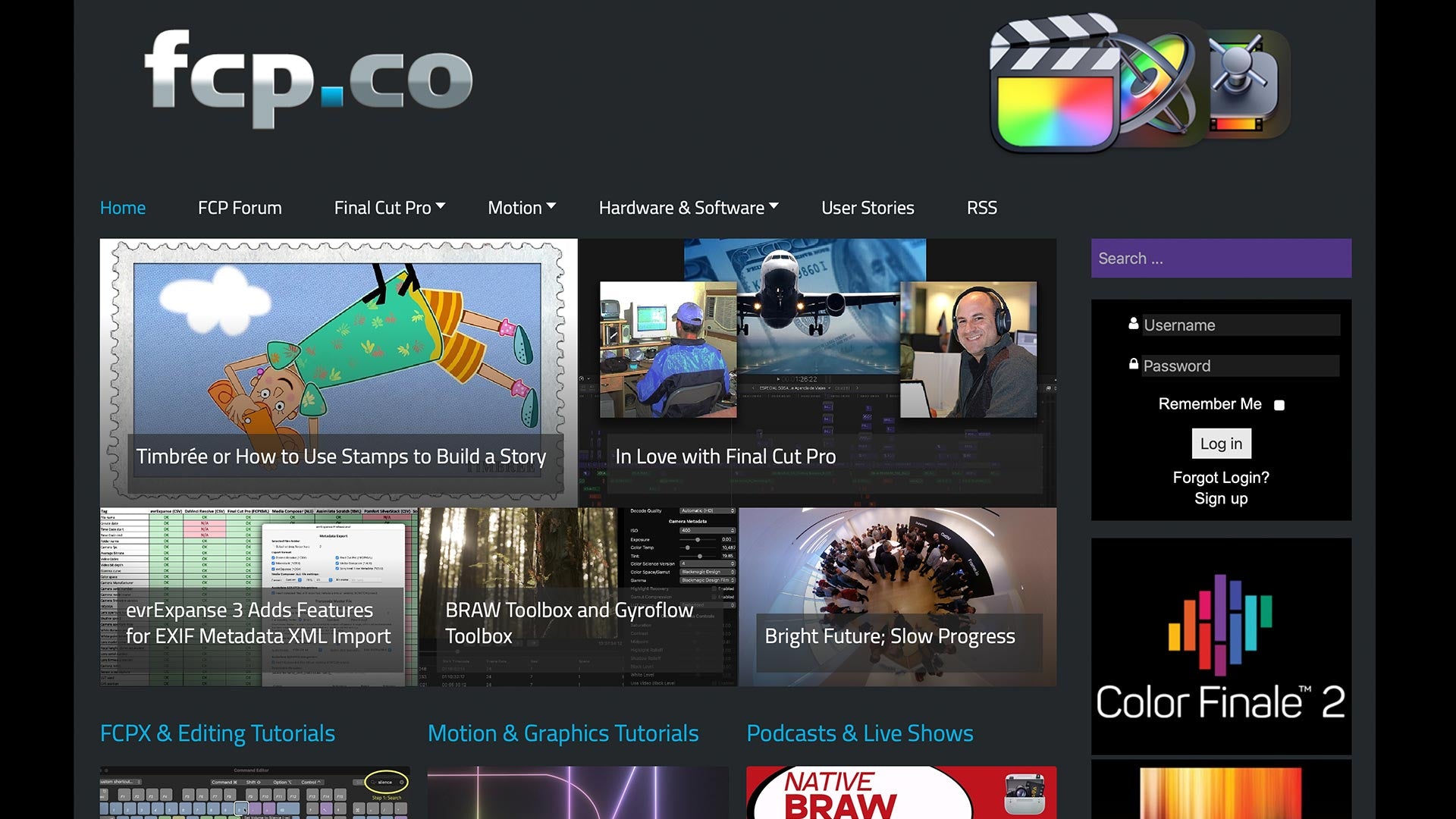 We've been a big fans of everything Peter has done with fcp.co over the years, especially the incredible case studies.
I've personally been very fortunate to have articles about CommandPost, BRAW Toolbox, Gyroflow Toolbox and the Neighbours spin-off series, Erinsborough High featured on the site. HUGE thank you to Ronnie, Alex & Iain for writing articles about our stuff!
Running a website like fcp.co is a HUGE amount of work, especially when you're running a very active forum, so massive hats off to Peter for keeping it going for over a decade!
Peter explains on his site...
WHATEVER HAPPENED TO FCP.CO?

Good, question, hopefully this short blog will answer a few queries about the life and eventual closure of the best Final Cut Pro website.

The site ran for over 12 years, it started before Final Cut Pro X was released and surfed the wave of creation, innovation and finally in the latter years, frustration.

First of all, it is very hard to run a news site about a product when there isn't any news! Although there are some very active individuals in the FCP ecosystem who make a lot of noise, there isn't much happening these days.

That might be because there are hundreds of thousands of happy FCP editors out there that just get on and edit. It might be because everyone has bought every FCP product they need. Or have the majority of editors shifted over to Premiere and Resolve?

Secondly, it is the old problem of the cost and effort of running a site compared to the return. Although we had a few great advertisers who worked with us for a long time, there were a lot of companies who wanted a lot for nothing. That doesn't pay the bills. We were in fact quite shocked by the rudeness of a few individuals when asked for help after promoting their products/services for free for a number of years.

Over the last 18 months our hosting became a problem. What started off as a brilliant home for the site, lost all of its peripheral services and scheduled maintenance that made the site tick over. So it was either move the site to a new host that had better customer care, or close.

So, why is the explanation of the closure on this website? Because, for the majority of its life, Idustrial Revolution's sales have underwritten the cost. We were in discussion with a few parties about taking over the site, but they all eventually fizzled out.

It breaks my heart to close the site, I still believe FCP is the fastest and most creative NLE out there, but the industry doesn't share the same opinion. At one point Apple had a massive share of the NLE market with FCP7. FCPX never really recovered from the disastrous launch and Premiere (as bad as it was/still is) filled the vacuum.

Finally, chapeu to a few of the people that made the site the success it was. Thank you to David R, Sam, Ronnie, Roger, Philip & Gregg, Iain, Oliver and of course Karsten who without his daily help, the Forum would have died under a mountain of spam.

All is not lost though, I will add content to the blog section on this site. So please come back, you might even like one of our plugins!

Peter
You can checkout Peter's awesome plugins and blog posts over at idustrialrevolution.
We hope he continues to release new and exciting Final Cut Pro plugins, and interesting blog posts!
We're also hopeful FCP Cafe can help fill the void fcp.co has left for Final Cut Pro professionals - especially in terms of Case Studies.
The aim for FCP Cafe has always been for it to be open and community driven. You can learn more on our Contribute page.
It's all hosted and managed from GitHub, so people can always fork the site (like Sequence already has!) - so hopefully it will never disappear from the Internet.
Thanks again Peter for EVERYTHING you've done for the Final Cut Pro Community! Onwards & Upwards!
---
There's an upcoming Apple Event on 31st October.
The "Scary Fast" presentation is anticipated to include Mac updates.
You can add to your calendar via the official Apple website.
You can read Apple Insider's predictions here.
---
---
MotionVFX has announced CineStudio will be released on 25th October 2023 at 9AM ET.
Brand new tools to change your editing forever
Cutting-edge technology powered by AI
A whole new reality for creators all over the world

Break free of technical limitations and never again compromise your vision.

We set out to change the game in Final Cut Pro with cutting-edge editing tools engineered to powerboost your creativity, and it's almost time to share it with the world.

Be at the forefront of the revolution. Dare to think bigger & create further.
You can learn more here.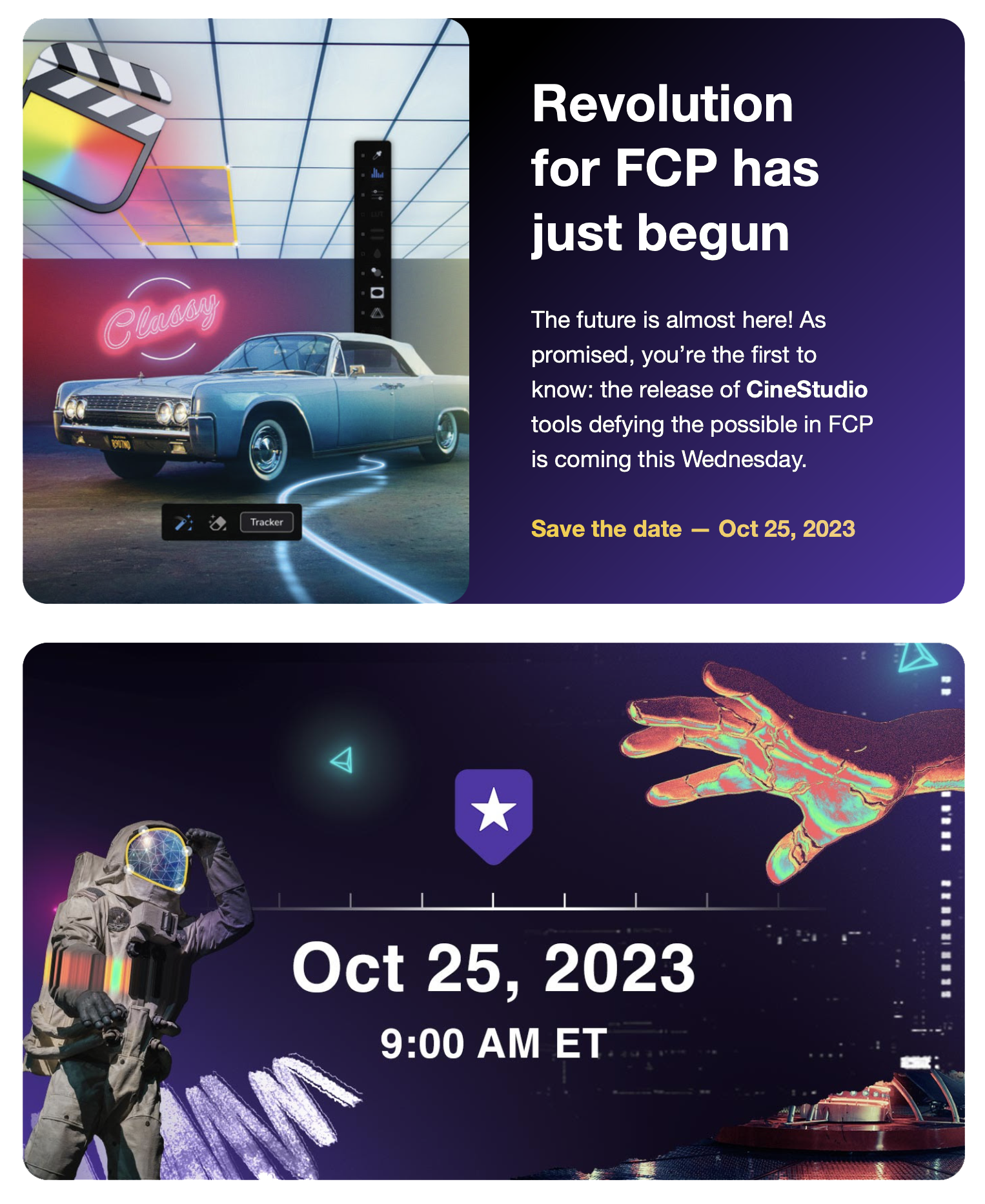 ---
Larry Jordan has released a great blog post, Six Hidden Editing Keyboard Shortcuts in Apple Final Cut Pro.
You can read it here.
---
---
We're very excited to announce that FCP Cafe now has a 15% discount to offer for people wanting to attend the Final Cut Pro Creative Summit.
Simply use the discount code FCPCAFE on checkout!
The amazing Iain Anderson has also written an article on our FCP Creative Summit page about WHY you should attend this year!
You can read this post here.
---
---
Last Chance for ShotANVIL Intro Price!
CoreMelt have extended the introductory special for CoreMelt ShotAnvil a few more days to give you a second chance to see just how powerful the all in one AI person keying, tracked paint, mask and insert graphic tools are.

If you own any previous CoreMelt product with Mocha tracking get 50% off the purchase price until 21st October.
ShotANVIL combines PaintX , SliceX and TrackX into one combined editor interface allowing you to do everything in one plugin, with powerful new tools for AI masking, paint, keying and enhanced shape masks.
Owners of the CoreMelt Detonators bundle will also get ShotAnvil for free - a license upgrade will get sent to you automatically.
Features include:
Powerful compositing in one plugin with multiple different tracks applied
AI one click person masking
Auto applying of effects only to people, eg night vision
Beauty skin smoothing using AI person detection
Integrated tracked paint including animated paint strokes
Advanced edge feather controls for masking
Combine paint, masks, tracking and graphic inserts in one plugin
Tracked warping with multiple brushes
AI Inpainting for removing wires, cables, touch-ups
There is a free two week trial available, video tutorials and online documentation.
You can learn more on the CoreMelt website here.
---
---
Chris Roy has released PostWatch 3.0 to the world for free, with macOS Sonoma and OffShoot support, along with a refreshed user interface.

Get alerts from various post production applications and macOS sent to the Pushover smartphone app.
You can download and learn more here.
---
Richard Taylor at FINAL CUT TV will be giving away two free passes to the FCP Creative Summit over the next week.
Subscribe and watch his YouTube live streams this week for a chance to win!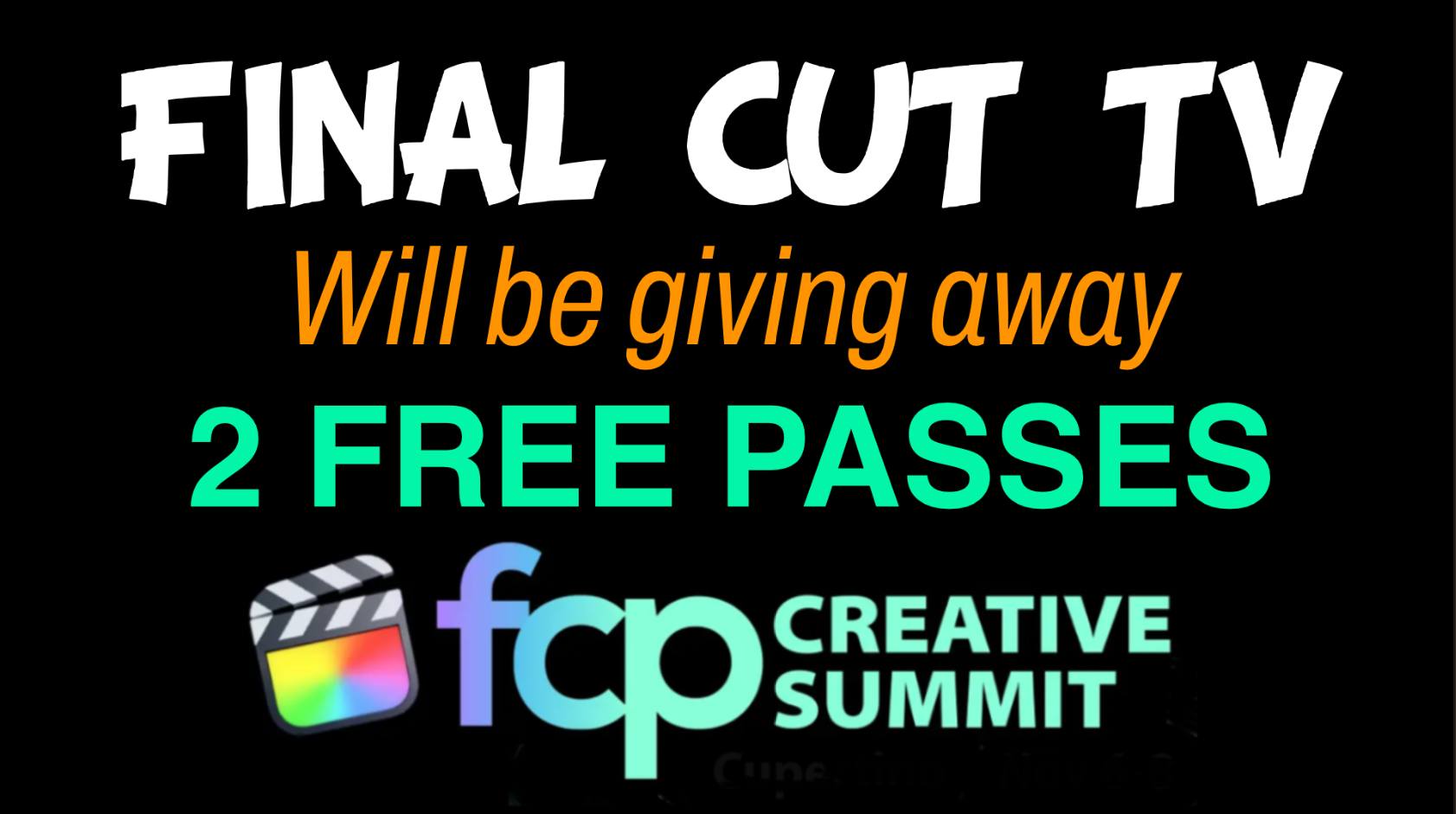 He also has 15% off promo code for the FCP Creative Summit: FCPRADIO
You can find him on YouTube here.
---
MotionVFX has released various updates to their software for macOS Sonoma compatibility.
mLUT Plugin v3.0.4: Improved macOS Sonoma compatibility, minor bug and crash fixes mFlare v2 3.0.3: Improved macOS Sonoma compatibility, minor bug and crash fixes mFilmLook v2.0.5: Fixed memory leaks and visual artefacts, bug and crash fixes mPuppet v2.0.2: Improved macOS Sonoma compatibility, minor bug and crash fixes mTracker 3D 2.0.2: Improved macOS Sonoma compatibility, minor bug and crash fixes
You can find the official MotionVFX website here.
---
---
Iain Anderson has released a quick video review of what happened at the last FCP Creative Summit in 2019, and a preview of what's coming in just a few weeks.
You can watch on Vimeo here:
If you've not yet booked, it's just USD$299 this year, and we'll be visiting Apple Park!
You can learn more here.
---
The Aussie's (Iain Anderson, Lee Herbet & Chris Hocking) return for the 8th time on Richard Taylor's FINAL CUT TV tonight!
9 PM AEDT 6 AM EST US 3 AM PST US 10 AM GMT
You can watch live on YouTube here:
---
---
BRAW Toolbox v1.3.3 is out now!
It includes the following improvements:
General playback performance improvements.
Updated from FxPlug 4.2.7 to FxPlug 4.2.8.
The wrapper application now quits when you close the main window.
You can learn more here.
---
Luca Visual FX has released a new Motion Template package on FxFactory.
LED Display Screens is a set of 15 new templates for Final Cut Pro (12 effects and 3 titles) that enable users to recreate the unique look and feel of LED panels in 3D space.
Once loaded with custom footage, the screens, which come in all sorts of shapes, can be animated and customized in many ways.
This is a very useful tool for ads, music videos, promos, news, sports, titling, 3D simulation and compositing effects, and much more.
It's currently on sale for USD$49 (normally USD$59).
Here's the dedicated web page with Demo, Tutorial and samples to preview here.
You can buy now on FxFactory here.
---
Color Finale 2.7.0 Build 552 is out now, which fixes compatibility issues with the latest Final Cut Pro 10.6.10 update.
Existing users will be an email in their inbox with a link to the latest update.
You can learn more here.
---
---
Intelligent Assistance, the geniuses behind Builder NLE, Change List X, FindrCat, SendToX, Sync-N-Link X and many other incredible Final Cut Pro tools has just released another application!
Picture This allows you to harnesses the power of Generative AI to create unlimited, copyright free images from a Final Cut Pro Project right on your Mac, using the latest version of Stable Diffusion.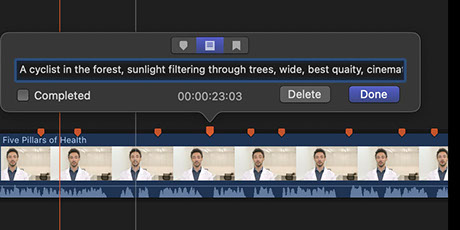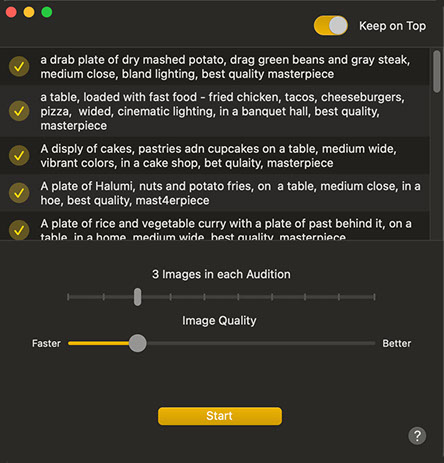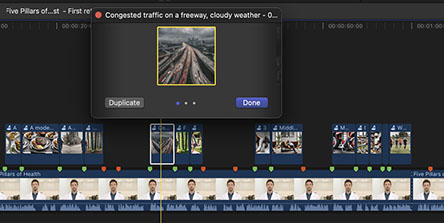 To quote the App Store:
Create stunning AI text-to-image artwork from Markers in your Final Cut Pro Projects or Premiere Pro Sequences. Picture This… takes the text-to-image prompts from Markers in a Project or Sequence and generates image variations for each prompt, and returns these images to Final Cut Pro as a new Project with Auditions, or to higher tracks in a Premiere Pro Sequence, for easy comparison.

Using the latest version of Stable Diffusion, Picture This… provides background batch processing of images and the convenience of Auditions in your Final Cut Pro Projects.

Convenient Create your prompts where you will use them: in red Markers in your timeline.

Processes as a Batch in the Background Batch processing allows to you use your time productively while Picture This… — your "art department" — does it's AI magic. Important: Do not continue working on that timeline. Any work you do on your edit will not be included in the results returned from Picture This…

Aligned in your Edit New images display right where you need them in your timeline.

Other Features Use multiple passes to hone in on the image you need. Optionally, fine tune the prompt each time. Images are always free, whether you generate one or 1000. Processing happens on your local Mac, never in the cloud.

Images cannot be copyright individually, but do not limit the copyright on the finished project.

How it Works In Final Cut Pro enter your image description (text-to-image prompt) in a To-Do Marker where you want the image to start. Or in Premiere Pro, add a red Sequence Marker with a prompt. Images continue to the next Marker or to the end of the underlying clip. Export and Import XML, or drag a Project (FCP only) to Picture This…. Choose your settings and click Start to generate images. After processing the Project is returned to Final Cut Pro with Auditions, and each Audition contains the alternative images for each prompt. Or the Sequence is ready to import to Premiere Pro, with the generated images stacked on Video Tracks above your existing edit. There will be on track for each alternate image generated from the prompts. You can modify prompts and send the Project/Sequence to Picture This… again.

Requirements: An Apple Silicon Mac running macOS Sonoma At least 8GB of RAM, but 16GB or more is recommended English text-to-image prompts are currently supported It requires macOS Sonoma and an Apple Silicon Mac.
You can learn more on their official website here.
You can purchase on the Mac App Store here.
---
dxRevive on FxFactory is currently on sale!
AI-Powered Speech Restoration: dxRevive is a versatile speech restoration plugin, dedicated to enriching the quality of various dialogue recordings. Unlike many other restoration plugins, dxRevive doesn't merely filter the signal. It goes beyond, identifying and reintegrating missing frequency components, yielding studio-like recordings from diverse source materials.
Highly Optimized Neural Network: dxRevive features highly optimized algorithms based on artificial neural networks. The whole processing happens locally without sending data to the cloud or requiring special hardware. No uploading time delays or sharing of protected audio material required!
Multilingual Support: Our algorithms have undergone training using an extensive array of languages. They have been exposed to a diverse range of linguistic nuances and accents from speakers around the world through our custom-recorded speech database. Regardless of the input speech type, dxRevive excels at accurately restoring the intricacies of various pronunciations.
Key Features:
Noise removal
Reverb suppression
Restoration of absent frequencies
Elimination of Codec Artifacts (e.g., from Skype or Zoom recordings)
Recovery of clipped audio
Application of spectral corrections
Restoration of band-limited audio like phone call recordings
You can watch a demo here:
You can learn more over at FxFactory.
---
Final Cut Pro 10.6.10 is out now, which includes the following fixes:
Fixes an issue that could cause an FxPlug-based title that analyzed a clip to result in an incomplete analysis.
Fixes an issue that could cause a Motion template with an applied Align To behavior to display an incorrect animation.
This fixes FxFactory products that perform object tracking or face recognition through the Title layer.
HUGE thank you to Apple to listening to companies like FxFactory and turning around a bug fix so quickly!
Final Cut Pro for iPad 1.2.1 is also out now, which includes the following fix:
Fixes an issue that caused some titles and transitions to have incorrect animations.
---
---
In about ten hours (at time of posting), the amazing Dylan Bates is hosting an open roundtable discussion about all things Final Cut Pro hosted by Nick Harauz!
It features Jenn Jager, Christopher Lawley and Steve Martin, and there will be lots of awesome giveaways during the stream.
You can watch on YouTube here:
---
It's also been announced that the incredible Justine Ezarik (aka iJustine), will be the keynote speaker at the FCP Creative Summit!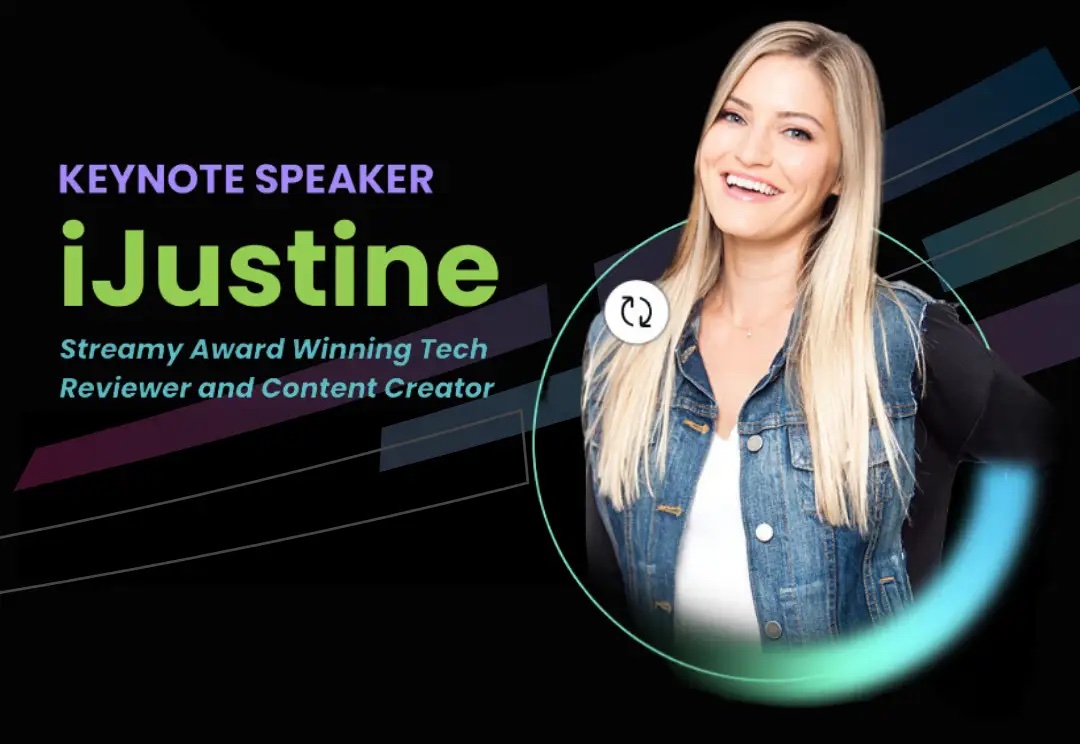 You can learn more about the FCP Creative Summit here.
---
Fast Collections is a Final Cut Pro Workflow Extension that allows you to quickly create a Smart Collection from a list of Keywords.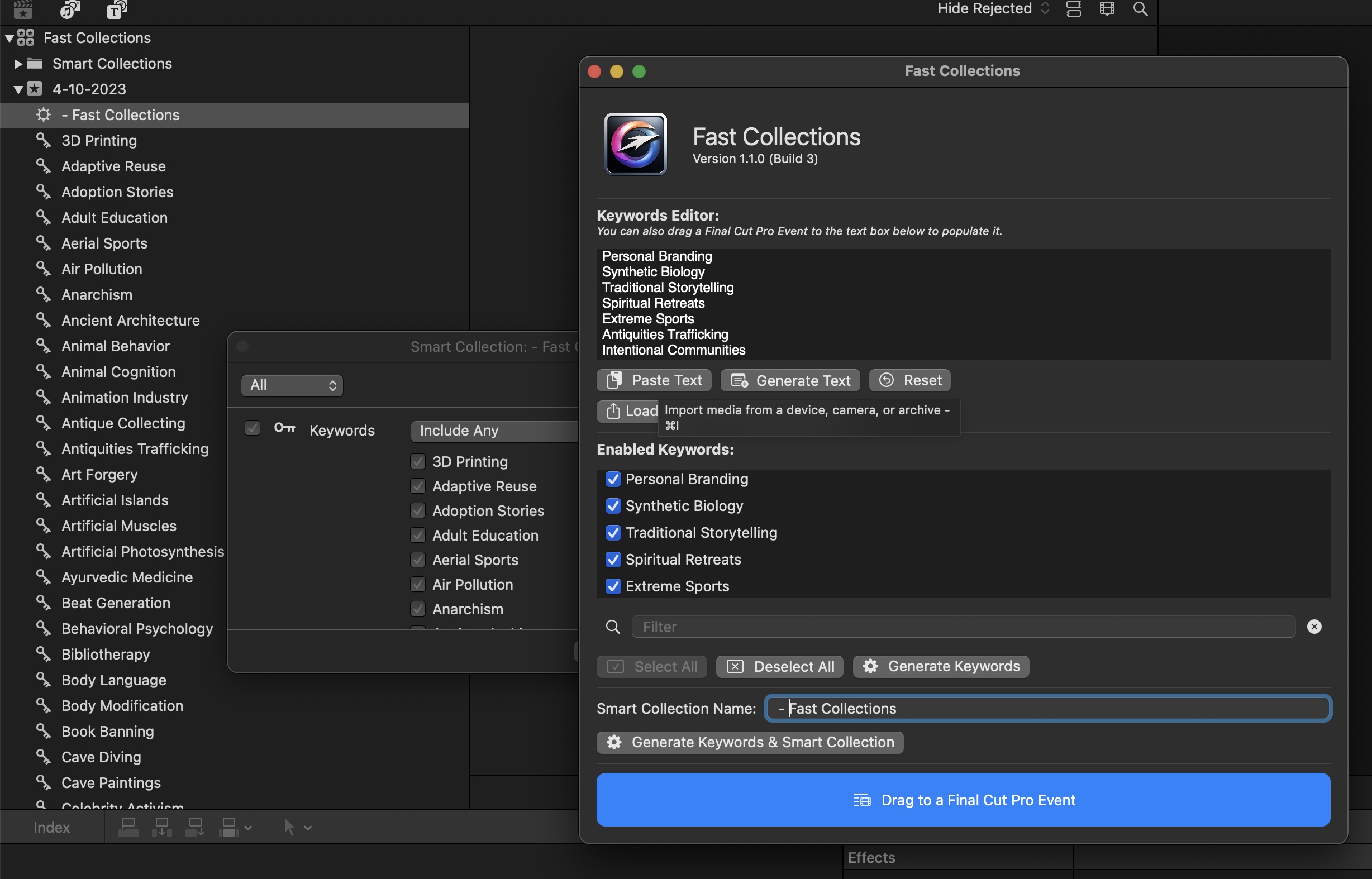 When you're working on massive long-form projects, such as feature-length documentaries with hundreds of clips and thousands of keywords, the Final Cut Pro interface can grind to a halt when using the built-in Smart Collection panel.
This simple Workflow Extension allows you to create a new Smart Collection, using a list of supplied keywords within seconds, rather than minutes.
This was originally intended to be a very niche application, primarily used by long-form documentary editors.
However, as requested by Vigneswaran Rajkumar, we've added the ability to Generate a list of sequential numbers, for example, Scene 01, Scene 02, Scene 03, etc.
This is very handy for long-form projects, so to make the application more accessible, we're also reduced the price to a one-time payment of USD$9.99 on the Mac App Store.
You can learn more here.
---
---
---
#
Discuss this page