#
Tools
This page is dedicated to handy applications that can be used in conjunction with Final Cut Pro.
---
---
#
A
#
ARC-X
ARC-X safely archives your Final Cut Pro X projects and backs up all the elements in your edit including:
video and audio media files
graphics and still image files
fonts
3rd-party plugins
Easy Media Backup Backing up your FCPX events, projects, and clips is quick and easy. Drag and drop your project directly into ARC-X and start the backup. ARC-X gives you complete control over exactly which files to backup. Archive any combination of your project's video, audio, and graphics files - even the fonts and 3rd-party plugins used in your edit can be archived.
Simple, One-Step Restore When it's time to revise or restart your edit, restoring your a project is a simple one-step process. Import the ARC-X generated XML file into FCPX and your project is restored to its original state in seconds including titles, effects, transitions, keyword, and markers.
Powerful Media Management Use the ARC-X media inventory spreadsheet to track your project's media files, fonts, and 3rd-party plugins. The Excel-compatible file gives you detailed info on every piece of media including its original FCPX storage location.
Whether you want to protect your projects and media by archiving them for long-term storage or share them today with colorists, FX designers, and other editors, ARC-X makes it a simple and easy process. Your keywords, markers, titles, effects, fonts, and 3rd-party plugins are all preserved.
---
#
Audio Design Desk
Audio Design Desk is to audio software what Pro Tools was to the tape machine. It's an entirely new breed of Digital Audio Workstation that artists can play like an instrument, revolutionizing the process of adding music and sound effects to picture and cutting down what can typically be a full day project to just a few minutes. It comes bundled with 75,000 sounds embedded with patent-pending Sonic Intelligence™, using AI-assisted content creation tools to enable filmmakers, sound designers, composers, and creators to produce cinema-quality compositions at the speed of thought, giving them a level of creative control that is unmatched by any other software.
---
#
B
#
Backups for Final Cut Pro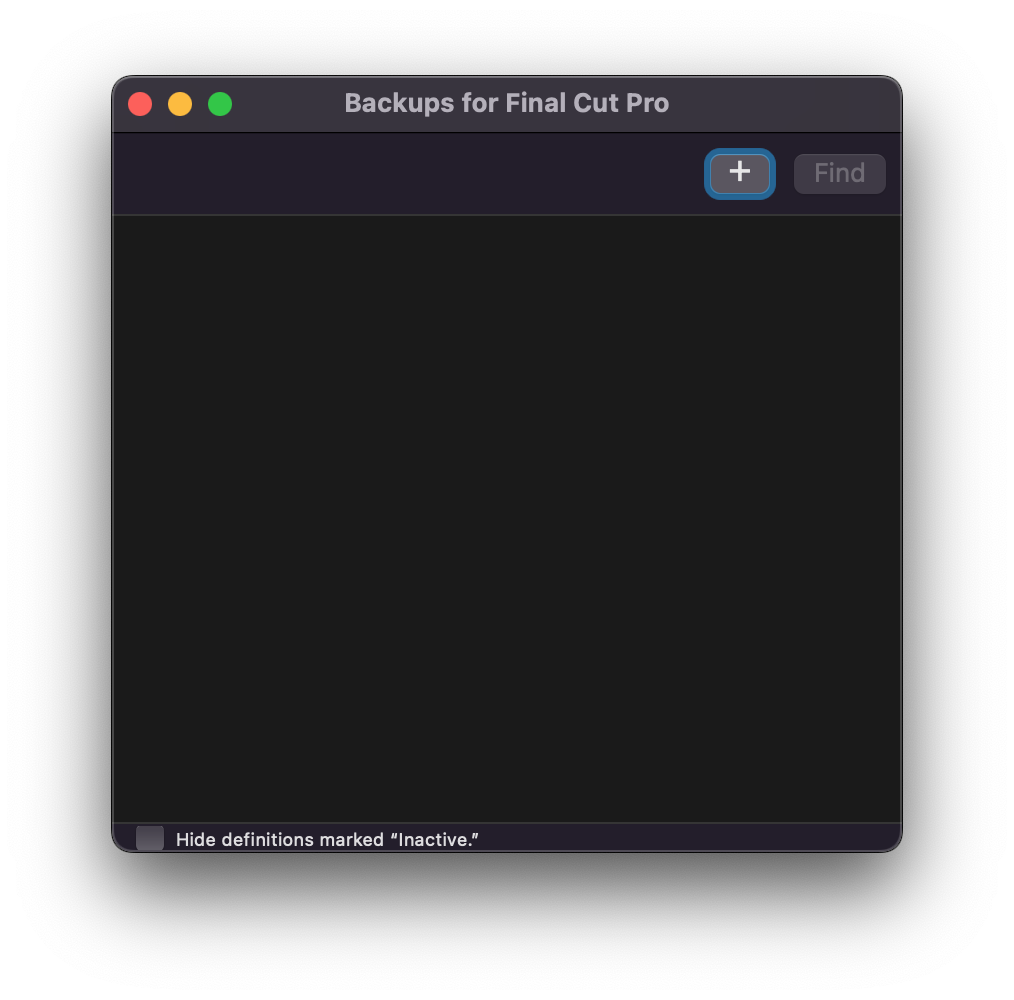 Ever had an FCP X library corrupted so you can't launch it? Ever gone down an editing path you didn't like and find you can't undo it? Backups for Final Cut Pro will get you out of such situations.
Install it before you need it!
Backups for Final Cut Pro is like Time Machine® for Final Cut Pro X®! It performs timed and manual snapshots of your FCP X Libraries, Projects and Events.
---
#
BeatMark Pro
Automatic Music-Driven Video Editing for Final Cut Pro.
This software is awesome. Beautifully built, and incredibly useful.
Chris Hocking - 3rd June 2023
---
#
Builder NLE
There's a new app on the Mac App Store! Introducing Lumberjack System Builder NLE!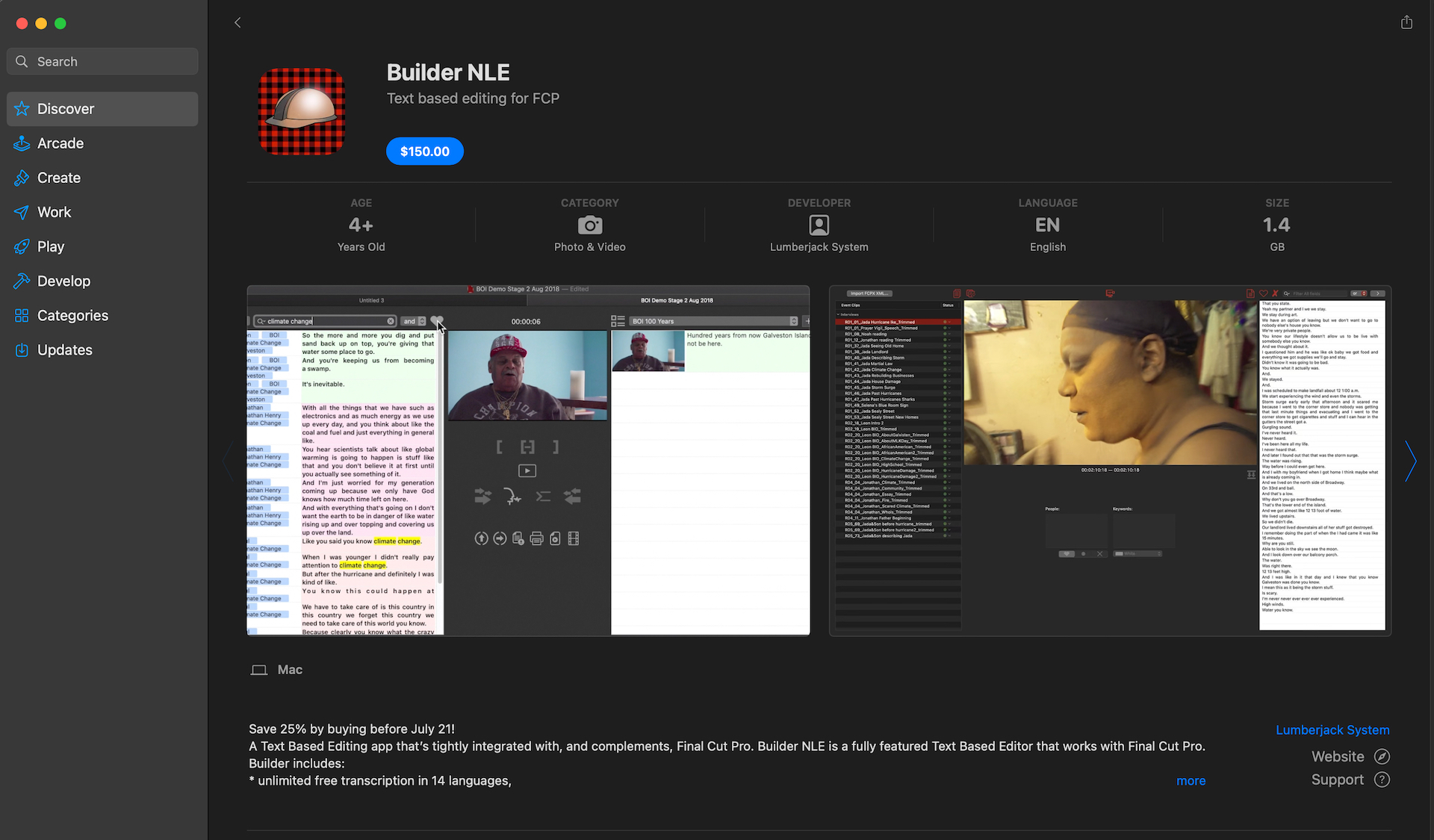 On the anniversary of the release of Apple's Final Cut Pro X, Lumberjack System has released their Text Based Editing app as a one-off purchase in the Mac App Store.
The original and most complete Text Based Editing solution for Final Cut Pro has long been available as part of the Lumberjack System Membership. This version makes Builder NLE more easily found, and more accessible to Final Cut Pro users who want a complete Text Based Editing environment for Final Cut Pro.
Builder NLE in the Mac App Store is the same app that is available through the membership, but without access to the wider Lumberjack live logging tools. It continues to include unlimited free transcription in 16 languages, closed caption support on Stories, unlimited stories, a comprehensive Keyword Manager, and extremely powerful search and filter tools to get you to your stories faster.
You can learn more about Lumberjack Builder here.
---
#
C
#
Canister
Canister takes the hassle out of LTO.
So easy... it's like LTO for Dummies.
Keenan J. Mock, LightIron
---
#
Caption Burner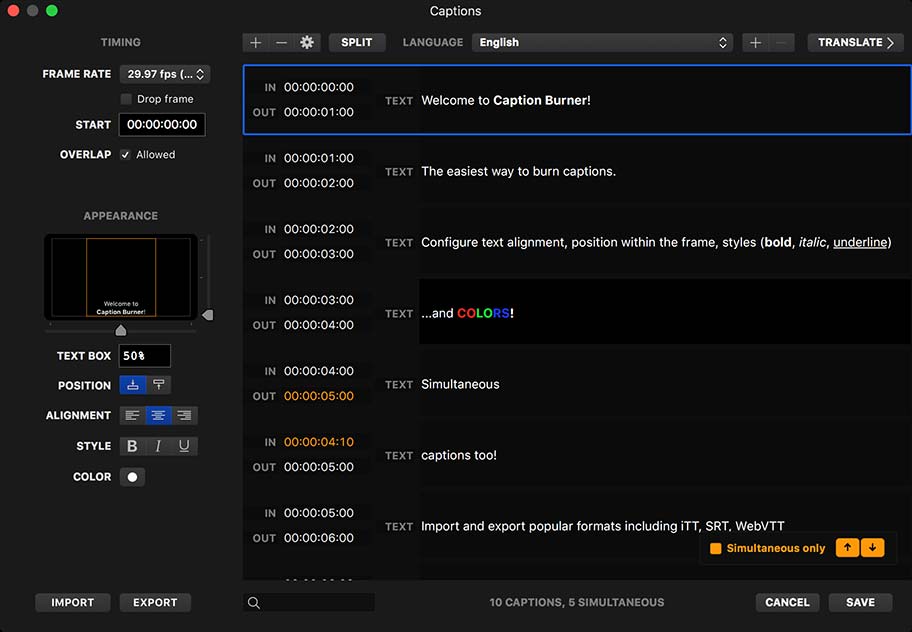 Caption Burner is a plugin for Final Cut Pro, Premiere Pro, After Effects and Motion that lets you burn captions and subtitles into your video.
Caption Burner helps deliver video for platforms such as Instagram® that do not allow caption information to be submitted as metadata.
---
#
Caption Converter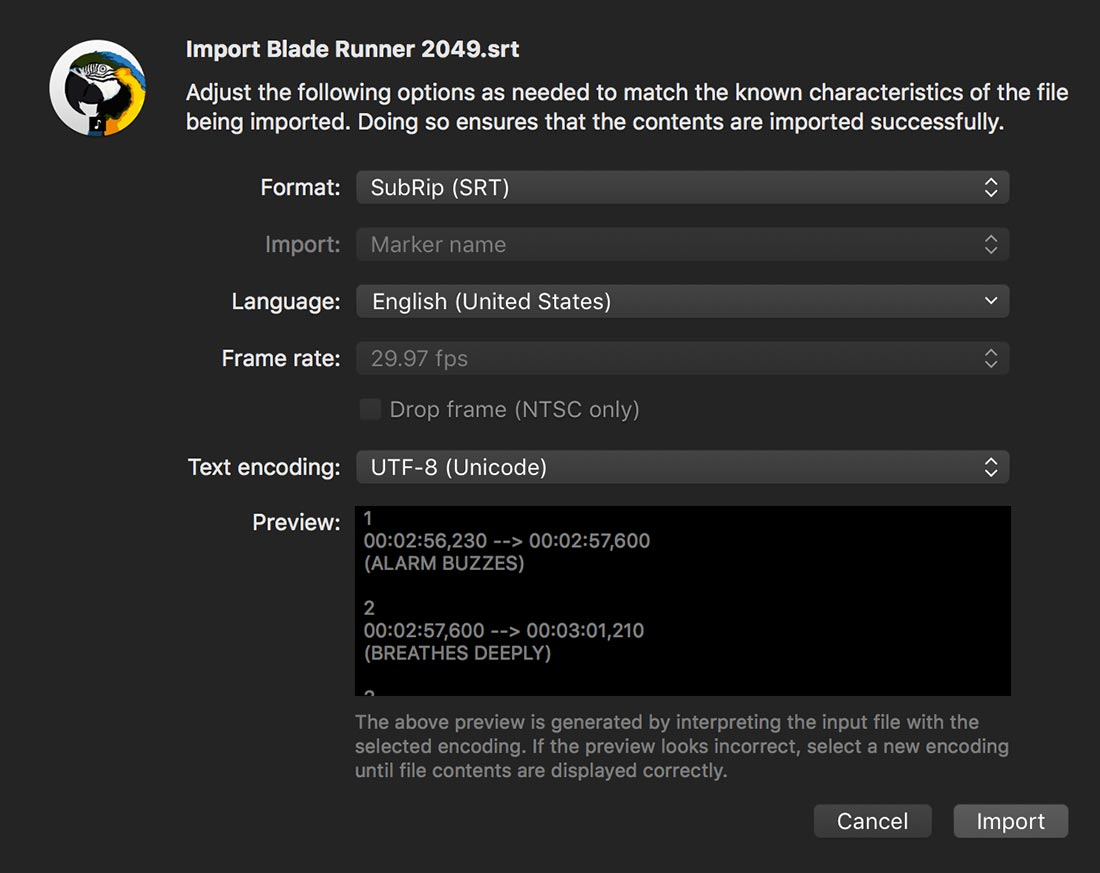 Caption Converter is an app for macOS that lets you import, export, edit and translate caption and subtitle information in the following formats: iTunes Timed Text (iTT), WebVTT (VTT), SubRip (SRT), SubViewer (SUB), Adobe Encore Script and Adobe Premiere Pro Markers (CSV).
---
#
Captionator for Final Cut Pro
Captionator for Final Cut Pro uses the hardware inside your Mac to automatically generate captions and high energy titles like you see on all the biggest YouTube and TikTok videos. You can easily keyframe or animate individual words, or entire sentences.
---
#
Change List X
Finally, you reached picture lock and send the project off so the sound department can start work. Which they do. Except a week or two later, there's just "a few minor changes when the director took another pass"…
And that's where a Change List comes in. Because "Final" is never "Final" and "Locked" is regularly "Unlocked" again.
Change List X analyses two Final Cut Pro X Projects and produces a change list comparing the Primary Storylines of the two versions of the edit.
The report lists the changes that need to be made to the initial cut to match the new edits, step by step
The report can be created as a PDF, tab-separated text file, or both
Report times can be shown as either Timecode, Feet+Frames or Frame Count
Change List X can also create a change pull list (for new footage added to the timeline) and a change discard list (for footage that needs to be removed from the timeline)
What is a Change List and who uses them?
A Change List lists changes made between one edit and another version of the same edit. This comes into play when you've handed over the "Final" version to VFX, post audio and a color pass.
Inevitably there will need to be some additional edits, for whatever reason. Another pass by the Director, Studio suggestions, feedback from a focus group: it's inevitable.
Except those teams have already moved ahead with their jobs and have complex projects built around the timing of the first edit. They can't take the new edit and start over. What they need are the steps to convert the version they been working on, to the latest revision: how many frames trimmed here, or added there; which shots have been added, and which deleted or replaced.
The Change List is the step-by-step instructions to convert the current project to conform to the new edit. This is frequently a manual process but there are advanced tools that use the text-based change list to automate the changes.
---
#
Cinecred
Create beautiful film credits without the pain.
Licensed under the GPLv3, everyone can use Cinecred free of charge forever. The source code is publicly available in a GitHub Repository. Contributions, bug reports, and suggestions are welcome!
#
Use Your Favorite Spreadsheet Editor
Cinecred can read the raw credits data from a Credits.xls(x) (Microsoft Excel), Credits.ods (OpenOffice/LibreOffice Calc), or Credits.csv file. Edit it with your preferred spreadsheet tool, integrating perfectly with the rest of your production workflow. Need to add a credit or fix a typo later on? Just change the spreadsheet!
#
Live Visualization
While editing the credits data and its styling, Cinecred continually updates an interactive visual preview and indicates any problems with the Credits file. Optional layout guides (press the red button in the screenshot) make both learning Cinecred and styling your credits dead easy.
#
Interactive Styling
All the styling options Cinecred provides might seem overwhelming at first. But the interactive nature of Cinecred—including contextual input, live application of changes, and easy reverts—make it intuitive and fun to play around with different settings and thereby explore and learn Cinecred's styling system. In addition, a comprehensive User Guide is readily available.
#
Get Started Immediately
Cinecred initializes new projects with a template that covers many common use cases. Start entering your credits straightaway and learn how to further customize them as you go.
#
Flexible Design
In addition to standard use cases, Cinecred's flexible styling system enables a wide range of layouts and designs. Whatever you have in mind, Cinecred can likely assist you in implementing it.
#
Your Desired Runtime
Have to add another name, but the score has already been recorded and synced to the earlier version? Just tell Cinecred the desired runtime of the whole credits or specific sections, and it will shrink vertical gaps to exactly match it—without resorting to shimmer-prone fractional scroll speeds. Test it yourself and press the red button in the screenshot!
#
Play Back at Any Time
Want to watch your credits in motion to verify your latest changes? Just like your favorite editing suite, Cinecred offers instant real-time playback at any time. No need to wait for your credits to render out. Also supported are the JKL shuttle keys.
#
Manifold Delivery Options
Does your post-production workflow require ProRes, PNG sequences, or even TIFFs which you animate yourself? Do you want to send around PDFs of the credits for checks? No matter what the need, Cinecred probably has you covered. Expand the red dropdown in the screenshot to see all supported formats.
#
Cinecred Is Not Opinionated
Cinecred was specifically designed to cater to every user's needs as fully as possible, without adding bloat, making it hard to use, or requiring a steep learning curve.
---
#
Cleanterview
Cleanterview helps you to clean up effectively and efficiently the audio track of your videos, ideal for interviews, for video-selfie, for any occasion when there is someone talking and… you want to hear it and make it sound better!
---
#
CommandPost
CommandPost is a free and open source macOS application that bridges between control surfaces and software that doesn't support them natively, such as Apple's Final Cut Pro and Adobe's After Effects.
It's been downloaded over 163 thousand times, and there are over 2.6 thousands members in our Facebook Community.
It's been translated into Arabic, Bengali, Catalan, Chinese (Simplified & Traditional), Danish, Dutch, French, German, Greek, Hindi, Hungarian, Italian, Japanese, Korean, Malayalam, Norwegian, Panjabi/Punjabi, Polish, Portuguese, Russian, Spanish, Swedish, Ukrainian & Vietnamese by our awesome community.
It's used by filmmakers, developers, scientists and macOS power users all over the world to seriously speed up mundane tasks through powerful and customisable automation tools.
For example, you can apply individual effects within Final Cut Pro or After Effects with the single tap of a button.
Powered by Lua (the same scripting language used by Blackmagic Fusion, Adobe Lightroom and even parts of Apple iOS), it's insanely customisable and powerful.
It runs natively on Apple Silicon and is fully compatible with Hammerspoon.
You can listen to Chris explain CommandPost on Final Cut Pro Radio Episode #57 and Episode #43.
---
#
User Quotes
" Titles to Keywords is a huge timesaver when editing complex scenes. Couldn't live without it anymore. And directors love that every delivery of any line from any take is just one click away! "
Knut Hake - Editor on Netflix's Blood Red Sky
" CommandPost and FCP are so intertwined on my day to day that I see them as one app! "
Marcos Castiel BFE - Editor on Netflix's Turn of the Tide
" Command Post started as a FCPX utility but it goes further than that. You can use it to map almost any function to supported hardware devices to work with any app like a BMD Speed Editor and Avid Media Composer! "
Marc Bach - Editor & Colourist
" Chris's support is the best you will find anywhere on the planet. He was proactive and able to implement features for me on the spot. 5 STAR product 5 STAR support. ControllerMate is what I used to use. CommandPost is faster and easier. "
Ross Batten - Senior Sound Designer (ProTools)
" Search Console is like Spotlight on steroids. It can quickly find and execute any obscure command, NLE and OS-wide, fire up keyboard makros (scripts), and especially, find and place Effects and Effect Templates, directly onto selected clips in my FCP timeline. It constantly saves me clicks. "
Florian Duffe - Editor
" CommandPost is so many things for so many people. For me it is a Final Cut Pro automation system that unlocks hidden features and uniquely supports advanced workflows. CommandPost's secret weapon? Deep connections with the postproduction community which mean that it constantly improves as the needs of editors and post professionals evolve. "
Alex '4D' Gollner - Motion Template Creator
" Chris, you have no idea how helpful your Titles to Keywords toolbox has been on our latest production. Without the toolbox these 2-3 hour long timelines (around 900 keywords) would have been nearly impossible to tag with the FCP built in way. It's very long scenes with around 50 lines of text for all characters. "
Sam Pluemacher - Assistant Editor on Netflix's Blood Red Sky
" As someone who doesn't like clicking to do things, CommandPost makes my work much more likeable! "
Oli Frost - Editor
" CommandPost supports my Loupedeck, Stream Deck and Razer devices with advanced Final Cut Pro integrations. Eliminating the need for multiple apps and reducing complexity. "
Sam Pluemacher - Assistant Editor on Netflix's Blood Red Sky
" CommandPost is the first thing you should install If you like to tinker. This genius app extends Final Cut Pro in all kinds of ways, enabling advanced workflows, automation, and even integration with external hardware such as MIDI controllers. Recommended. "
Iain Anderson - Author of Final Cut Pro Efficient Editing
---
#
Compressor Repair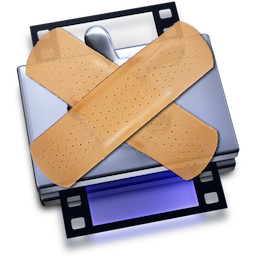 Compressor Repair checks for problems that could be preventing Compressor from operating correctly. It checks for missing files, incorrect permissions, an invalid hostname, and attempts to manually start the qmasterd process.
---
#
Csv to Motn Generator
A batch program for Apple Motion. For generating a lot of motion files based on a template. Perfect for bumpers, conference intros, supers(lower 3rd), commercial spots (end posters or the whole thing), graduation yearbooks, information videos or even use it at the house of worship for bible texts.
Input is taken from a CSV file, with all the names and info. Drop it on CSV to motion generator and drop a motion project into it as well, now set up the patching of fields and choose your output folder. Csv to Motn Generator now starts to output one .motn file per line (row) from the CSV file.
---
#
D
#
Detail: Video Studio
Record, remix, and share inspiring video in minutes. Supports exporting to FCPXML.
Detail turns your M1/M2 Mac into a powerful, all-in-one video production studio. Whether you're creating an engaging online course, an immersive video podcast, or a polished product demo, Detail makes video production simple for everyone.
Shoot Once. Record Everything.
Record your camera and screen, or multiple camera angles at the same time, in one take.
Connect your iPhone or iPad to instantly upgrade your video, or use any USB camera, capture card, or webcam.
When you hit record, Detail captures everything in sync so you never miss a moment.
Shoot Once. Remix Everything.
Get total flexibility with magic canvas — Seamlessly switch from horizontal to vertical video, or remix your shots to create truly dynamic content.
Split, cut and reorder your clips, or swap out a whole scene for a better take.
Shoot Once. Share Everywhere.
Record horizontal and vertical video at the same time.
Turn your long-form content into bitesize, shareable clips with automatic AI-generated video highlights.
Easily export videos and clips to share with your audience, your editor or your team.
Get started in seconds.
Kickstart your next video with tons of free, customizable templates.
Detail works with the camera(s) you already have so all you have to do is hit record.
One simple app. Everything you need.
iOS companion app: With Detail for iOS you can use your iPhone or iPad as a high-quality camera with your Mac. Connect multiple iOS devices over WiFi or USB and use any lens on your device.
Make every shot the perfect shot: AI-powered auto framing means the camera stays on you.
Live video: Go live on your favorite streaming platform directly from Detail or use Detail as a webcam for work calls, presentations and meetings.
Get creative: Bring your videos to life with custom branding. Add titles, text, backgrounds, and images.
Plan and produce: Set up your scenes before you record and spend less time on your edit.
---
#
E
#
EditingTools.io
EditingTools.io is a collection of web-based generators, scripts and converters designed for various post-production purposes. Optimized for workflows with Adobe Premiere Pro, Avid Media Composer, DaVinci Resolve and Apple Final Cut Pro X.
It's an AMAZING website that you should definitely check out.
---
#
EditReady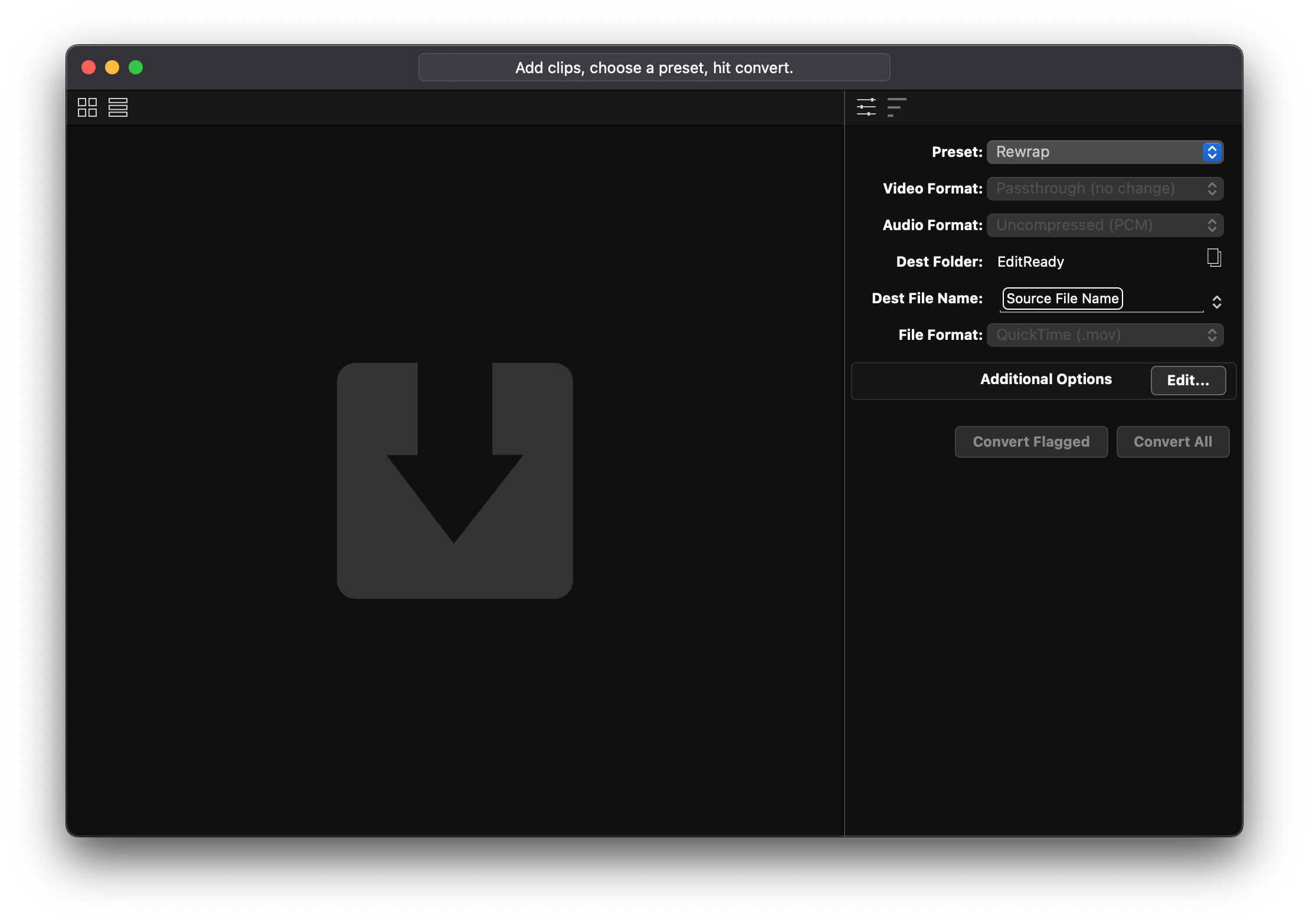 Since 2008, EditReady has had your back when your NLE doesn't support your camera's file format. And now, we're turning it up a notch with EditReady Pro!
I've been using EditReady for years. It's super fast. Very clean, and logical app. Almost perfect.
Chris Hocking - 3rd June 2023
---
#
EDL-X
Create Edit Decision Lists - EDLs - from Final Cut Pro X XML files. The EDLs can conform to the CMX 3600 standard and can be used to bring your cut into post production systems like DaVinci Resolve, Smoke, as well as various non-linear editing systems.
EDL X features flexible Source Reel Name handling:
Source names can be read from XML files, or directly from the QuickTime files used in the project.
Alternatively, media file names, or full file paths can be used.
Source names can be made to conform to strict CMX standards (three numbers), or 8, 16, 32 or unlimited alpha-numerical characters.
All source names are user-editable, on a per-source basis.
Roles can be used to filter the clips reflected in the EDL.
Metadata associated with the footage - or added in FCP X - can be shown in the EDL as comments. This is provides a way to pass ASC CDL values on to color grading.
EDL-X can be set up so that EDLs can be made directly from Final Cut Pro's Share menu.
The app can list effects including some parameters and keyframes.
EDL-X groups all video and audio clips into as few tracks as possible. Each video track gets its own EDL, with synch audio in the same EDL.
Drag and drop XML files to create EDLs, or drag projects directly out of FCP 10.3.
---
#
evrExpanse 3
More powerful than ever!
How to import EXIF metadata into NLEs? How to transcode Master files and embed metadata? How to do these things in an easy and smart way?
New:
Added Rating Metadata support for Canon and Panasonic Cameras.
Transcode Plus©: Streamlined Transcoding and Metadata Export
Rotate Transcoded Files Based on Source Metadata
Lightning-fast metadata exports with Epstein class engine
Final Cut Pro XML import with media file and metadata
Assimilate SCRATCH integration with media and metadata
ASC MHL integration for creating MHL's files
---
#
evrX 2
Fast, Simple, Powerful...
evrX 2 makes camera metadata into macOS Finder Tags allowing you to import metadata in Final Cut Pro.
---
#
F
#
FCP Cut Finder
FCP Cut Finder analyzes a movie and identifies cut and editing points, then sends the result to Final Cut Pro.
---
#
FCP Diet 2
FCP Diet 2 is the most innovative, powerful and effective solution for managing projects and save space with Final Cut Pro libraries.
---
#
FCP SRT Importer 2
Import subtitles in SRT format as titles in Final Cut Pro.
This is my preferred tool for importing SRT files into Final Cut Pro. Works great - beautifully designed software.
Chris Hocking - 3rd June 2023
---
#
FCP Video Tag
FCP Video Tag automatically generates keywords based on media content to be used in Final Cut Pro.
---
#
FCPX AutoDuck
Automatic Ducking for Final Cut Pro X.
I used to duck audio by hand. Sometimes it took me hours. Now just 5 seconds!
Rick Untanee
---
#
FCS Remover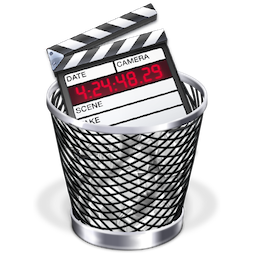 FCS Remover allows you to uninstall all Final Cut Studio, Final Cut Express, Final Cut Server or Final Cut Pro X components with the press of a button.
---
#
Final Cut Library Manager

Final Cut Library Manager instantly displays all of the Final Cut Pro X libraries that it finds on your Spotlight-indexed drives. When a Library references external media Final Cut Library Manager will automatically create a group to clearly present the distribution of these media files across your system. You can also add other sources : including external disks, or folders, including those not indexed by spotlight.
---
#
FindrCat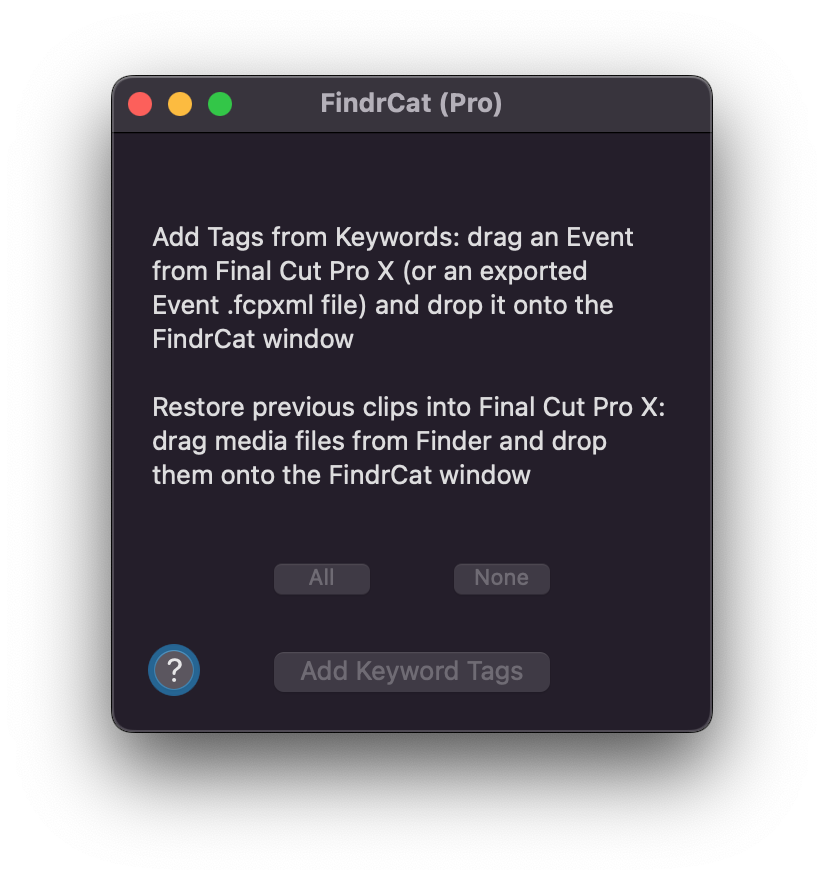 Simple, Easy & Inexpensive organization for your Final Cut Pro X Media. Translate Keywords into Finder Tags that are fully searchable in macOS Finder. With the Pro upgrade all keyword ranges, notes, markers, favorite and reject ranges and more, are all returned to Final Cut Pro X.
---
#
FoolCat
Beautiful, customizable, and easily shareable camera reports.
FoolCat does one thing, and it does it exceptionally well. It is an indispensable tool in my go-to toolbox.
Philip Grossman
---
#
FxFactory
Expand your abilities with a wide supply of effects, plug-ins & templates for Final Cut Pro & Motion. Explore your creativity using free watermarked trials. Fully functional testing gives you confidence to purchase products that fit your needs. Simply browse & install products, then manage your collection as it grows. When switching between systems, your configuration & purchase history is seamlessly available. Discover how products we deliver will improve your workflow. Watch hundreds of demonstration videos & content previews on our YouTube Channel.
Resources for Support & Developers
---
#
K
#
KeyClips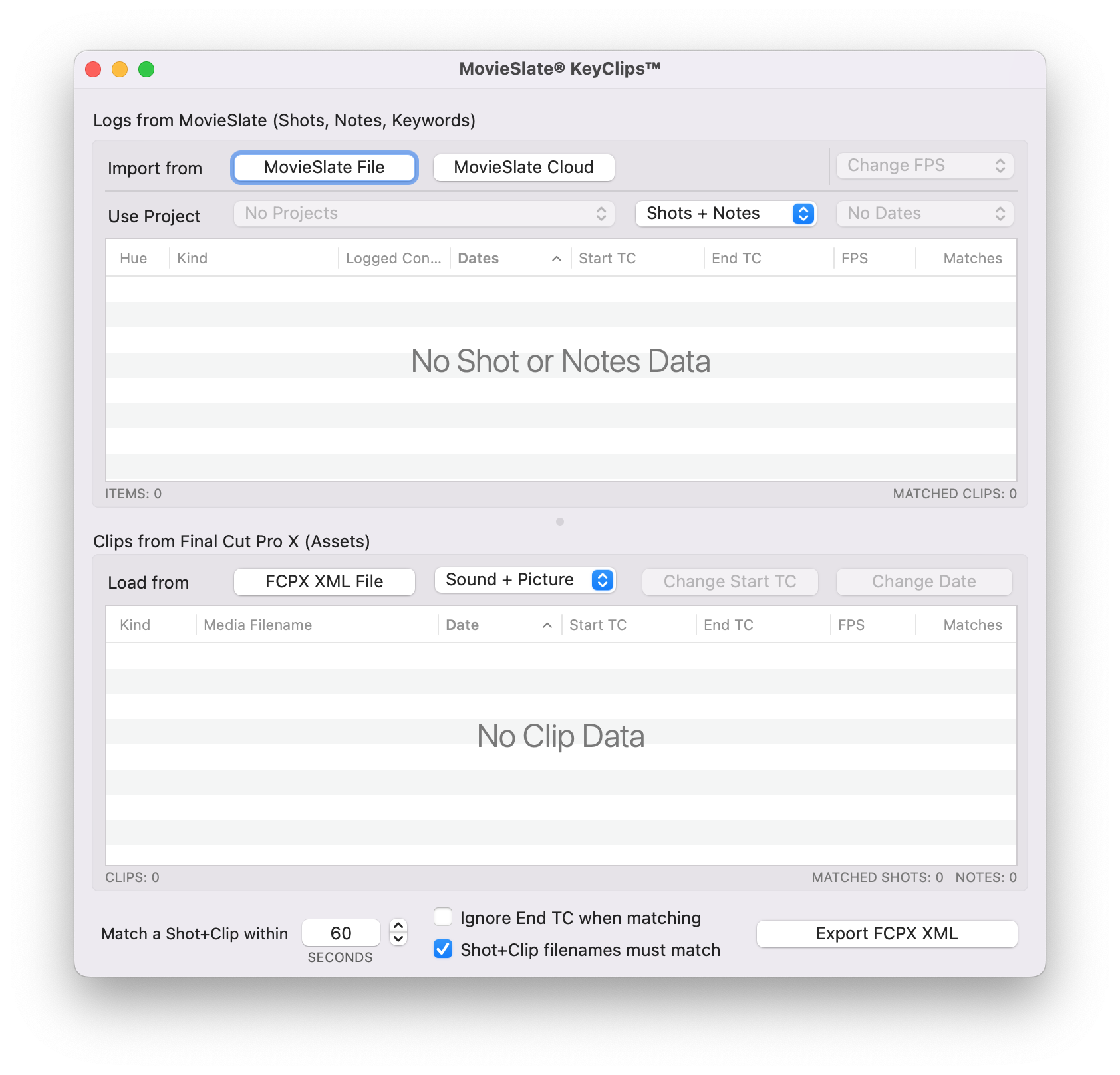 The MovieSlate KeyClips app organizes Final Cut Pro X (FCPX) media into category folders, keywords, selects, and sequences- with notes, markers, and optional bottom-third titles. This helps Editors quickly find the exact footage they need.
While filming a production: log shots, notes, and/or keywords with our MovieSlate 8 app (for iOS). The KeyClips app (for macOS) matches logged MovieSlate metadata with FCPX media to intelligently generate FCPX rough-cut sequences, keywords, selects, notes, and markers.
Two Logging Workflows are supported, and can be used together or separately:
Shot-based workflow: project/date/clipname data is used to match log data with clips- well suited for script-based shoots. Log this data from MovieSlate's "Slate" and/or "Camera" tabs.

Keyword-based workflow: project/date/timecode is used to match log data with clips- well suited for documentary, reality, and interview shoots. Log this data from MovieSlate's "KeyClips" tab (part of an optional PRO Features subscription; available from MovieSlate's Settings > Store).
How it Works:
Logging. Log shots, notes, and/or keywords from MovieSlate 8. Once logging is complete, tap the share button to send the logged data to a Mac running macOS Yosemite (v10.10) or newer.

Log+Clip Matching. Run the KeyClips app on macos- which imports logged data from MovieSlate; imports fcpxml files from FCPX; matches logs and clips; builds new fcpxml; and sends its new fcpxml to FCPX.

FCPX Organizing. FCPX imports the KeyClips app's new fcpxml file- creating events with category folders, selects, markers, notes, sequences, and bottom-third titles.
Organization + Editing Overview
---
#
M
#
Media Copy 4.0
Automatic Duck's Media Copy is a very helpful utility that reads Avid AAF exports or XML files from Final Cut Pro, then copies the media files referenced by the project to a location you specify. This makes it very easy to identify and copy the media you need for a specific AAF or XML File. You can archive the media, or perhaps send to another computer.
---
#
Media Sync Tool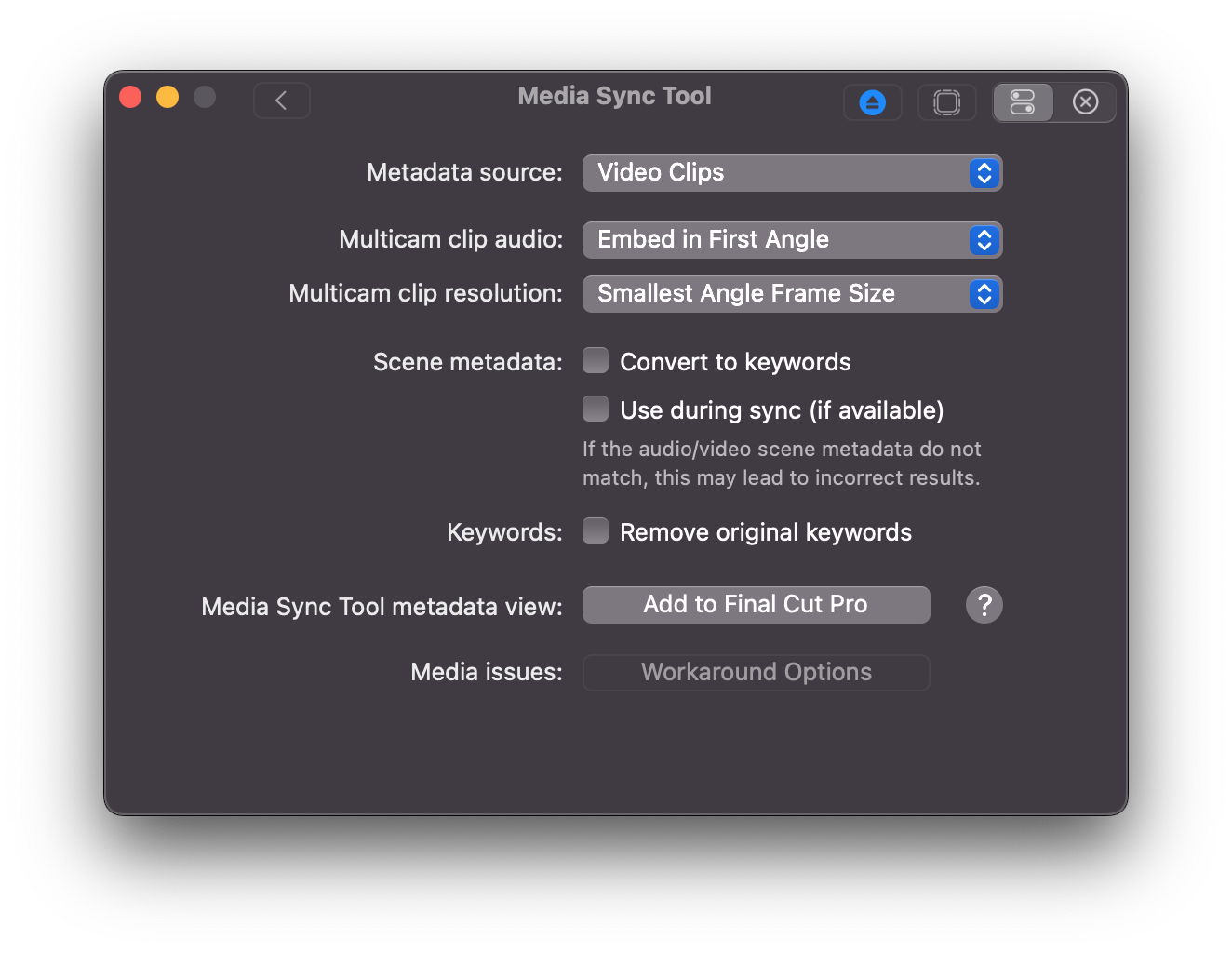 Media Sync Tool is a revolutionary sync tool for Final Cut Pro.
By utilizing jam-synced SMPTE timecode and metadata from the source media, it automates the sync process to the point where almost no human involvement is required, while automatically dealing with overlapped timecode.
Now all Final Cut Pro video editors can fully eliminate the time-consuming routine of manually syncing dailies by using Media Sync Tool in a bundle with Final Cut Pro.
---
#
N
#
NeoFinder
NeoFinder (formally CDFinder) quickly catalogs and manages your entire media and disk library, and your backup archive.
The Holy Grail of Media Asset Management (according to ZDNet).
NeoFinder keeps track of your documents, photos, songs, movies, and folders wherever they are stored.
NeoFinder is your digital treasure chest! It even manages your Affinity Photo and Affinity Designer documents.
Catalog your digital data: SSD, hard disks (internal, external, USB, FireWire, Thunderbolt, HFS+, APFS, NTFS, ExFAT, FAT32), server volumes (AFP, SMB, FTP, Dropbox, Backblaze B2), Blu-rays, LTO volumes, USB sticks, DVD-ROMs, Audio-CDs, and get a full inventory of all files, folders, and important metadata, including thumbnails for your photos, songs, video files and other documents.
Find your files NOW! Whatever you need to find, NeoFinder knows where it is! If you are a desktop user, or work in a small or large network, you stay in control of your data at any time.
I've been using NeoFinder for over a decade now. We have hundreds of external hard drives and hundreds of LTOs all catalogued.
We store our NeoFinder database on Dropbox and share it between all our staff. It's rock solid and amazing.
Chris Hocking - 6th June 2023
---
#
O
#
OffShoot (formally Hedge)
Offload media lightning fast, whether it's video, stills or audio. Make your life easy and let Hedge do the tedious jobs.
I've been using Hedge since it first came out. It's my preferred data wrangling tool. I've used it on feature films, television shows, television commercials, music videos, and everything in-between. It's awesome.
Chris Hocking - 3rd June 2023
---
#
P
#
PostLab
Collaborating with other editors was never this easy.
---
#
PostSync

More than just sync, PostSync helps prepare your macOS workstation for the daily demands of your post-production workflow.
PostSync is a multi-use tool that is designed as a macOS startup utility; syncing templates and presets, clearing caches, connecting shares, launching apps, etc. But it has many uses beyond that…
PostSync can synchronize 30 different presets and templates (plus user fonts) between several edit workstations to keep all systems current. It can also help when transitioning to working remotely by copying these files to a thumb drive and transferring them to a second workstation. Or the same function can simply be used to create a backup of these files.
PostSync can also backup and restore/transfer application general preferences from Final Cut Pro, Premiere Pro, After Effects and DaVinci Resolve. It makes setting up a new workstation easier.
PostSync can help with nightly cleanup of render/cache files by clearing older files by a set date. Completely customizable for any folder on your Mac.
All this can be done either manually or completely automatic using a Calendar event or launched at login.
Your choice… PostSync is built to be easy to setup and very customizable.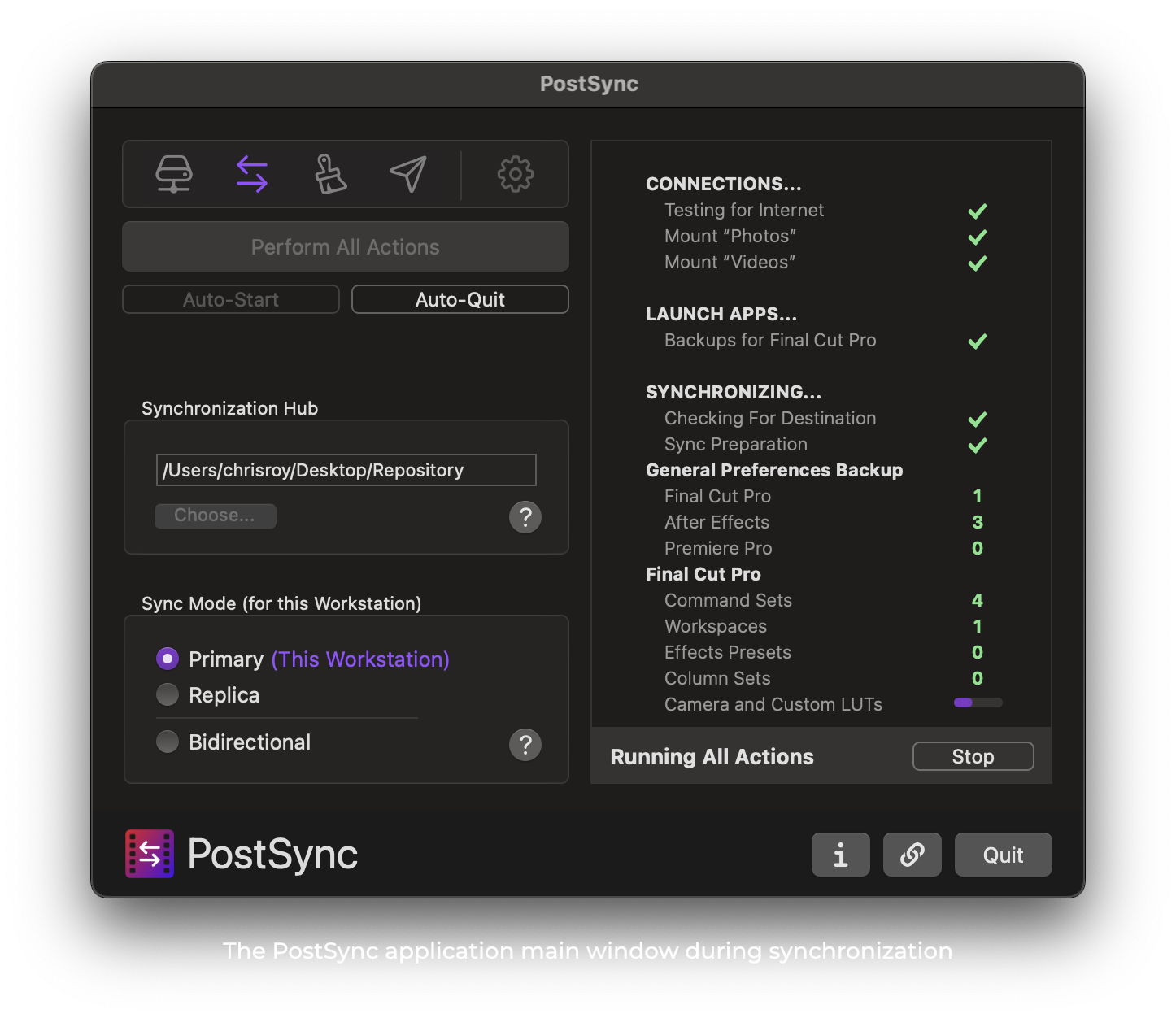 ---
#
PostWatch
Alerts from Post-Production applications and macOS sent to the Pushover smartphone app.
"Is that file done yet?"
Working remotely, in the next room or out for a walk? Need to know as soon as that export or transcode is finished? Need to know about applications crashing, power going out with out knowing or drives failing or running out of space while you are away?
Now this and more is possible!
PostWatch uses the established subscription free service, for iOS and Android, Pushover to create a dedicated, clean and reliable experience for receiving alerts. What It does not do is clutter up your inbox with texts or emails that often get lost or forgotten.
PostWatch not only alerts you when 14 different Mac apps have completed exporting/encoding, it also monitors the Mac for issues; Such as accidental ejected disks, app crashes/freezes, power loss and more.
No plugins, special application settings or rendering to watch folders. (except setting a few system preferences) Export, render and transcode as you normally do and PostWatch does its magic in the background.
---
#
Preference Manager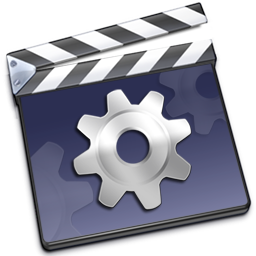 Preference files store information about user preferences, window layouts, toolbar placements and launch settings. Sometimes these can become corrupted, causing problems. Preference Manager allows you to trash corrupted preferences and keep backups of working preference files in order to quickly restore your settings.
---
#
Pro Maintenance Tools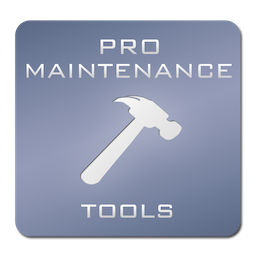 Pro Maintenance Tools keeps your editing system running smoothly so you can quickly get back on track in the event of a problem.
Use the diagnosis tools to determine the cause of the issue by analyzing crash logs or locating corrupt media files, then use the repair tools to fix the problem.
Pro Maintenance Tools supports Final Cut Studio, Final Cut Pro X, Avid Media Composer / Symphony and Adobe Premiere Pro for Mac.
---
#
Pro Media Tools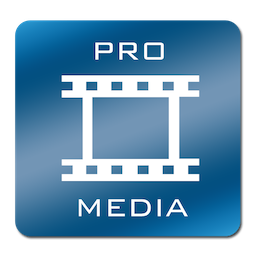 Pro Media Tools is a suite of workflow tools designed to simplify media management and streamline workflows in Final Cut Studio, Final Cut Pro X, Avid Media Composer and Adobe Premiere for Mac. The suite contains tools for editing QuickTime movie metadata, watching render files, editing markers, and much more. The applications are capable of outputting a variety of file formats to suit different editing systems and workflows.
---
#
Producer's Best Friend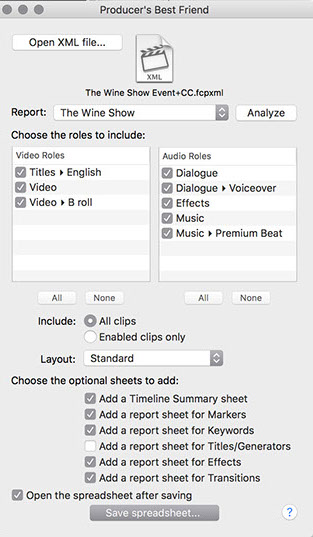 Eliminate Clip Reporting hell! Every Report you need from Final Cut Pro X, in a formatted spreadsheet with no EDL or copy and paste!
Producer's Best Friend creates a formatted .xlsx spreadsheet report (for Numbers, Excel, Preview, etc.) about the video clips, audio clips, titles, generators, markers, keywords, effects and transitions in your timeline or event to help you make batch lists, cut lists and music cue sheets. Producer's Best Friend reports on Clips in a Library, Event, Compound Clip or Project. The report includes sheets for:
Summary (with missing media and generators)
Clips (with optional thumbnails)
Roles/Subroles (with optional thumbnails)
Keywords
Ratings
Markers
Titles & Generators
Video & Audio Effects
Transitions
Producer's Best Friend takes the tedious work out of creating all kinds of clip usage reports. Report on clips in an Event (like Batch List in FCP7), clips in a Compound Clip or clips in a Project in an Excel spreadsheet in seconds. Why spend days doing a boring task when it can take minutes?
Producer's Best Friend can generate music use reports as well as Video and Audio Effects, Roles and Subroles, Transitions and Markers directly to a fully formatted Excel spreadsheet, without the convoluted use of an EDL or copy/paste techniques.
You can choose which Roles to include in the report (Video, Titles, Dialogue, Music, Effects, and any roles and subroles you've created), and Preferences lets you choose whether times are displayed as seconds, frames, feet+frames or HH:MM:SS:FF timecode format.
Producer's Best Friend will get you home earlier by:
Speeding the reporting of clip usage for music reports, stock footage requests, effects used, markers and keywords with amazing flexibility. Reports are complete in seconds, not hours or days.
Providing full control over the report: choose which roles/subroles are included.
Producer's Best Friend will save you money because:
Your clip reports are completed in seconds instead of hours or days.
You have full control over the report: choose which Roles to include in the report(s) including Roles and Subroles you've created.
Generate as many reports as you need: create a music usage report; create a report of every clip used in a Compound Clip or Project, or every clip in an Event; report stock footage used, to order the full resolution for online; list out all Effects, Transitions, Titles and Generators used to smooth online finishing (the Apple column shows whether it's a standard effect or transition compared to one created by a third-party); report all the comments in your Markers.
Generate one report for the whole timeline, or report role-by-role.
Reports can be further processed in your spreadsheet application for formatting and additional detail, if required.
Clips and Roles/Subroles Reports
Video thumbnail; Role ▸ Subrole, Clip Name, Category (primary, secondary, connected); Enabled; Timeline In; Timeline Out; Clip Duration; Source In; Source Out; Source Duration; Markers; Keywords; Effects; Notes; Reel; Scene; Take; Camera Angle; Camera Name; Frame Rate/Sample Rate; Frame Size/Audio Config; Source File Path; then columns for clip metadata.
Markers Report
Marker Name; Type (Standard, Incomplete to-do, Completed to-do, or Chapter); Notes; Timeline Position; Visible; Clip Name; and Role ▸ Subrole; Reel; Source In; Source Out; and Source Duration.
Keywords and Ratings Reports:
Keyword; Notes; Timeline In; Timeline Out; Duration; Clip Name; and Role ▸ Subrole.
Titles & Generators Report:
Name; Enabled; Apple (Apple vs third-party generators); Role ▸ Subrole; Timeline In; Timeline Out; Clip Duration; Font; and Title Text.
Video & Audio Effects Report
Effect name; On/Off; Apple (Apple vs third-party effects); Clip Name; Role ▸ Subrole; Timeline In; Timeline Out; and Clip Duration.
Transitions Report:
Transition name; Category; Apple (Apple vs third-party transitions); Timeline In; Timeline Out; and Duration.
---
#
R
#
Reference X
Reference X is designed for FCPXML file. Listing source files from FCPXML, edit and export to new FCPXML. FCPXML is exported from Apple Final Cut Pro, Blackmagic DaVinci Resolve, Autodesk Flame, Luma touch Luma Fusion. FCPXML is simple xml formate for send and recived Final Cut Pro editing information designed by Apple.
---
#
S
#
ScopeBox
All the audio & video scopes you'd expect from hardware, and many many more. A custom toolset crafted for creative professionals - colorists, editors, DITs, and sound. Mix and match scopes, save layouts, and be confident that you're seeing every pixel and every frame of your signal.
---
#
SendToX
SendToX (previously called 7toX) brings your Premiere Pro or Final Cut Pro 7 or 6 XML into Final Cut Pro X so you can use Apple's powerful new professional editing tools to update or finish your older projects. The lightweight application is simple to use, with drag-and-drop support and progress information. SendToX translates important metadata from your Project XML — including bins, clips, subclips and sequences — to a new Event in Final Cut Pro X with the highest fidelity of any translation application for Final Cut Pro. In addition, the application provides clear, detailed reporting after every translation.
---
#
Shot Notes X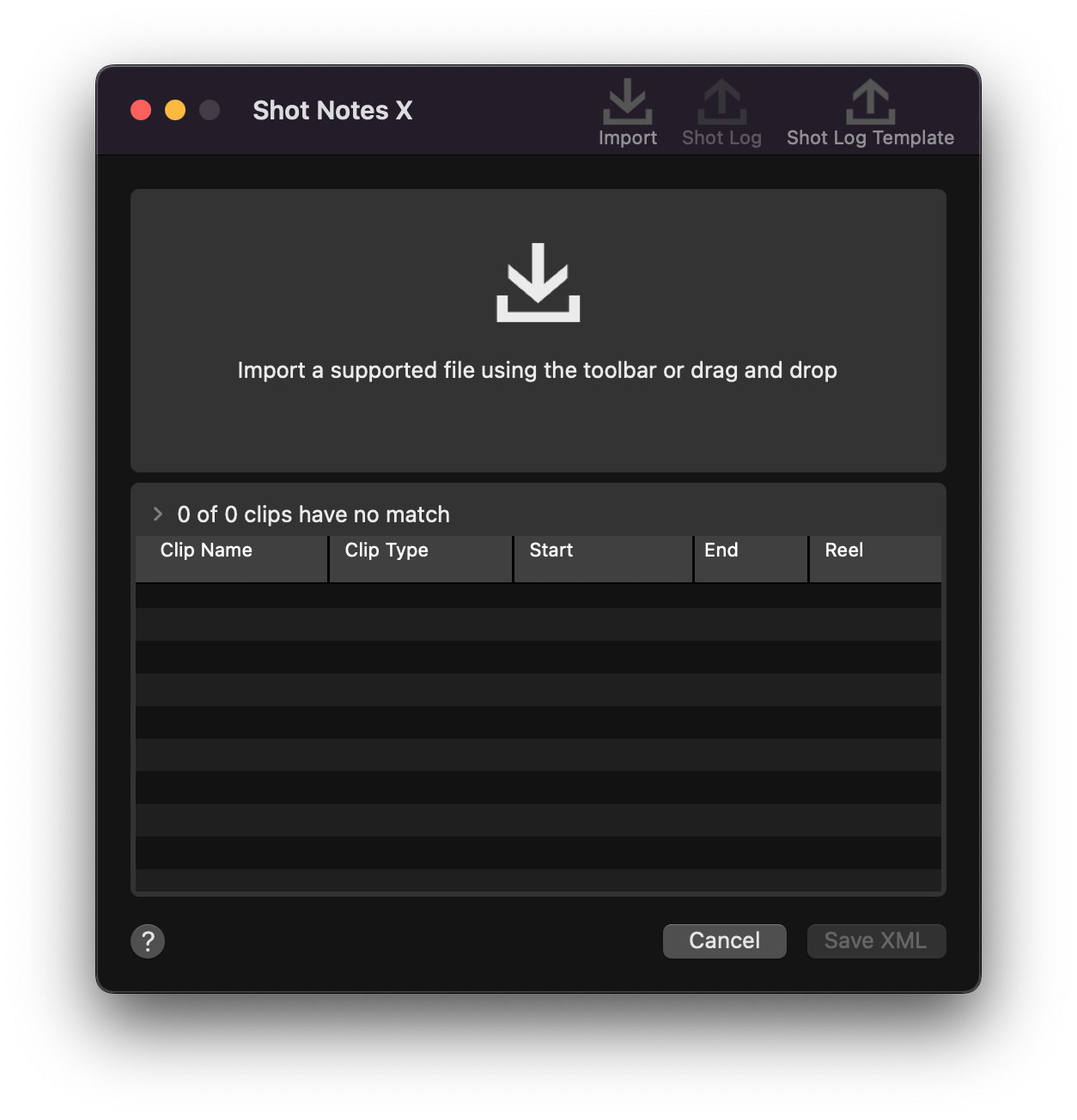 Shot Notes X, automatically combines notes from a CSV, ScriptE XML, or Movie Slate XML file with clips from Final Cut Pro X and Adobe Premiere.
Use ScriptE, Movie Slate, or your favorite spreadsheet application to take notes on location or while watching dailies, then use Shot Notes X to bring those notes into Final Cut Pro or Adobe Premiere using the template provided by Shot Notes X. CSV files can also be exported from various on set script supervision applications, or FileMaker Pro.
Shot Notes X combines the notes data with clips from a FCPXML, into a Final Cut Event or Premiere bin with complete metadata and named clips. In your NLE the notes are searchable via the search tools, and viewable in the list view enabling editors to quickly find the shot using their notes.
Shot Notes X, reduces the amount of work required to start editing, saving time and money. In only a few seconds Shot Notes X can have all notes from a spreadsheet applied to the footage, making it ready for editing.
Shot Notes X has been a big hit with editors, script supervisors, and post-production supervisors.
Features:
Match clips with notes automatically using filename, clip name, timecode, or scene take and angle.
Add scene, take, or angle information to your clips
Rename the clips using the scene and take
Add a suffix or the camera angle to the clip names
Add Keywords to your clips (Final Cut Pro Only)
Add Favorite or Reject to your clips (Final Cut Pro Only)
Add Notes to your clips
Set the parent or subrole for your clips (Final Cut Pro Only)
Create and Event/Bin for each scene with the clips from that scene\
Supports Synchronized Clips and Multicam clips.
Export a list of clips with common metadata from your XML that can be opened in spreadsheet applications to aid in logging
Export a template shot log to take notes with while on set
---
#
Shutter Encoder
Shutter Encoder is one of the best video converter software, it handles images and audio too!
It has been designed by video editors in order to be as accessible and efficient as possible.
Shutter Encoder makes use of FFmpeg to handle its encoding, allowing support for almost every codec you've ever heard of, and many more you haven't.
Don't just take our word for it though, Avid themselves recommend Shutter Encoder as part of your Media Composer and ProTools ingesting workflow!
---
#
Smart Video Splitter
Smart Video Splitter is the perfect app for those who create professional or semi-professional stories with videos on social networks like Instagram, Facebook, Whatsapp and Snapchat.
---
#
srt2subtitles
Imagine you are using Final Cut Pro to edit videos and want to add built-in subtitles. You may utilize AI audio transcription tools like Whisper, MacWhisper, Aiko or any online audio transcription platform, you will get SRT files. SRT files in Final Cut Pro cannot be edited for subtitle text style and timing, unlike software such as Premiere Pro, DaVinci Resolve, and Sony Vegas. Final Cut Pro does not provide the capability to edit the style of subtitles within the software. Manually changing the text content and timing of SRT files can be time-consuming. To efficiently batch process AI subtitles and edit their style, such as font, size, position, borders, shadows, etc., the best approach is to make the changes within Final Cut Pro itself. srt2subtitles provides the quickest way to convert SRT files into fcpxml files that can be edited for subtitle style within Final Cut Pro. Simply run the command line and open the fcpxml file in Final Cut Pro.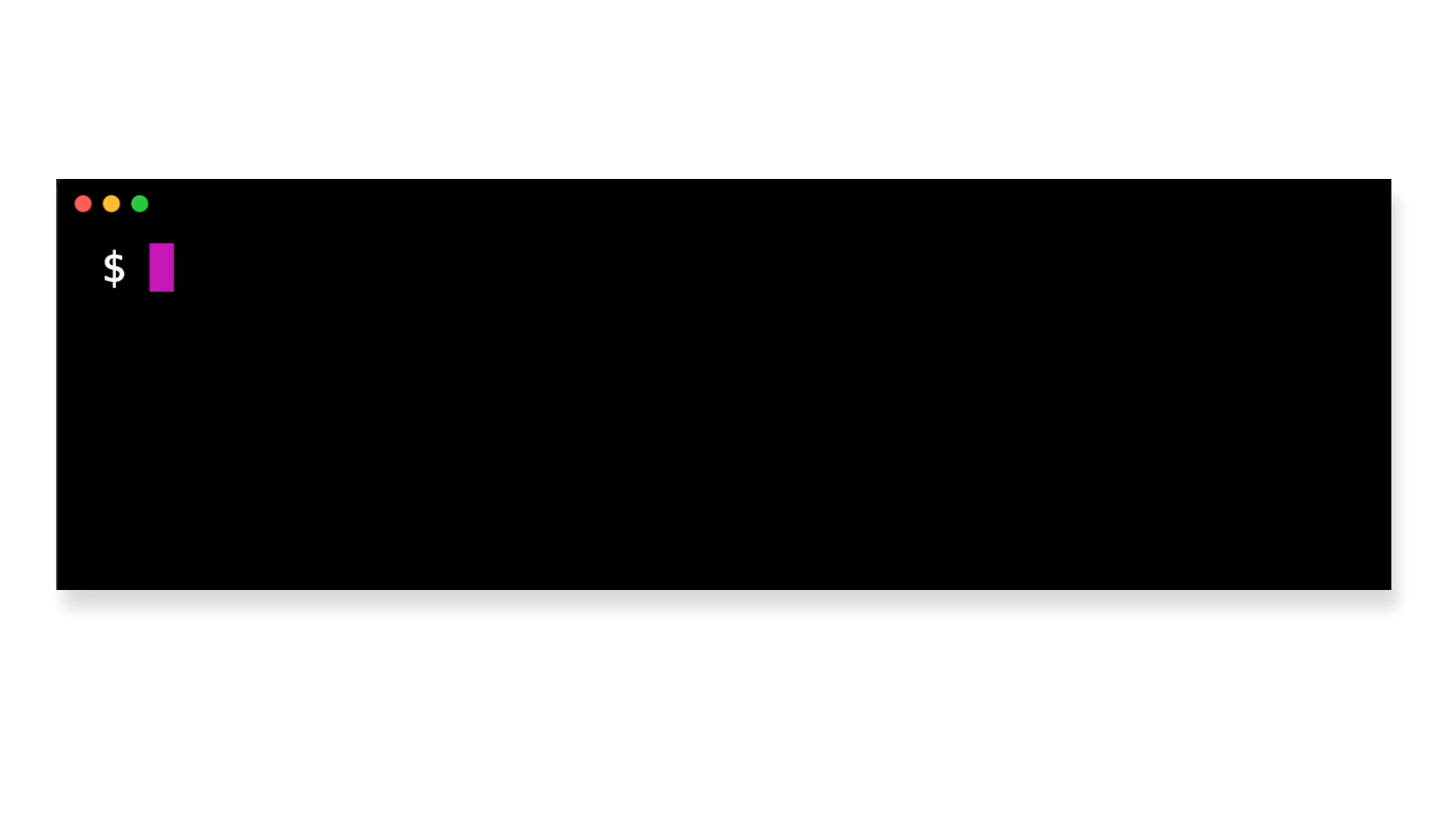 ---
#
Subtitles Extractor
Subtitles Extractor allows you to extract subtitles from movies where they are "printed" (i.e. not on a separate track) and export them to SRT format.
---
#
Subvert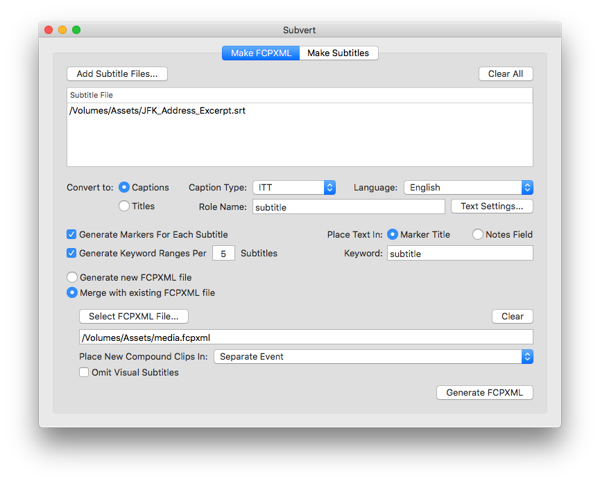 Subvert expands on Final Cut Pro X's captioning capabilities. It makes editing with captioned footage easy and powerful.
Subvert is a great app to deal with subtitles in FCP. You provide a SRT file and it will create a FCPXML with Captions or Titles. You can precise the Role Name and choose the Text Settings.
When the FCPXML is converted, it can automatically open the FCPXML in FCP, which is very convenient. It will let you choose which library to import the XML into and then it will create a "Subtitles" event.
Something very nice about those Titles: the name of the Titles is matching the content of the Title. So that you can search directly into the index the content of your Titles. And if you want to change what's written inside the Titles, its name will change accordingly.
It's also possible to go the other way around. Export a FCPXML of your project with your Titles, and then you'll be able to convert it into SRT file.
The app is available in the Mac App Store for 19.90USD.
SRT to FCPXML Titles with Role Name: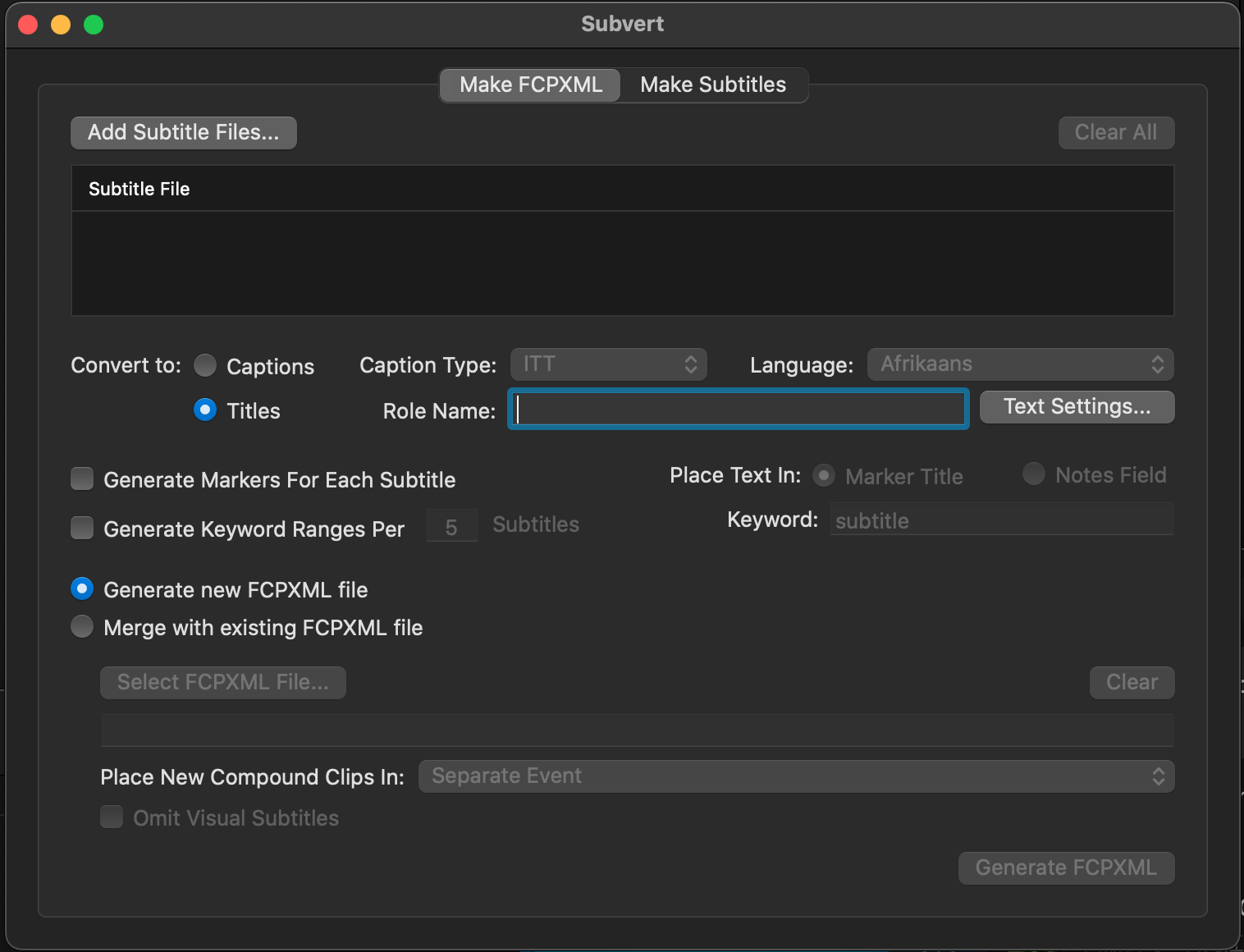 Automatically open into FCP: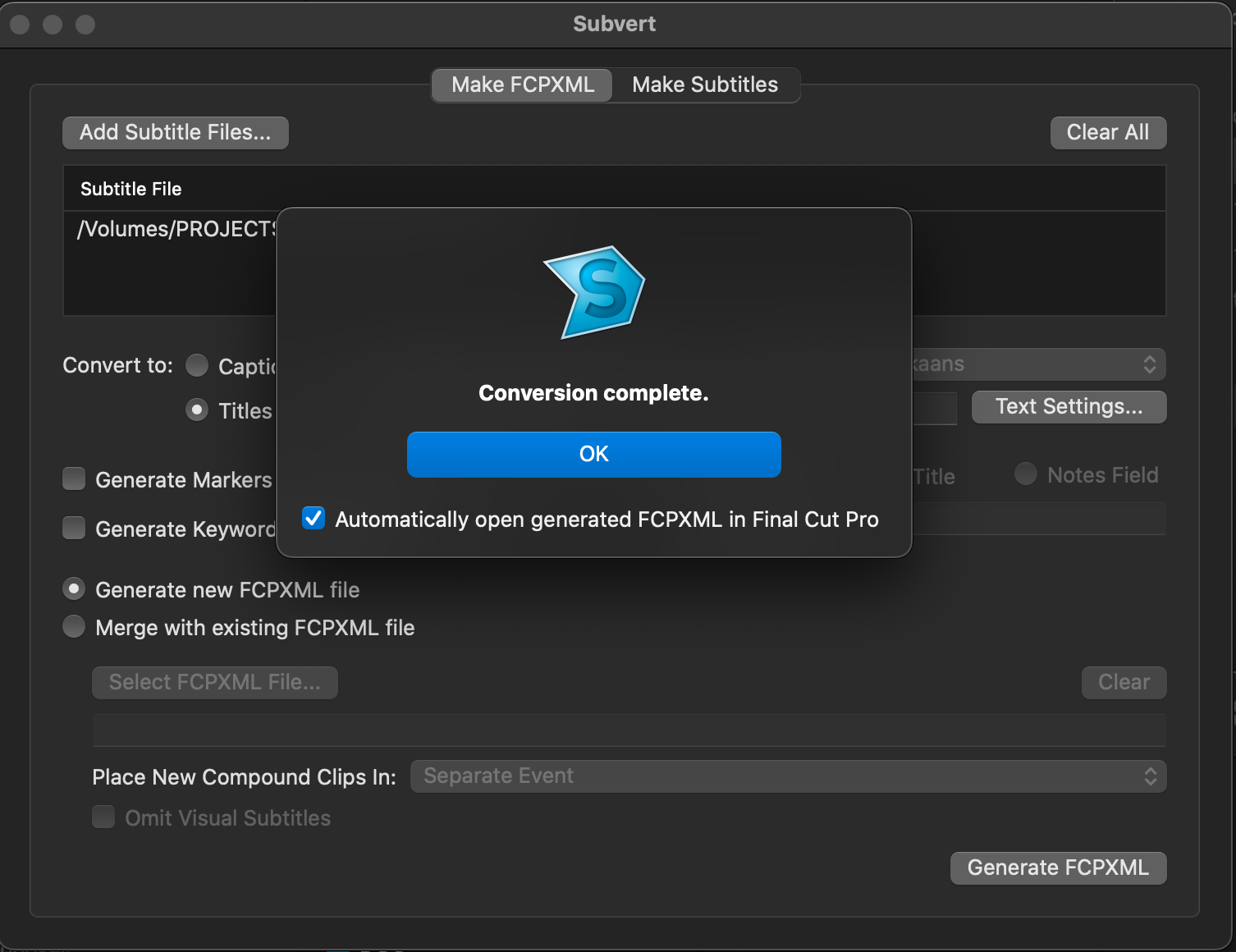 Search Titles into the index by content: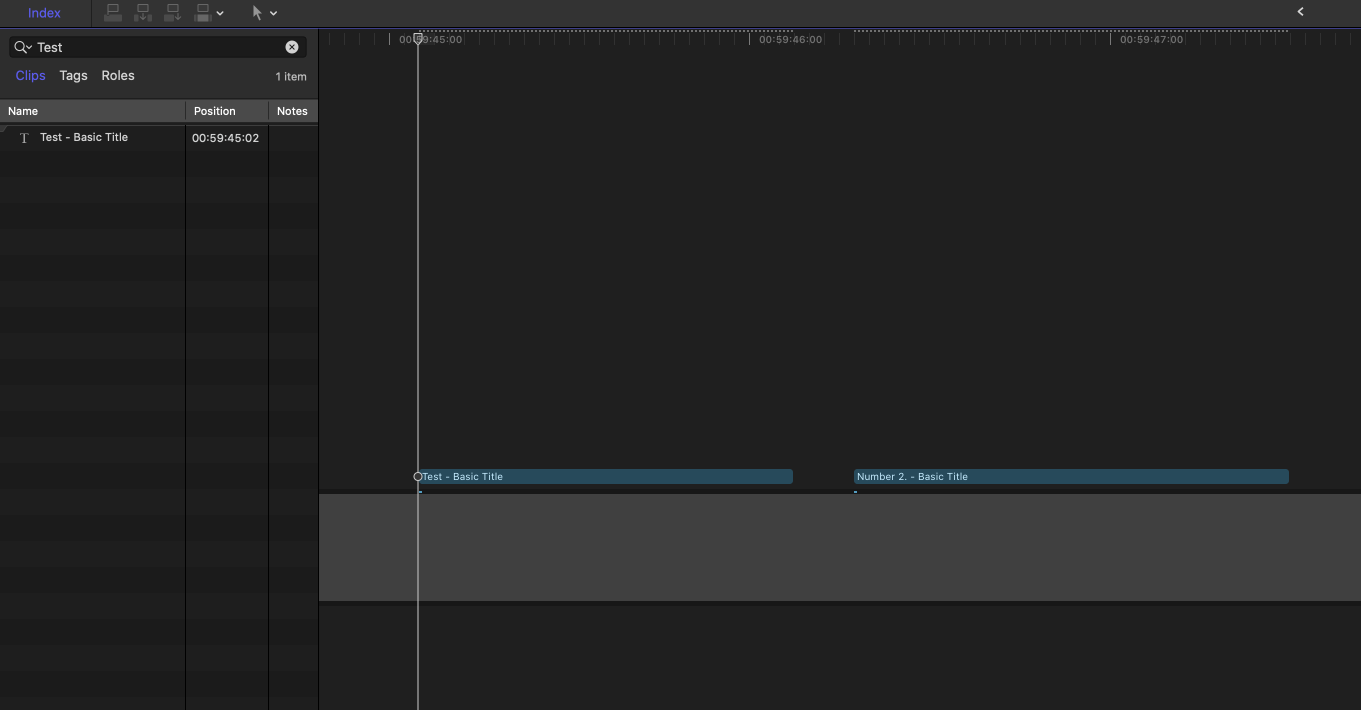 FCPXML to SRT: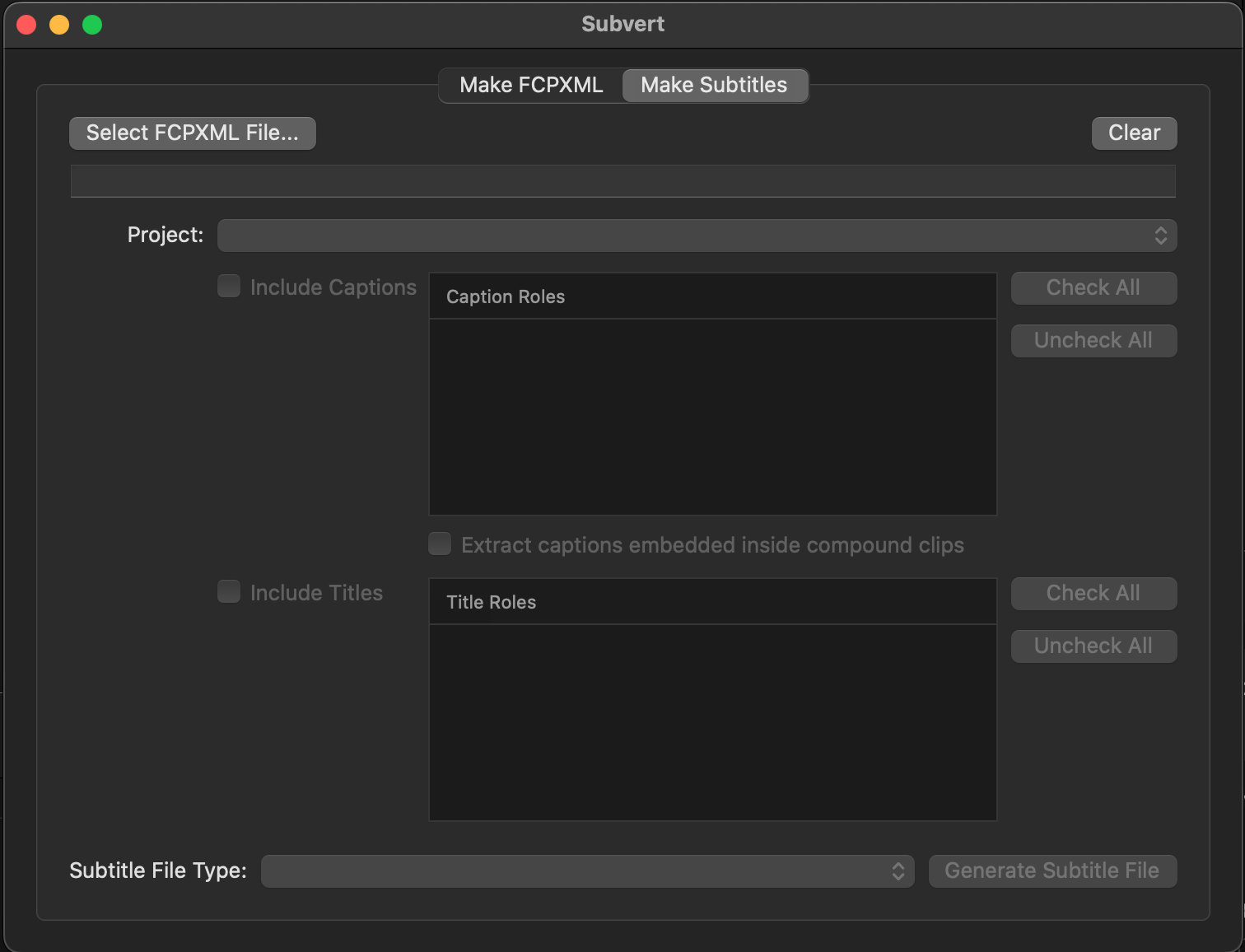 I use Subvert. Love it. I remember I prefered Subvert, because when you change the text of the subtitle, it also change the name of the title. So it's very convenient for searching in the index.
Matthieu Laclau
---
#
Sync-N-Link X
"AutoSync" for Final Cut Pro X: batch sync dual-system sound using jam-synced SMPTE/EBU timecode.
Eliminate the time-consuming chore of manually synchronizing dailies (a.k.a. rushes) by batch processing an Event of unsynchronized clips exported from Final Cut Pro X.
Sync-N-Link X looks for audio whose free-run Timecode matches a video clip's Timecode (although a matching video and audio clip don't have to start at the same time, have the same duration, or even have the same frame rate).
Sync-N-Link X uses content created dates to find video and audio that were recorded on the same day for syncing.
Choose whether the synchronized clips are named after the video or audio clips - the original video and audio clip names are available inside the synchronized clips.
Synchronized clips can contain more than one audio clip (for cases where audio recording was stop/started during a take).
Sync-N-Link X adds a "Synced" keyword for the video range (essentially trimming the clip to the video duration). Any unused video and audio clips are marked with a "Not Synced" keyword.
Sync-N-Link X assigns audio Subroles and component names to second-system audio tracks and camera audio, giving the user dynamic control over audio playback during editorial.
Case study: Electric Entertainment's workflow for "Leverage" here.
---
#
T
#
Transcriber
Automatic transcription and subtitles generator.
Transcriber is the ultimate app to transcribe and generate subtitles in sync with the video.
---
#
Transfer Toolbox
Transfer Toolbox allows you to convert Final Cut Pro (for Mac) libraries into Final Cut Pro (for iPad) projects!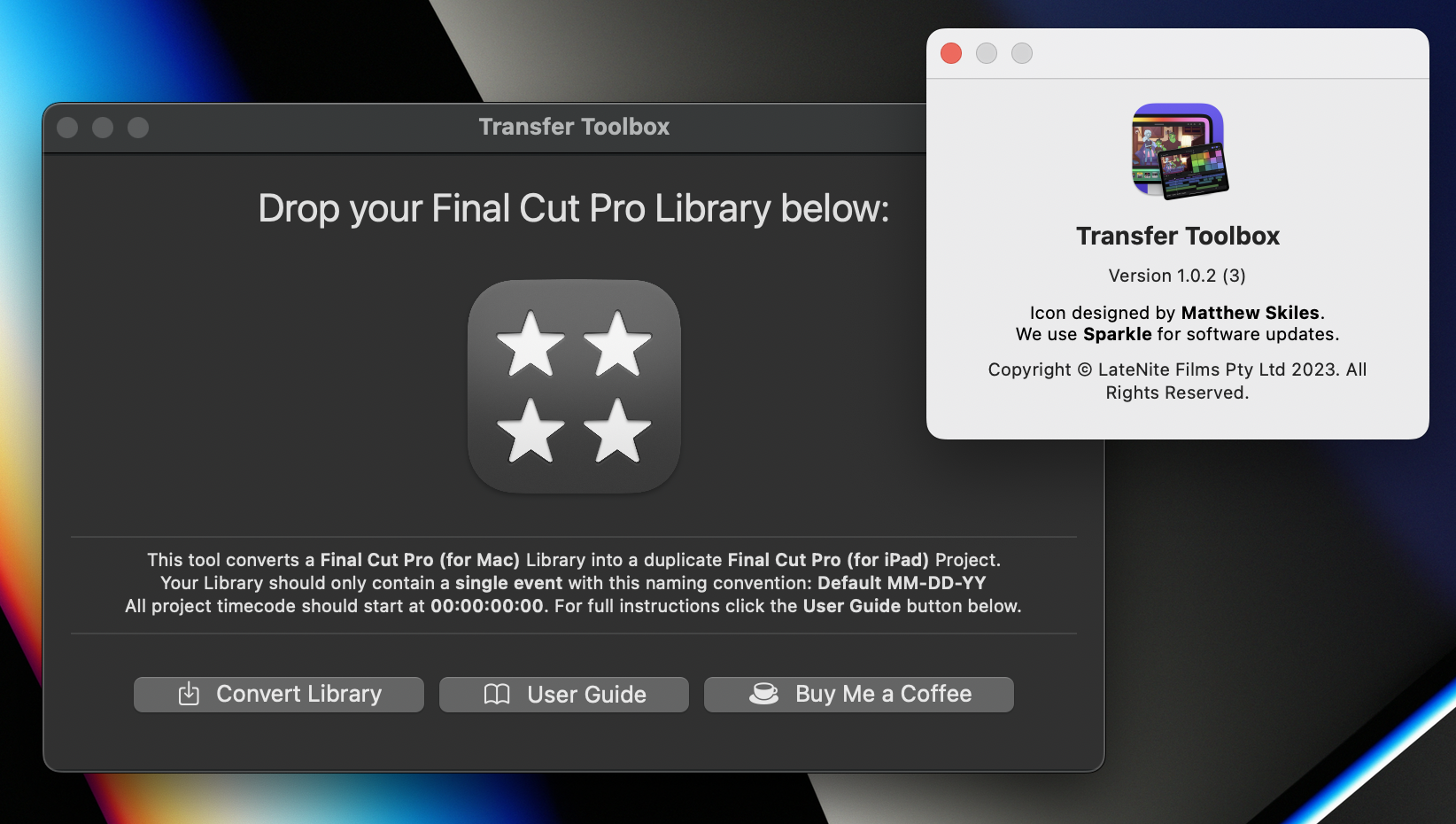 You can now easily get from your Desktop to your iPad! Simply drag your existing Final Cut Pro library into the application's drop zone.
You should ensure your library only has a single event, and all project timecode starts at 00:00:00:00.
All Motion Content and Media should be contained within the Library.
If you have custom fonts on the Mac Final Cut Pro library, you should manually install them on the iPad before importing the project.
Transfer Toolbox requires Final Cut Pro 10.6.6 or later.
---
#
U
#
Ulti.Media Converter 2
The Swiss army knife for transcoding, workflow and multimedia file management.
---
#
X
#
X2Pro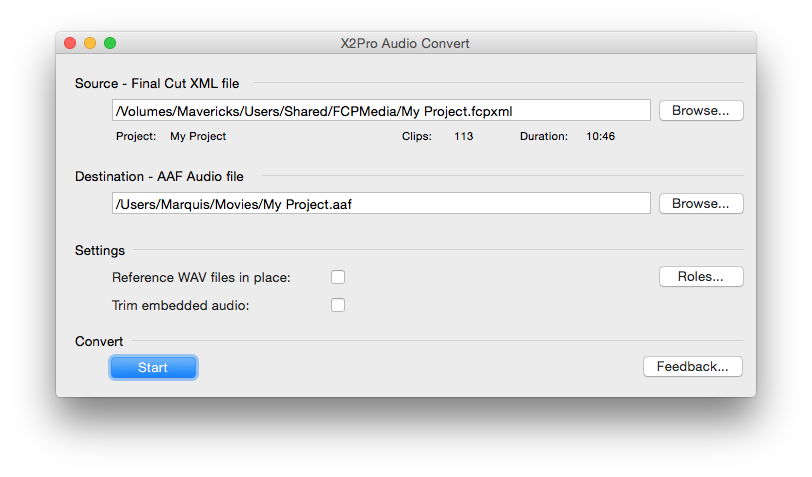 Move your Final Cut Pro X projects to the audio suite simply and quickly. X2Pro Audio Convert takes your FCP X XML and creates an AAF with embedded or referenced audio media which Avid Pro Tools can open as a session, delivering seamless integration between the two applications..
X2Pro Audio Convert is a cutting edge conversion application for delivering FCP X projects for audio finishing, it is easy to use directly from within FCP X.
Taking advantage of the innovative Roles features in FCP X, X2Pro allows you to choose how these are converted to tracks; their order, packing and whether they are included, allowing sound designers to start working immediately.
Media can be embedded in the AAF (and trimmed with handles to minimise file size) to create a single, simple to transfer, file. Alternatively the AAF can reference external media which is ideal when FCP X and ProTools have access to the same shared storage.
Those who do not need the advanced functions of referenced, trimmed media, or close control of the conversion of Roles, can look at the cost effective X2ProLE.
X2Pro faithfully translates your audio timeline along with L-cuts, J-cuts, transitions, levels, automatic gain and fade handles, as well as the incredibly powerful FCP X compound clips. Transitions are converted into linear cross fades. Audio media can be any QuickTime supported audio, non-PCM audio is converted to PCM at either 16 or 24 bit.
R3D media is supported.
Multicam Clips are effectively translated taking across the audio of the selected angle.
X2Pro gives a clear warning when it comes across elements of a sequence which it cannot translate such as time maps and effects.
We recommend rendering an off-line or proxy version of the flattened video and exporting that if a reference is needed within Pro Tools. Only audio media is translated by X2Pro.
Requirements
FCP X, 10.0.4 or later and XML from 1.1
X2Pro is tested on the latest release OS and the previous release
Pro Tools v7.0 or later for AAF import (not LE versions, v7 and v8 require Digitranslator for AAF import)
X2Pro uses Marquis Media Highway technology to integrate FCP X into the established professional audio workflow. Marquis Media Highway is the core technology employed by Marquis' media integration products – it improves how broadcast production systems interoperate by delivering a seamless and cost-effective integration between leading broadcast content applications. Marquis Broadcast specializes in content workflows and media integration software and has been delivering solutions to broadcast since 1998.
---
#
Ximport AE
Ximport AE is a powerful After Effects plug-in that imports XML files from Final Cut Pro. This plug-in offers the most complete workflow for translating a timeline from Final Cut Pro to Adobe After Effects.
Watch the QuickStart video at the right to get an introduction to Ximport AE. It is a very powerful plug-in, and the best way to get to know it is to use it.
---
#
Xsend Motion
The missing piece between Final Cut Pro and Motion 5: Xsend Motion from Automatic Duck.
Xsend Motion converts your FCP timeline into a Motion project in just seconds, translating Transforms like Position and Scale, Opacity and blending modes, titles and many third party effects as well.
A new Motion project is created referencing the same media files used by Final Cut Pro, no new media is created. You can easily adjust your footage in Motion, everything is live and not baked-in.
Uploaded by Automatic Duck on 2017-12-05. You can send an entire project from FCP to Motion, or you can export the contents of a compound clip to XML and translate that into Motion. Your Motion work can be exported back to FCP as a QuickTime movie or published as a Generator. Any time you have a clip or set of clips in FCPX that want to use in Motion, Xsend Motion is the tool you need to send those projects across.
Xsend Motion integrates with the Final Cut Pro Share menu as well as with XML exports from FCP 10.2.1 and later, including Final Cut Pro X 10.6.
---
#
XtoCC
The all-in-one tool to move a Final Cut Pro X Event or Project to Premiere Pro, After Effects, Audition, FCP 7 and beyond!
This app translates Final Cut Pro X Library XML (fcpxml) and converts it for import into Adobe's Creative Cloud apps, Premiere Pro CS6, Final Cut Pro 6 or 7, or other applications.
Your Final Cut Pro XML is ready for:
Premiere Pro, and then to:
AAF to Avid Media Composer and Pro Tools
OMF output for ProTools, etc.
EDL
After Effects
Audition
Final Cut Pro 7
other Final Cut Pro 7 XML workflow tools
Check the XtoCC Support document for instructions, including listings of what translates and what doesn't.
Requirements:
Final Cut Pro version 10.0.1 or later
An application that imports Final Cut Pro XML (such as Final Cut Pro 7 or 6, Premiere Pro CC, After Effects CC, Audition CC, DaVinci Resolve, Color, etc.)
---
#
Discuss this page